Discussion
This is England
According to our experts, one champion is set to repeat
The 2012-13 Barclay's Premier League kicks off on August 18, featuring 20 teams in 13 cities, six neighborly feuds and more than $3 billion in revenue. Here's who we think will dominate this season.
*Dotted lines indicate team rivalry
Map Illustration: L-Dopa; Designers: Munehito Sawada and Martin Salazar
Follow The Mag on Twitter (@ESPNmag) and like us on Facebook.
Read full story
ESPN The Magazine: August 20, 2012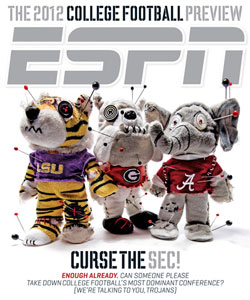 COLLEGE FOOOTBALL PREVIEW

COLUMNS

MORE FROM THE NCF PREVIEW ISSUE