Discussion
Chelsea's new blue wall
Formation change, veteran leadership driving Blues' defensive dominance
Sitting comfortably atop the EPL table after seven games played, Chelsea has started the 2012-13 campaign in fine fashion. But for a team that spent $131.5 million on attacking talent over the summer, you might have expected the West Londoners to lead the way -- though probably not with their defense.
With a hangover of epic proportions expected to hamper the Blues' early-season form -- after their magnificent UEFA Champions League success and the huge overhaul of players in the summer months -- the opposite has occurred.
They've scored 15 goals and conceded only four in their opening seven games, registering six wins; last season, under then-coach Andre Villas-Boas, Chelsea's defense allowed 32 goals in 27 games. One thing Roberto Di Matteo focused on when he took over at the helm was stopping the flow of goals past Petr Cech.
And that's carried over to this campaign, as the Italian boss is reaping the benefits of a defense-first approach.
Let's take a look at why Chelsea has been so successful on defense so far:
Defensive shift, veteran empowerment
Just how Di Matteo orchestrated a defensive transformation is intriguing because he is dealing with the same players who looked shaky and lackluster under AVB, yet he's getting unbelievable results. The biggest reason is that he has given the power back to veterans Cech, John Terry and Ashley Cole to organize the defense and gotten them to trust their own ability.
That empowering mindset was missing under AVB, as he regularly questioned if the older players could still perform at the highest level. Di Matteo played to their strengths and encouraged their aggressive style of defending. Remember, Terry, Cech and Cole were ever-present when then-coach Jose Mourinho's Chelsea conceded just 15 league goals on their way to winning the 2004-05 EPL crown. That defense-first mentality which reigned under Mourinho is back in the dressing room, but this time on Di Matteo's terms.
To read the full story about Chelsea's surprising defensive dominance, plus get all of ESPN Insider's soccer content, sign up and become an Insider.
Insider
Insider Soccer Content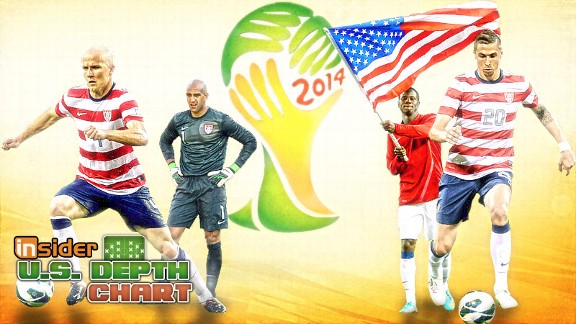 Latest content
Feb. 1:
USMNT: January transfer impact
Jan. 31:
USMNT: Shea's big chance at Stoke
Jan. 31:
El Tri: Youth report card from friendly
Jan. 30:
USMNT: How U.S. can fix its defense
Jan. 29:
El Tri: Who should be Mexico's keeper?
Jan. 28:
USMNT: Projecting U.S. WC lineup
Jan. 25:
USMNT: Josh Gatt's promising future
Jan. 24:
USMNT: Omar Gonzalez's big chance
Jan. 24:
El Tri: Carlos Vela's murky El Tri future
Jan. 23:
El Tri: Depth Chart 1.0
Jan. 23:
USMNT: Nick Rimando's important role
Jan. 22:
El Tri: Jorge Enriquez on Mexico future
Jan. 21:
Latham: Top 25 U.S. U-21 prospects
Jan. 21:
USMNT: Jozy Altidore on the rise
Jan. 18:
USMNT: Jones on his U.S. future
Jan. 17:
USMNT: Depth Chart 1.0
Jan. 17:
USMNT: Breakout players for 2013
Jan. 16:
USMNT: Where does Holden fit in?
Jan. 14:
USMNT: Hot List: Agudelo's big chance
Jan. 9:
USMNT: Can Wondolowski produce?
Jan. 8:
El Tri: WC chances for four veterans
Jan. 7:
USMNT: Stock watch
Jan. 6:
USMNT: Jan. camp surprises
Jan. 3:
El Tri: A wish list for 2013
Jan. 2:
USMNT: A wish list for 2013
Dec. 31:
USMNT: 2012 USMNT awards
Dec. 28:
USMNT: Top 5 moments of 2012
Dec. 27:
El Tri: Top moments of 2012
Dec. 26:
USMNT: Top transfer rumors
Dec. 21:
USMNT: Players who missed Top 25
Dec. 20:
El Tri: 2012 year-end awards
Dec. 19:
Top 25 American players
Dec. 19:
USMNT: Bradley is Yanks' best player
Dec. 18:
El Tri: Players who may transfer to Europe
Dec. 13:
Larcada: Projecting the UCL draw
Dec. 11:
El Tri: Top 25 U-21 prospects
Dec. 10:
USMNT: Young prospects on the rise
Dec. 5:
USMNT: Matt Besler's chances
Dec. 4:
El Tri: Players who struggled in Liga MX
Dec. 3:
USMNT: U-17s impressive in Nike Friendlies
Nov. 28:
USMNT: Would Aron Johannsson help?
Nov. 27:
El Tri: Standouts in Liga MX
Nov. 26:
USMNT: MLS' development problem
Nov. 21:
USMNT: Things to be thankful for
Nov. 20:
El Tri: Mexico's tough '13 schedule
Nov. 15:
El Tri: Brazil Board 2.0
Nov. 14:
USMNT: Russia friendly takeaways
Nov. 13:
El Tri: U-17s retain lofy status
Nov. 8:
Larcada: Ranking Europe's top teams
Nov. 6:
El Tri: High hopes for U-20s
Nov. 5:
USMNT: Qualifying challenges for U-20s
Oct. 30:
How would Mexico fare in CONMEBOL?
Oct. 29:
USMNT: Potential solutions at winger
Oct. 25:
Projecting U.S. 2014 World Cup roster
Oct. 24:
USMNT: Ranking CONCACAF Hex teams
Oct. 24:
El Tri: Mexico is top Hexagonal team
Oct. 23:
What USMNT looks like minus Donovan
ESSENTIAL LINKS