Discussion
Garcia sends Morales reeling
Junior welterweight champ blasts former four-division titlist by knockout
Updated:
October 22, 2012, 6:54 PM ET
By
Dan Rafael
| ESPN.com
BROOKLYN, N.Y. -- Banned substance in his system or not, nothing could help Erik Morales against the savage youth of junior welterweight champion Danny Garcia.
Garcia had gone to bed Friday night after a meeting with his team having decided not to fight their rematch because of Morales' failed drug tests, but he changed his mind Saturday morning. A $1 million purse will do that.
And then he took it out on the old and faded Morales, dominating him and knocking him out with a ...

Read full story
BARCLAYS' BOXING DEBUT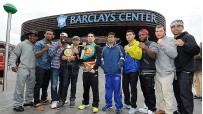 Boxing made its return to Brooklyn with four world title fights, including the rematch of junior welterweight champ Danny Garcia and former four-division titlist Erik Morales.
POSTFIGHT
DANNY GARCIA VS. ERIK MORALES
UNDERCARD
NEWS
MORE ANALYSIS AND CONTENT
OTHER LINKS
ESPNBoxing

ESPN Boxing


VIDEO: @JeremySchaap says boxing needs its Super Bowl and it's called @FloydMayweather-@MannyPacquiao http://t.co/WX7YyNRFZh
21 minutes ago

danrafaelespn

Dan Rafael


The Monday Scorecard covering a light #boxing weekend is up http://t.co/MIDkv0krWX @trboxing @HBOboxing @TooFred @CarlMoretti @Brandon_Rios1
about an hour ago

ESPNFNF

Nigel Collins


Darren Sproles had a great Pro Bowl (121 total yrs., 79 receiving, 42 running). Eagles must give him more touches next season.
about 4 hours ago

BCampbellESPN

Brian Campbell


Remind yourself today who you are and who you aren't. #MotivationMonday
about 4 hours ago

danrafaelespn

Dan Rafael


So what's Manny going to do when the Floyd fight doesn't happen? My story: http://t.co/zv9g8ZOspf #boxing @CarlMoretti @TooFred
about 17 hours ago

VICIOUSortiz

Victor Ortiz


@brandonrios always been my punching bag since we were kids! Wheres the contracts!?!?!? #TeamDiaz #TeamMagdaleno #CoachHoss
about 17 hours ago

danrafaelespn

Dan Rafael


#Boxing notes in my blog: V-Lom, Walters, Mares, Russell, more PBC shows & where was Brian Kenny last week? http://t.co/OgLA4oyhEe
about 19 hours ago

danrafaelespn

Dan Rafael


Rios destroys Alvarado to win trilogy. My story: http://t.co/kpIvNPH2MG #boxing #AlvaradoRios @HBOboxing @trboxing @TooFred @CarlMoretti
about 20 hours ago

danrafaelespn

Dan Rafael


Ramirez grinds out solid win vs Vlasov. My #AlvaradoRios uc story: http://t.co/ioBYIw9wnj #boxing @trboxing @TooFred @CarlMoretti @HBOboxing
about 20 hours ago

danrafaelespn

Dan Rafael


Inoue honored by Japan commission. My blog: http://t.co/7BijMsHY4f
about 20 hours ago

danrafaelespn

Dan Rafael


All hail Coach K!!!!! #Duke
about 21 hours ago

VICIOUSortiz

Victor Ortiz


@brandonrios always been my punching bag since we were kids! Wheres the contracts!?!?!? #TeamDiaz #TeamMagdaleno #CoachHoss
about 21 hours ago

WilliamZabka

William Zabka


Cast & friends #JustOneoftheGuys #movie #reunion Joyce Hyser, Clayton Rohner, Billy Jayne, Arye Gross, @ToniHudson http://t.co/j1mJgQeHti
about 21 hours ago

danrafaelespn

Dan Rafael


Back in the Commonwealth after fun few days in Denver! #AlvaradoRios
about 22 hours ago

TooFred

Fred Sternburg


Will @MannyPacquiao be using the 10-point must system as a judge for #MissUniverse? Tune in TONIGHT, live at 8 p.m. ET, on @NBC . @TRBoxing
about 22 hours ago

danrafaelespn

Dan Rafael


Hanging with @CarlMoretti at Denver airport. We just said hello to @andreward and we are now contemplating life over a morning beverage.
1 day ago

danrafaelespn

Dan Rafael


Some postfight talk from @trboxing and @ZanferBox about maybe a JM Marquez-Rios fight in LA this summer. Good fight. #boxing #AlvaradoRios
1 day ago

JinJtown

J in J-town


Good shot of @danrafaelespn filing his story amid the chaos! #AlvaradoRios http://t.co/xVrjy5BvLk
1 day ago

Scriber76

Scribe 76


A Denver "fight freak" and @danrafaelespn picture courtesy of @CarlMoretti 😬😬😬😬😬 http://t.co/pHolFgsJbI
1 day ago

ESPNBoxing

ESPN Boxing


Photo gallery: @Brandon_Rios1-@MileHighMike303 III http://t.co/zRBcMbFy7a
1 day ago