Discussion
Guor Maker has come a long way
Once a boy without a country, the burgeoning marathoner is now a man with two
Updated:
April 8, 2013, 2:18 PM ET
By
Doug Williams
| Special to ESPN.com
G
uor Maker was a lost boy struggling to find his way in a strange world when he met track coach Rusty Cofrin.
Maker was a refugee from Sudan who'd escaped a land of terror. He'd been ripped from his home and parents and dropped into a land of peace and plenty in Concord, N.H. He didn't know English, had no friends and no idea about his future.
But after watching the skinny sophomore run around a field and then do 2 miles on the track in basketball ...

Read full story
2013 BOSTON MARATHON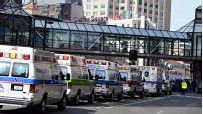 The 117th Boston Marathon
Monday, April 15, 2013
Hopkinton, Mass., to Copley Square
For more, please click here
THE AFTERMATH
EXPLOSIONS ROCK MARATHON
RACE RESULTS
PREVIEW/RELATED