Discussion
Survival tips for running Boston
Dick Beardsley, who lost to Alberto Salazar in 1982's 'Duel in the Sun,' offers advice
Updated:
April 9, 2013, 8:35 AM ET
By
Caitlin Chock
| Competitor.com
The Boston Marathon, where miles still hold whispers of legendary duels.
"The Boston Marathon is, in my opinion, the king of kings when it comes to running," says Dick Beardsley, who finished second to Alberto Salazar in the 1982 edition of the race, famously known as "The Duel In The Sun." "I don't think there is a runner out there that wouldn't love to say that they ran in the Boston Marathon. Even people that have never run a step in their life know about the Boston Marathon."
There ...

Read full story
2013 BOSTON MARATHON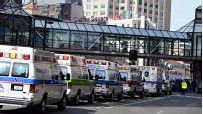 The 117th Boston Marathon
Monday, April 15, 2013
Hopkinton, Mass., to Copley Square
For more, please click here
THE AFTERMATH
EXPLOSIONS ROCK MARATHON
RACE RESULTS
PREVIEW/RELATED