Discussion
The Boston 'badge of honor'
Qualifying for the world's oldest annual marathon a never-ending goal for many
Updated:
April 10, 2013, 9:06 PM ET
By
Duncan Larkin
| Competitor.com
Every year, big-city marathons around the world come and go. Runners who manage to register in time show up on the starting line, gut through 26.2 miles, get their finishing medals and head home. These events ramp up suddenly and then go away for 10-11 months.
Not the Boston Marathon.
It never seems to go anywhere or fall off any runner's radar. After all, it's the world's oldest annual marathon, dating to its first running in 1897. More importantly, you have to earn your ...

Read full story
2013 BOSTON MARATHON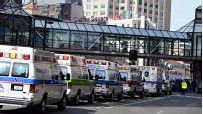 The 117th Boston Marathon
Monday, April 15, 2013
Hopkinton, Mass., to Copley Square
For more, please click here
THE AFTERMATH
EXPLOSIONS ROCK MARATHON
RACE RESULTS
PREVIEW/RELATED