Discussion
Marathons face security challenges
How to secure a major road race with crowds stretching 26.2 miles?
Updated:
April 17, 2013, 9:36 PM ET
By
Peter Keating
| ESPN The Magazine
At 2:50 p.m. ET Monday, two explosions blasted the crowd near the finish line of the Boston Marathon. The bombings killed three people and injured at least 176 others -- revealing what marathon organizers around the world have feared but hoped they would never have to admit: Their events are among the most vulnerable in sports to terrorist attack.
By 2:51 p.m., emergency response was underway, tracking down and re-routing all remaining runners, moving the wounded to triage, cordoning ...

Read full story
2013 BOSTON MARATHON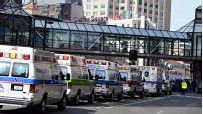 The 117th Boston Marathon
Monday, April 15, 2013
Hopkinton, Mass., to Copley Square
For more, please click here
THE AFTERMATH
EXPLOSIONS ROCK MARATHON
RACE RESULTS
PREVIEW/RELATED