Discussion
Sharapova blasts way to French final
Updated:
June 6, 2013, 11:47 PM ET
By
Greg Garber
| ESPN.com
PARIS -- It is one of the most famous first lines in literature: "A screaming comes across the sky."
This is how Thomas Pynchon began "Gravity's Rainbow." Among other things, it refers to the V-2 rockets produced by the German military. No one knows if the famously reclusive author is (or was) a tennis fan, but the book, published 40 years ago, was amazingly prescient. For it coyly captures the heat, the atomic fission produced by the best rivalry in women's tennis today.
On ...

Read full story
French Open 2013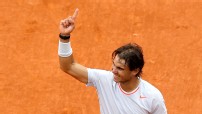 With Rafael Nadal's eighth French Open title, he's now set a new standard. Greg Garber »
VIDEO