Discussion
Draft Day Manifesto 2013
A guide to drafting a winning fantasy football team, the TMR way.
The blood drained from my face.
The feeling came almost immediately, as regret often does.
What had I just done?
It was the last day of April, a few days after the NFL draft, and I was in a room full of people when I blurted it out.
"I'll take Calvin Johnson."
That's what I said. But what I thought was … "Crap."
The occasion was our annual fantasy football rankings summit, an annual tradition we started in 2007 when a bunch of people from all ...

Read full story
FANTASY FOOTBALL DRAFT KIT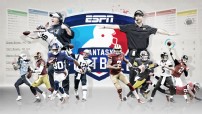 The 2013 fantasy football season is almost here. Start preparing for your draft with our rankings, projections, profiles and more! Draft Kit »
MORE DRAFT KIT CONTENT