Discussion
John Isner takes everything off
The tennis pro talks about what it takes to get in shape.
Originally Published:
July 9, 2013
By
Morty Ain
| ESPN The Magazine
Why did you decide to pose? JI: This is something I never would've imagined myself doing. Tennis players aren't jacked like football players, but we are certainly in good shape, and if my photo shows that in any way, that will be good.
How did being the youngest of three brothers affect you?
JI: They toughened me up all the time. Probably the most infamous story in our family: My oldest brother took a U-lock bike lock and locked my head to the bedpost. ...

Read full story
ESPN The Magazine: July 22, 2013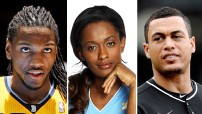 The Mag on Twitter | Facebook | iPad
Q&A'S WITH BODY ATHLETES