Discussion
Chris Sharma in his birthday suit
This accomplished climber shows us the body that scaled Mallorca.
Originally Published:
July 9, 2013
By
Morty Ain
| ESPN The Magazine
Why did you decide to pose for the Body Issue? CS: Climbing is an amazing, unique sport, and I want to share that with as many people as possible. I want to be an ambassador for the sport and raise the profile. This was another opportunity to do that, and I try to take advantage of any opportunity to share climbing with the world.
How did you start climbing? CS: I started in a climbing gym 20 years ago in Santa Cruz. When I was younger, I was always climbing, ...

Read full story
ESPN The Magazine: July 22, 2013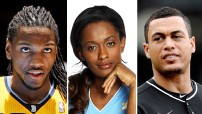 The Mag on Twitter | Facebook | iPad
Q&A'S WITH BODY ATHLETES