Are Belgians suddenly vulnerable?
Updated:
January 21, 2013, 2:56 PM ET
By
Dan Seaton
| VeloNews.com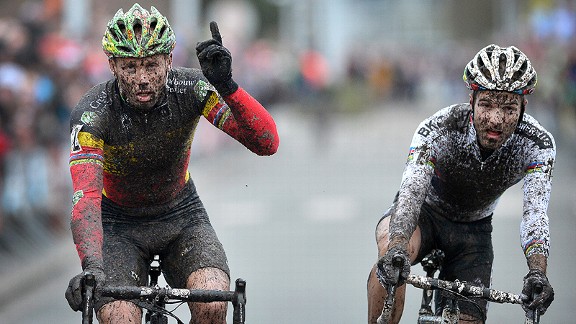 David Stockman/AFP/Getty ImagesSven Nys, left, and Niels Albert are two of the riders who've make Belgium No. 1 in men's cyclocross.
BRUSSELS, Belgium -- The 2012-13 World Cup of cyclocross wrapped up with a snowy finale on Sunday in Hoogerheide, Netherlands, that offered few surprises -- as long as one looked only at the final classification, that is.
Also from VeloNews.com

• Bina takes finale, Albert overall • Compton is first U.S. women's champ
• Changes needed to women's process
Indeed, the race for one of cyclocross' biggest prizes, the World Cup title, was almost a foregone conclusion. American Katie Compton (Trek Cyclocross Collective), who wrapped up the women's overall two weeks ago in Rome, opted not to return to Europe for the final race, a trip that would have offered few rewards and plenty of risk.
In Compton's absence, Marianne Vos (Rabobank) rode to an uncontested victory, her third straight in the World Cup. Vos opted to sit out the first half of the cyclocross season to recover from efforts on the road that netted her Olympic gold and the world championship. She rode only four of the series' eight rounds and was never a factor in the overall.
It was Sanne Van Paassen (Rabobank) who was the biggest threat to upset the podium, but Van Paassen too missed out on the chance to challenge Compton after sitting out the sixth round due to illness. Instead, her second-place finish Sunday earned her second in the overall, ahead of British champion Nikki Harris (Telenet-Fidea).
The men's race, if not quite decided beforehand, was never really in doubt, either. Niels Albert (BKCP-Powerplus) spent the day marking Kevin Pauwels (Sunweb-Napoleon Games), who trailed by 16 points coming into Sunday's race.
Albert took no risks on his way to fifth place, which was enough to ensure his overall victory -- and the 30,000-euro check that comes with it. (Compton will receive 12,000 euros.)
Pauwels' eighth-place finish was sufficient to hold off Sven Nys (Crelan-Euphony) for second-best overall, meaning that the race did nothing to change the top three in the final standings.
Not everything followed the script, however. And what didn't go according to plan was stunning.
For the first time in more than a decade, an elite men's World Cup race ended without a Belgian on the podium. Instead it was Czech Martin Bina (CEZ Group), Dutch Lars Van Der Haar (Rabobank) and Swiss Simon Zahner (EKZ Racing) who occupied the top spots on Sunday.
With the victory, Bina finally realized the potential he first demonstrated in winning the 2001 junior world championships. Though he showed promising form as an elite during the 2009-10 season, riding to fourth place at worlds in his home country, a torn meniscus in his left knee destroyed the subsequent seasons, and Bina faded to near-invisibility. Three surgeries finally restored his damaged knee and Bina has been quietly returning to form ever since.
First he dropped nearly 25 pounds of weight he gained while sidelined. Then he more or less ran the table at the Toi Toi Cup series in the Czech Republic. Though on Sunday he clearly capitalized on conditions that suited his strengths and the conservative riding of the three Belgians already established on the podium, he told VeloNews that he viewed his impressive result in Hoogerheide as much more than a fluke.
"I wouldn't call this a coincidence," Bina said. "Last year was the first time I really started to train properly after the injury, and so my performance has simply increased. I'm confident. This is where I want to be, and these are the kind of results I hope will continue."
Likewise, third-place finisher Zahner said he too hoped he would be able to repeat his good results Sunday, but he hesitated to rank himself among the best riders in the world, equal to Van Der Haar or the Belgians he defeated.
"One of the best in the world, I don't know," he told VeloNews. "It's just one race. I wouldn't talk of myself now like I'm a really big guy in all conditions. But if you look at this season, from the beginning of this season I had a starting position in the second row and I had many good starts.
"The Belgian TV guys say, 'He has really good starts, but he'll disappear from the front of the race by himself,' because I crashed in Roubaix in the second lap. I crashed in Antwerp in the middle of the race. So I always know that my tactic has to be a good start and then keep it there as long as possible. This was the first time I didn't crash."
Zahner's result comes during a season when Swiss riders have done much to restore their nation's status as a serious cyclocross contender. Swiss men dominated the discipline in the late 1970s, and the country remained a force well into the 1980s. But no elite Swiss rider has reached the podium at the world championships since 1997, when Thomas Frischknecht finished second in Munich, Germany.
In addition to Zahner's convincing ride on Sunday, Swiss champion Julien Taramarcaz (BMC) has been near the front of major races all season, finishing fourth in a World Cup race in Roubaix, France. Countrywoman Jasmin Achermann (Rapha-Focus) finished seventh in the World Cup classification, with results in the series that included six top-10 finishes, one of which landed her on the podium.
In a larger sense, however, the unusual results on Sunday may herald the beginning of a new era of competition, one not so completely controlled by Belgian riders. Though two big non-Belgian stars, Dutch Lars Boom (Blanco) and Czech Zdenek Stybar (Omega Pharma-Quick Step) have more or less walked away from the sport in pursuit of more lucrative careers on the road, others, including Czechs, Dutch, Swiss, Americans, British, French and Italians, have all enjoyed recent success in major men's or women's races.
Moreover, even Belgian fans and promoters seem to have acknowledged that contests that end predictably, with one of three Belgian riders on top of the podium, have begun to grow stale. Concern for the growth of the sport internationally certainly played a part in the decision to award worlds this year to the United States. It has manifested in the advent of the Kwadro-Stannah squad as well.
The brainchild of Christoph and Philip Roodhooft, managers of Albert's BKCP-Powerplus team, the new team seeks to restore balance by providing a supportive framework in which international racers can grow.
Launched at the start of this year and led by another non-Belgian, the Dutch former world champion Adrie van der Poel, the team hosts Czech Radomir Simunek, who finished sixth Sunday but was in close contention for the podium, and Pole Mariusz Gil. But the Roodhooft brothers hope the team -- and with it the successes by international riders -- will grow in the coming years.
In the short term, however, cyclocross will go international -- albeit only briefly -- without the Roodhofts' help. As early as Monday, European stars will begin their journeys to the United States ahead of the world championships in Louisville in two weeks' time.
Vos and Sanne Van Paassen head to a training camp in Cleveland, Texas. Swiss riders Taramarcaz and Zahner leave for the States on Wednesday. Albert plans nearly two weeks in Louisville, including an appearance at the Kings International Cyclocross in Cincinnati next weekend.
Get ready, American 'cross fans -- your moment in the spotlight is about to begin.
VeloNews.com is the industry standard, providing breaking cycling news and event coverage, informed analysis & opinion and in-depth athlete profiles. With a 40-year legacy of cycling journalism, VeloNews.com is the first last word of the sport of bike racing.