Kara Goucher: '3 times is a charm'
After two top-five finishes, American marathoner looks to break through at Boston
Updated:
April 8, 2013, 2:16 PM ET
By
Mario Fraioli
| Competitor.com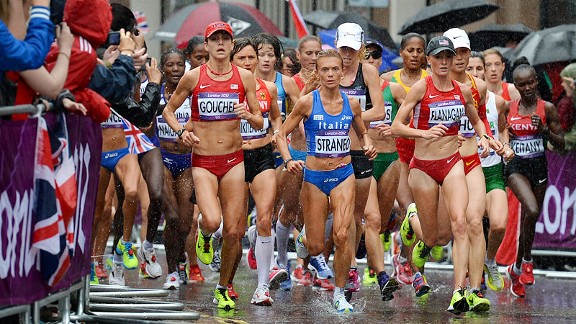 BEN STANSALL/AFP/GettyImagesConfident again after returning from injury, Kara Goucher is in position to pull away from the pack.
Marathoners aren't born, they're made, and for Kara Goucher, a 26.2-mile stretch of pavement from Hopkinton, Mass., to Boston is where she's carved out her career as one of America's best long-distance road racers.
Also on Competitor.com

• Gebremeskel 3-peats at Carlsbad 5000
• Peter Some wins Paris Marathon
• Kenyan Kendagor captures Berlin Half

Next Monday's Boston Marathon will be the 34-year-old Goucher's third crack at the fabled Patriots Day race, now in its 117
th
year. In 2009, Goucher was in contention for the win until the final few miles, ultimately finishing third and securing a spot on the podium. She returned two years later and finished fifth, posting a personal best of 2 hours, 24 minutes and 52 seconds. Despite these solid results, Goucher has some unfinished business with the race she loves so much.
"I love Boston," Goucher said this spring. "It owns a little bit of my heart and I'm thrilled to go back and give it another shot. Three times is a charm and this will be my third time. I've learned a lot the first two times I've run it and just feel like I can be in the best shape of my life by then."
Goucher, who this spring split time between her home in Portland, Ore., and Colorado Springs, Colo., in preparation for the world's oldest annual marathon, is part of coach Jerry Schumacher's training group. The loaded stable of Nike-sponsored thoroughbreds includes Shalane Flanagan, Goucher's main training partner who will also be on the starting line in Hopkinton. Flanagan, last year's U.S. Olympic Trials champion, finished 10th at the Olympic Marathon in London -- one spot ahead of Goucher. She is coming off a solid spring of racing which saw her run a personal best of 1:08:31 at the Rock 'n' Roll New Orleans Half Marathon in late February and a 31:04 wire-to-wire win in the 10,000 meters at the Stanford Invitational on March 29.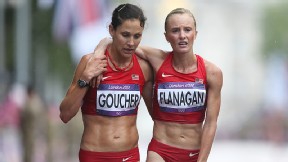 Streeter Lecka/Getty ImagesGoucher finished in 11th place in London, one spot behind training partner Shalane Flanagan.
Goucher also raced in New Orleans, finishing more than three minutes back in 1:11:49 -- nowhere near her training partner, but it was an encouraging result nonetheless after an injury-riddled winter.
"I'm thrilled," Goucher said after her fifth-place finish in New Orleans. "We figured it would be something in the high 72-73 range, so to run under 72, and feel really comfortable doing it, makes me very excited. I would have loved to go out with Shalane and Mesi [Meseret Defar of Ethiopia] and race with them, but the reality is that I'm coming off an injury and need time to get back there. My big goal is April 15, so I knew if I ran well [in New Orleans] it would continue my upswing toward Boston."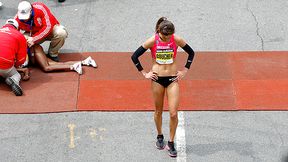 Jim Rogash/Getty ImagesGoucher says she loves the Boston course. "I feel like it was made for me," she said recently.
The velocity of that upswing hasn't slowed since New Orleans. On March 29, a little over two weeks out from Boston, Goucher joined Flanagan in the 10,000 at the Stanford Invitational -- her first track race in nearly two years -- and finished second. Her 31:46 clocking was only one second off this summer's World Championship A standard, a result that surprised the skeptical Goucher, whose speed work this spring has been compromised because of a tweaked hamstring. After the race, Goucher said she had been hoping to run 32 minutes and was encouraged with how strong she felt two weeks out from Boston.
"I'm on the upswing big-time," Goucher said. "I took a break over the fall and winter and was slow to come back in January, but [in early February] things started clicking again. I'm excited and I'll definitely be ready [at Boston]."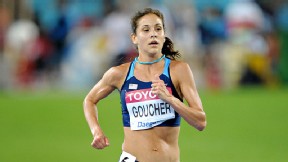 Kirby Lee/US PresswireGoucher is more than comfortable on the Boston course, saying she feels"like it was made for me."
Goucher hopes her upswing reaches its pinnacle on April 15, when she lines up against a formidable field of fellow world-class road racers on one of the most technical race layouts in the world. Her invaluable course knowledge, combined with the experience of lessons learned and an insatiable hunger to be the first runner across the finish on Boylston Street, might be what pushes Goucher over the top.
"My first year, I felt like I made some tactical errors. My second time there I had a 6-month-old baby, so that was what it was," Goucher said of her previous two Boston experiences. "I know the course really, really well, and I feel like it really suits me well. I love the Boston course. It reminds me of where I grew up and I feel like it was made for me. I just have to get it right on race day because I want to win it so bad."
Competitor.com is an engaging, informational and interactive endurance destination for athletes of all abilities. With unique editorial features, up-to-the-minute running news, training and nutrition tips from the top running experts in the industry, running gear reviews and exclusive athlete interviews, Competitor.com provides runners with the most robust content available on the Web.
SPONSORED HEADLINES
ESPN TOP HEADLINES
MOST SENT STORIES ON ESPN.COM
2013 BOSTON MARATHON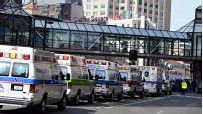 The 117th Boston Marathon
Monday, April 15, 2013
Hopkinton, Mass., to Copley Square
For more, please click here
THE AFTERMATH
EXPLOSIONS ROCK MARATHON
RACE RESULTS
PREVIEW/RELATED