Uran: No repeat of 2012 drama at Giro
Stage 10 winner believes Team Sky can avoid tension like Wiggins-Froome fiasco
Updated:
May 14, 2013, 6:48 PM ET
By
Andrew Hood
| VeloNews.com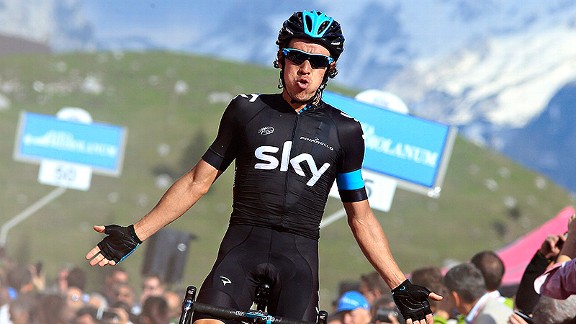 Luk Benies/AFP/Getty ImagesRigoberto Uran claimed the first mountain stage as teammate Bradley Wiggins faded further back.
ALTOPIANO DEL MONTASIO, Italy -- Rigoberto Urán stormed away from the pack to claim Tuesday's mountaintop stage victory at the Giro d'Italia and rode right into a media maelstrom.
Everyone was asking Urán the obvious: was he riding for GC? And, more importantly, should he expect help from Sky teammate Bradley Wiggins if he does?
More From VeloNews.com

• Images from World Cup track

• Compton, Mourey get wins at Namur • Compton is Cyclocrosser of Year

The Colombian was diplomatic, but he assured everyone that the Giro would not see a repeat of the drama in last year's Tour de France, when Wiggins and Chris Froome fought on the roads and behind the scenes for the yellow jersey.
"I don't know what will happen, but [Sergio] Henao and I are different than Froome. We always work for the team and we've never had any problems with the team," Urán said. "We are not like Froome. I came here with the idea of helping the squad, whatever the goals may be. We shall see. We have to take it day by day."
Sky arrived to this Giro with the clear goal of riding for defending Tour champ Wiggins. Despite being backed by a strong team of climbers, including Henao and Urán, Wiggins has struggled to live up to expectations through the first half of the Giro.
He's crashed, struggled on descents, and did not take the gains he needed in Saturday's long time trial -- results that hardly have engendered confidence within the Sky ranks.
With Urán and Henao both hovering around the top 10, Sky decided to play the Colombian card Tuesday in the Giro's first major mountaintop finish.
Henao wasn't at his best, but Urán popped off a blistering attack on the final climb that held to the line for the victory and the winner's 20-second bonus. Wiggins, however, struggled when the moves came from the GC favorites in the final 5km and gave up 45 more seconds to race leader Vincenzo Nibali (Astana).
When the dust settled on the GC, Urán nudged into third overall at 2:04 back, one second ahead of Wiggins.
"We have to wait to see how the race unfolds, but I am feeling good and I proved last year I could race well into the third week," Urán said. "We will talk about it and take it day by day."
Despite losing time, Wiggins expressed his pleasure when he spoke to a group of journalists waiting at the Sky bus after the stage.
The 20-percent steep ramps of the final climb are among the steepest of this year's Giro, so Wiggins said he was happy that Urán won and that he "limited [his] losses in probably one of the hardest finales of this Giro."
But would Wiggins give up his pink jersey dreams to help Urán, a teammate who is rumored to be leaving Sky at the end of the season? Wiggins' answer was telling.
"Yeah, it depends how it plays out really. I'll have to speak to Rigoberto tonight. He went all out, for the stage; it's just whether he feels now he can go for the GC. You know, there's a time trial," Wiggins said. "He's quite inconsistent like that, he can have a really good day, win a stage like today and then lose a few seconds tomorrow, so we'll have to see how he feels."
At least Wiggins and Urán will be hashing things out behind closed doors.
That's in sharp contrast to the controversy surrounding Wiggins and Froome from last year's Tour, when Froome was forced to sacrifice his chances to help Wiggins win.
That enmity has spilled over into 2013. Wiggins and Froome continue to trade barbs over who will lead the team during the Tour later this summer.
Wiggins was hinting before the start of the Giro that Froome's assumed leadership role for the Tour was not carved in stone, comments that prompted team boss Dave Brailsford to issue a press release to clarify the team's position.
Froome and Wiggins first tangled during the 2011 Vuelta a España, when Wiggins led early and the team held back Froome only to see Wiggins fade against eventual winner Juanjo Cobo, who beat Froome by just 19 seconds.
Wiggins hinted Tuesday that the two-minute-plus gap to Nibali, not to mention the presence of a solid Cadel Evans (BMC Racing) in second place, could mean that he will be racing for the podium instead of the pink jersey.
"It's never over, but it looks like [Nibali] has a good lead at the moment," Wiggins said. "There's still a lot to play for. If the win's perhaps a little bit beyond me, then I'm still fighting for the podium, so that still remains the goal."
Urán, meanwhile, is hoping that he will be given his freedom if he's feeling strong in the mountains.
"The last week is the hardest, so we will have to see what happens. I came here in good condition with the mentality of helping the team. We still haven't made any decisions within the team," Urán said. "Would Wiggins work for me? He's a pro. I've known him for three years. We've never had any problems. The most important thing is that the team is working well."
The final week of the Giro is so hard that the answer of who will be Sky's leader will likely be answered without anyone having to say a word.
VeloNews.com is the industry standard, providing breaking cycling news and event coverage, informed analysis & opinion and in-depth athlete profiles. With a 40-year legacy of cycling journalism, VeloNews.com is the first last word of the sport of bike racing.
SPONSORED HEADLINES
ESPN TOP HEADLINES
MOST SENT STORIES ON ESPN.COM