Marathon ritual brings NYC together
After Sandy's impact, tragedy of Boston, runners bring back sense of community
Updated:
November 2, 2013, 11:48 AM ET
By
Jeremy Schaap
| ESPN.com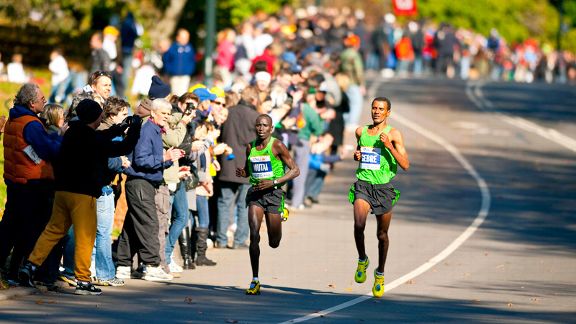 AP Photo/Stephen CherninCheering superhuman feats is part of what draws millions of city dwellers to the streets.
Three hundred and sixty-four days a year, New Yorkers, as a rule, avoid eye contact with each other, which we consider a token of our politeness.
But on the first Sunday of November, millions of New Yorkers -- which still leaves millions unaccounted for -- leave our apartments for the chance to stare directly into the dazed countenances of our fellow humans, to watch them suffer up close. This is the essential appeal of the New York City Marathon. It's more about voyeurism than spectating.
Of course, it's also about competing. Not for me, probably not for you, but for more than 40,000 superior beings with wills of iron and chronically sore feet.
They are the stars of this great sadomasochistic ritual, which no one can credibly suggest is healthy, coming from the four corners of the planet to run a race that commemorates an epic victory in a protracted conflict with Persia. The more things change ...
Even as New Yorkers revel in the misery of others, we also enjoy seeing those others eventually succeed. Most people aren't rooting for conditions that will wilt the field -- although I do admit to being somewhat dispirited when I see all those sweaty figures in their foil capes, fanning out from Central Park, announcing to the world that they have just conquered the streets of New York, and YOU haven't.
Last year, you will remember, there was no such bragging, because there was no New York City Marathon. In the literal wake of Hurricane Sandy, which had inundated the East Coast during the last week of October, the race was belatedly canceled.
In response to widespread public outrage that critical resources would be diverted from submerged neighborhoods to a mere foot race, Mayor Michael Bloomberg, after first saying the show must go on, reversed himself and told the runners to cool their heels.
Never before had the marathon created so much divisiveness. An event that typically unifies the city suddenly pitted the running community against just about everyone else. Mary Wittenberg, the head of the New York Road Runners, the organization that runs the marathon, was demonized.
Wittenberg and Bloomberg seemed out of touch and insensitive to the devastation the storm had wrought. The reaction was probably disproportionate to their perceived crimes -- but no one was really interested in the nuances of the situation.
Now, a year later, tempers have cooled and Bloomberg is in the last few weeks of his 12-year mayoralty. On Tuesday, New Yorkers will elect a successor to King Mike, almost certainly Bill de Blasio, who would be the first mayor with a two-word last name since Fiorello La Guardia (even most locals usually misspell it "Laguardia"). Change is in the air.
So is some degree of anxiety. This will be the first marathon run in New York since the attacks at the Boston Marathon in April, which changed the way security is being handled, here and at most big events in the country. In a city in which the wounds inflicted on 9/11 are still healing, prerace jitters won't be limited to the runners.
Still, New Yorkers won't be cowed. We'll turn out to cheer on the runners, to watch them strain as they hit the wall, to feel more connected to each other and the world at large than we do on any other day on the calendar. Over the past 37 years, since it moved out of Central Park and spread to the outer boroughs, marathon Sunday has evolved into New York's ultimate public holiday.
If you want to see New York and New Yorkers at their best, this is the day to visit. This is when the city most feels like a community.
A year after Sandy wiped it out, after all the bad vibes and hurt feelings, all the major devastation and minor inconveniences, the marathon, once again, will bring us together.
SportsCenter Reporter/Host, Classic Sports Reporters
Jeremy Schaap is an ESPN anchor and national correspondent, based in New York since 1998. He is a New York Times best-selling author ("Cinderella Man: James J. Braddock, Max Baer, and the Greatest Upset in Boxing History") and a contributor to "ABC World News Tonight" and "Nightline."