Camp notes: Don't count Jones out just yet
February, 25, 2009
02/25/09
11:40
AM ET
Andruw Jones had a lot to prove at this time last season, aiming to show Dodgers fans his final year in Atlanta, in which he batted a career-worst .222, was a fluke. Jones had hit 26 home runs and batted in 94 that 2007 season with the Braves, and he signed a two-year deal with Los Angeles. Then he hit .158 in 75 games, with a near unfathomable .505 OPS. Fantasy owners, and apparently the Dodgers, weren't pleased.
It's safe to say Jones has even more to prove this spring, as he's in camp with the Texas Rangers on a minor league contract, signed only a week before spring training opened. Yep, a five-time All-Star with 371 career home runs and 10 Gold Gloves has fallen so far he's just trying to make a team, any team. Few believe Jones, soon to be 32, can do it, and certainly there are quite a few fantasy owners harboring ill will to the wasted draft pick that was Jones a season ago.
While it's merely an intrasquad game and the Rangers are hardly known for their pitching, Jones made a good impression Tuesday with a home run, double and three RBIs off Kevin Millwood and Luis Mendoza. On Monday Jones had two hits in the first intrasquad game. "My timing was better," Jones told the Rangers' web site. "I was keeping my body from moving, trying to be still and square toward the pitcher. It paid off."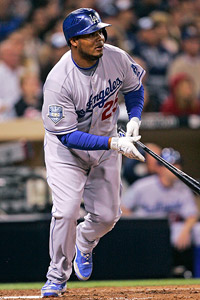 AP Photo/Lenny IgnelziAndruw Jones was an unmitigated free-agent disaster in Los Angeles.
Jones clearly lacked bat speed in his stint with the Dodgers, but we do have to remember he's two seasons removed from 26 homers, and in 2005-06 he mashed 92 home runs. The power probably remains, and maybe it's best the entire 2008 experience is forgotten. The Rangers aren't desperate for outfield bats, with
Josh Hamilton
tentatively being flanked by
David Murphy
and
Nelson Cruz
, while
Marlon Byrd
is also in the picture, but there could be opportunity. For one, Cruz hasn't had much success at the major league level, Murphy has one season as a regular and the team's designated hitter,
Hank Blalock
, isn't exactly the picture of health. If Jones can hit in spring training games, this might get interesting after all. Arlington is, after all, a nice place to hit.
• Meanwhile, another forgotten veteran on a minor league deal looked good Tuesday, as Kris Benson threw batting practice and is expected to start the Rangers' first Cactus League game, Wednesday against the Royals. Benson has been fantasy irrelevant even longer than Jones, but all it will take for him to earn a rotation spot is relative health, and average performance, as the Rangers have three, maybe four, starting spots filled.
• Fantasy owners might not care about Benson, but Erik Bedard certainly interests them, and the strikeout lefty passed his first spring test when he faced live hitters Tuesday, tossing a scoreless inning in an intrasquad game. Bedard's 2008 season was derailed by injury, ultimately leading to a cyst being removed from his pitching shoulder and tissue removed after the season. When he was on the mound, he was effective, striking out 72 hitters in 81 innings, with a 3.67 ERA and 1.32 WHIP. A year earlier, of course, Bedard was a fantasy darling with the Orioles, fanning 221 hitters and finishing fifth in the Cy Young voting. The Orioles dealt Bedard to the Mariners for a bevy of prospects, including center fielder Adam Jones. Bedard is expected to be healthy enough to start the season in the Seattle rotation, possibly pitching on opening day. Bedard is ranked as our No. 42 starting pitcher, but that's with only 18 starts. If it looks like Bedard is healthy, he could be a top-10 starter.
• Another starter on the mend is the Mets' John Maine, and like Bedard, he looked strong in an intrasquad game, tossing two scoreless innings and striking out two. Maine had September surgery to shave a bone spur in his right shoulder, failing to capitalize on his breakout 2007, when he won 15 games and fanned 180 hitters. Like Bedard, Maine's preseason rank on ESPN is cautious, at No. 60, but he can certainly become a lot more popular should he show he's healthy over the next month.
Sign up today for the most customizable free fantasy baseball game out there. You set the rules, scoring, everything. Sign up today!
• There's no end to the news about starting pitchers, since they are handled with far more care in spring training, so we'll try to be brief. For the Diamondbacks,
Max Scherzer
threw a bullpen session Monday and claimed his shoulder felt fine, this after the right-hander reported soreness and stiffness in January. The Diamondbacks could opt to start Scherzer in the minors or on the disabled list in April, as the team will not need a fifth starter until April 15, and it's likely the team will monitor his season innings closely as well.
• The Twins weren't planning on Boof Bonser being a member of their rotation, but they did expect the right-hander to make the team as an innings eater in the bullpen. Instead, Bonser is ticketed to start the season on the disabled list as he will need exploratory arthroscopic surgery to relieve soreness in his pitching shoulder joint. Bonser struggled the past two seasons, after making a strong debut in 2006. Allowing a career .316 batting average against versus left-handed hitters appears the culprit for his career 5.12 ERA. Former Mets prospect Phil Humber, one of the many acquired in the Johan Santana trade, could make the bullpen with Bonser out. The Twins also announced Scott Baker will start opening day.
• Those fantasy owners who overdraft phenom David Price this spring won't want to hear this news, but the Rays acknowledge Price might not even make the team. He is, after all, only 23, with 19 2/3 major league innings -- regular and postseason -- under his belt, and according to the Tampa Tribune, the Rays have to find a roster spot for Jeff Niemann, Jason Hammel and Mitch Talbot, each of whom is out of minor league options. Price could be terrific this season, but don't be surprised if he starts the season at Triple-A Durham.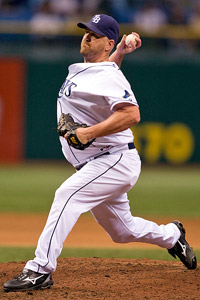 J. Meric/Getty ImagesThere is no shortage of options for the Rays if Troy Percival falters.
• Speaking of the Rays, potential closers
Troy Percival
and
Jason Isringhausen
, with a combined 645 career saves between them, have each thrown bullpen sessions this week and the team will continue to ease them into the relief corps. The Rays have arguably the deepest bullpen in the league, and can turn to
Dan Wheeler
,
Grant Balfour
and others for saves, but it's likely Percival is first in line if he's healthy. As for Isringhausen, who like Percival previously pitched for the Cardinals, he's not a lock to make the team.
• Let's talk hitters! White Sox first baseman Paul Konerko, trying to overcome his worst season since 2003, told the Chicago Sun-Times he wouldn't block a potential trade, even though he has the right to do so as a player with 10 years in the league, and five with the same team. Konerko, who hit .240 with only 22 home runs, would seem an odd choice to be dealt, as the White Sox don't have an obvious replacement first baseman. Jim Thome is the designated hitter, and none of the extra outfielders at the major league level have extensive experience at first base. We project Konerko to bounce back quite a bit, with 29 home runs and 85 RBIs.
• Also out of White Sox camp, the lineup for the Wednesday Cactus League opener is out, and it has catcher A.J. Pierzynski batting second, with shortstop Alexei Ramirez hitting sixth. Pierzynski actually received more than two-thirds of his 2008 plate appearances in the No. 2 spot, where he delivered a low .307 on-base percentage. Why Ozzie Guillen would make the same mistake in 2009, who knows? Ramirez isn't exactly Todd Helton when it comes to on-base percentage either, but at least he has some upside, and plenty of speed. Don't read into the lineup arrangement for the first spring game, but if it's a trend, it would mean more runs scored for Pierzynski, and more RBI opportunities for Ramirez.
• Finally, we close with the Cubs and the daily Lou Piniella statement fantasy owners don't understand. Already this winter everyone was trying to figure out why Piniella told reporters Kevin Gregg might be his closer over Carlos Marmol and how Aaron Miles had the leg up to play second base and bat second, with a perfectly good Mike Fontenot awaiting his chance. On Tuesday, Piniella told reporters his leadoff hitter -- for now, he's staying there -- looked in great shape and would steal 30 bases. For the record, Alfonso Soriano stole 19 bases in each of his first two Cubs seasons. He did average 31 home runs, however. We project Soriano as the No. 4 outfielder in fantasy, with 25 steals. What's next, Lou? Are you going to tell us Rich Harden is healthy?