Wieters is instant impact for the Orioles
May, 26, 2009
05/26/09
8:55
PM ET
"It's time."
That was literally the quote from Orioles president of baseball operations Andy MacPhail on MASN on Tuesday night, and it sums up the collective feelings of the fantasy baseball community regarding a news item that has been long in coming …
Matt Wieters, considered the best prospect in all of baseball (Keith Law's preseason top 100 prospects), will be called up by the Orioles and is scheduled to make his major league debut Friday.
Considering the sheer volume of questions fantasy owners have been asking about Wieters from the preseason through the first seven-plus weeks of the regular season, perhaps the better statement would be "It's about time." People had been practically itching to see this kid play. As of a little after 8:30 p.m. ET Tuesday night, Wieters remained available in roughly 30 percent of ESPN leagues. Unless you were among the first to read this post, your chance might already have passed.
[+] Enlarge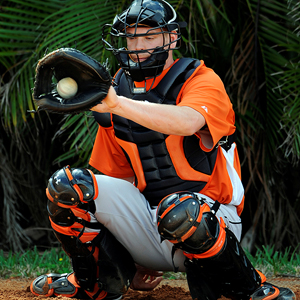 AP Photo/Rob CarrMatt Wieters has some pretty lofty expectations to live up to.
Why such a delay in Wieters' promotion? You've heard the speculation before; arbitration and free-agency concerns in the long term, widely believed to be the same reason the Rays kept David Price in the minors until this past Monday. Keep a kid in the minors a few weeks longer than necessary, save a few nickels a couple years from now. Hey, it's 21st-century baseball.
Interestingly, our preseason estimates had the Orioles waiting until at least June 1, and probably closer to June 15, to promote Wieters. We weren't off by much, only a couple of weeks, but with Wieters set to debut May 29, he will be available to the Orioles for 114 of their 162 games (70.3 percent). Our preseason projections called for 300 at-bats, a .287 batting average, 13 home runs and 46 RBIs. Considering that a typical starting catcher generally gets about 75 percent of the playing time, and a typical team gets a bit short of 600 at-bats from its backstops, Wieters might stand a chance at 325-350 at-bats. In other words, our initial projection might be shortchanging him.
That presumes, of course, that Wieters is up to play and that he's ready to hit right from the start. To the first point, the Orioles wouldn't call up their top prospect to have him ride the pine, especially not having suppressed his earning ability for this long. Wieters should get at least 70 percent of the remaining starts behind the plate, rendering Gregg Zaun useless in fantasy leagues, and that assumes Zaun, not Chad Moeller, even sticks around as the No. 2 option.
To the second point, Wieters has done nothing but rake throughout the minor leagues. He's batting .285 with five home runs, 26 RBIs and an .849 OPS in 38 games for Triple-A Norfolk this season, having improved those numbers with a .299 batting average and .919 OPS in 24 contests this month. Those numbers look suspiciously similar to our preseason projections, no? Meanwhile, for his minor league career, Wieters has batted .338 with a 1.005 OPS in 168 games, having obliterated the pitching in the Class A Carolina League and Double-A Eastern League in 2008.
Here's the best part: Some projection systems might suggest we're being conservative with our Wieters expectations. He's a once-in-a-generation prospect, one many feel can rival the kind of rookie impact a player such as Mike Piazza had for the Dodgers back in 1993. That kind of upside is present.
Even in the worst-case scenario -- that Wieters needs a little time to get acclimated to big league competition, particularly the challenge of handling the Orioles' shoddy pitching staff -- he's the kind of player with certain top-10 fantasy potential at his position. In fact, I'd call him a top-5 catcher candidate from Friday forward and point to Geovany Soto's standout rookie year of 2008 as the baseline expectation. Given the choice, I'd take Wieters over Soto. I'd probably take him over Brandon Inge, Jorge Posada and Bengie Molina, too, and I'd be tempted to forecast a stronger finish for him than Russell Martin (although I admit I'm not a Martin fan). Joe Mauer? OK, no. We have to be realistic!
But that says one thing clearly: If somehow the other owners in your league have left this kid out there for the taking, by all means, snatch him up before it's too late!
Mets promote Fernando Martinez
Wieters might have been the hotshot prospect getting headlines Tuesday, but he was beaten to the majors by another top prospect; the Mets promoted Fernando Martinez from Triple-A Buffalo and immediately installed him as their starting right fielder.
Such are things with the injury-riddled Mets; on a busy Tuesday, they placed Ryan Church and Jose Reyes on the disabled list, and announced that Carlos Beltran will be sidelined until Friday with a bone bruise of the right tibia. Those moves might lead some to wonder whether Martinez's promotion is only a short-term thing, but rest assured, the Mets wouldn't summon him if he weren't set to play regularly for at least a couple of weeks. Even after Beltran's return, Martinez presumably will remain the starting right fielder ahead of Angel Pagan, who manned center field Tuesday, as long as he's hitting.
AP Photo/Jeff RobersonFernando Martinez is just half as old as Gary Sheffield.
As to whether Martinez will hit, he was a .291 hitter with eight home runs, 28 RBIs and an .889 OPS in 42 games for Buffalo, flashing better pop than he had in any of his three previous professional seasons. From 2006 to 2008, he averaged 12 homers per 500 at-bats, not the kind of power that will wow fantasy owners. Considering Martinez didn't even turn 20 until this past October, though, such a delay in his developing power isn't unexpected.
Of course, that means Martinez is still 20, although now a 20-year-old major leaguer who has yet to bat higher than .292, hit more than 10 home runs or steal double-digit bases in any professional season, and one who has averaged one strikeout per 4.9 at-bats as a pro. He's a tremendous athlete, but last I checked, "athleticism" isn't a rotisserie category. Lastings Milledge was a somewhat similar Mets outfield prospect who wasn't quite ready to take the fantasy world by storm in his rookie season, so some caution is advised.
NL-only owners should grab Martinez based on his raw potential. Of course, without the standout minor league results of a hitter such as Wieters, it's hard to recommend him as an instant pickup in shallow leagues. Monitor him, though, and be prepared to pounce if he gets off to a hot start.