Secretariat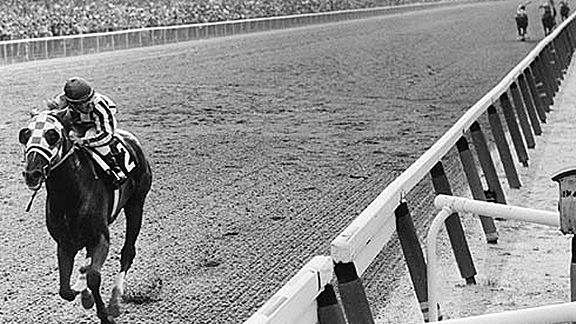 Secretariat (1970-89) was the winner of the 1973 Triple Crown and is widely considered to be one of the greatest Thoroughbred race horses of all time. His times in the Kentucky Derby and the Belmont Stakes set records that still stand today. Secretariat raced for two years and accrued a record of 16 wins in 21 starts with a career earning of $1,316,808.
Secretariat was owned by Penny Chenery and Meadow Stables. Trained by longtime trainer Lucien Laurin, his jockey was Ron Turcotte throughout his two-year career.
In 1999, Secretariat was named the 35th greatest athlete of the 20th century by ESPN, the highest ranking non-human on the list.
Secretariat was born March 30, 1970, in The Meadow, in Doswell, Va. He was the third foal of Bold Ruler -- a 1957 Preakness winner and one of the greatest horses in his generation -- and Somethingroyal, a mare whose breeding was considered one of the best qualities at Meadow Stables.
The secretary at the stables submitted 10 names to the Jockey Club that were all rejected for the young foal. Finally, her 11th attempt -- Secretariat -- was accepted.
Secretariat participated in his first race as a 2-year-old on July 4, 1972. He finished fourth at Aqueduct Racetrack, beaten by one-and-one-quarter lengths. That would be the only finish in his 21-race career, though, in which he didn't place. After his opening loss, Secretariat won five races in a row, including two of the most important 2-year-old stakes races. He ended his first season with the Eclipse Award for the American Champion Two-Year-Old Male Horse and, more significantly, the 1972 American Horse of the Year honors. Only one horse since has won that award as a 2-year-old.
In his 3-year-old year, Secretariat's success -- and fame -- only grew. He was a 3-2 favorite in the Kentucky Derby and, despite breaking last, was able to make up his ground in the backstretch and pulled away to win by 2½ lengths. In the process, he set a track record of 1:59 2/5 that still stands today -- running each quarter-mile faster than the last, still accelerating in the final quarter-mile.
In the next major race, the Preakness Stakes, Secretariat once again broke last but came from last to first in a huge move. Leading with 5½ furlongs to go, he won easily from there (by 2½ lengths). The clock malfunctioned during the race, though most sources and the Preakness records list Secretariat's time at 1:54 2/5. Two Daily Racing Form clockers claimed the time was 1:53 2/5 and recorded it as such in their reports.
By this time, Secretariat was a national phenomenon and a favorite to win the first Triple Crown in 25 years. He appeared on the covers of Time, Newsweek and Sports Illustrated as he and his jockey prepared for the Belmont Stakes and was a 1-10 favorite to win the race. So few were surprised when the horse took the Belmont title -- the way in which he won, though, was worthy of note. Secretariat won by 31 lengths, breaking the margin-of-victory record, and ran the fastest 1½ miles on dirt in history -- 2.24, breaking the stakes record by more than two seconds. That world record still stands (and no other horse even has broken 2:25).
Secretariat ran (and won) several more races after winning the Triple Crown, including the Arlington Invitational in Chicago just three weeks after the Belmont. Another highlight was his final race, the Canadian International at Woodlawn. Secretariat won the 1 5/8-mile race by six lengths despite being "ridden out" -- finishing the race without using his maximum effort. Secretariat ended his career with 16 wins in 21 career races, as well as three seconds and one third. He was again named American Horse of the Year and won the Eclipse Awards for 3-year-old male and champion male turf horse.
Secretariat was found to have laminitis -- a painful and usually incurable hoof condition -- in 1989. He never fully recovered, and he was euthanized on Oct. 4, 1989, at the age of 19. At his autopsy, his heart was measured at 22 pounds, more than twice the size of an average horse. He was buried in Kentucky and was buried whole, which is unusual for a racehorse, .
Secretariat was inducted into the National Museum of Racing and Hall of Fame in 1974, only a year after his Triple Crown victory. He also was listed as one of ESPN's 100 Greatest Athletes of the 20th Century (one of only three non-humans on the list). In 1999, the United States Postal Service issued a stamp with Secretariat's picture on it. He became the first animal inducted into the Kentucky Athletic Hall of Fame in 2007.
Secretariat sired several successful racehorses, though none were as prominent as he was. Two of his more successful offspring included 1988 Preakness and Belmont winner Risen Star and 1986 Horse of the Year Lady's Secret. His first crop at stud brought Canadian Bound, who was the first yearling ever sold for more than $1 million (he sold at auction for $1.5). In all, Secretariat sired 653 horses -- of those, 57 stakes winners.
In 2010, Walt Disney Pictures released a film about Secretariat and his owner, Penny Chenery. Diane Lane starred as Chenery. The film was released Oct. 8.
VIDEO RESULTS FOR SECRETARIAT
AUDIO RESULTS FOR SECRETARIAT
SECRETARIAT CAREER RESULTS
| | 1972 | 1973 |
| --- | --- | --- |
| Age | 2 | 3 |
| Starts | 9 | 12 |
| 1st | 7 | 9 |
| 2nd | 1 | 2 |
| 3rd | 0 | 1 |
| Earnings | $456,404 | $860,404 |
SECRETARIAT 1973 TRIPLE CROWN
| | Time | Margin |
| --- | --- | --- |
| Kentucky Derby | 1:59.40 | 2½ |
| Preakness Stakes | 1:54.40 | 2½ |
| Belmont Stakes | 2:24.00 | 31 |