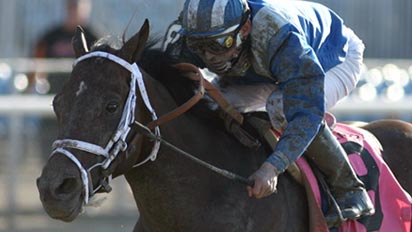 (Horsephotos)
Finley: Belmont win would be 'Awesome'
Barry Irwin isn't pretending that Oh So Awesome is a star. He's hoping he's a good horse who can handle a mile-and-a-half. If he's right, he might just win the Belmont Stakes.


Remembering Ruffian
Dave Johnson recalls the last time a race horse's breakdown captured the attention of the nation.


BELMONT STAKES ORDER OF FINISH
HORSE
JOCKEY
1
Jazil
F. Jara
2
Bluegrass Cat
J. Velazquez
3
Sunriver
R. Bejarano
4
Steppenwolfer
R. Albarado
5
Oh So Awesome
M. Smith
6
Hemingway's Key
J. Rose
7
Platinum Couple
J. Espinoza
8
Bob and John
G. Gomez
9
Sacred Light
V. Espinoza
10
High Finance
E. Coa
11
Deputy Glitters
E. Prado
12
Double Galore
M. Luzzi
TRIPLE CROWN SCHEDULE
KENTUCKY DERBY
May 5, 2007
Web
www.kentuckyderby.com
Track
Churchill Downs, Louisville, Ky.
Distance
1 1/4 miles
Record
1:59 2/5
Secretariat, 1973
Purse
$2 Million
Winner
Street Sense





2007 winner Street Sense
PREAKNESS STAKES
May 19, 2007
Web
www.preakness.com
Track
Pimlico Race Course, Baltimore, Md.
Distance
1 3/16 miles
Record
1:53 2/5
Tank's Prospect, 1985
Louis Quatorze, 1996
Curlin, 2007
Purse
$1 Million
Winner
Curlin





2007 winner Curlin
BELMONT STAKES
June 9, 2007
Web
www.nyra.com
Track
Belmont Park, Elmont, N.Y.
Distance
1 1/2 miles
Record
2:24
Secretariat, 1973
Purse
$1 Million
Winner
Rags to Riches





2007 winner Rags to Riches