Second place is someplace
Who's Leading The Way?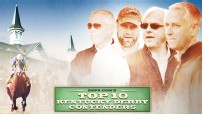 ESPN.com's Top 10 Poll
Each week, our panel of experts ranks contenders for the May 3 Derby. Think you know better? Be sure to tell us all about it in the poll's comments section.
Our friends at Brisnet.com have Past Performances for all Triple Crown nominees. Brisnet PPs
Bill Finley tells who would be on his horse racing Mount Rushmore. Story »
Who finished second to Orb in last year's Kentucky Derby? Frankly, the vast majority of people -- including ardent racing fans -- do not know the answer to that question any better than they may remember who was second a decade ago.
Everybody loves the Derby winner but once the Triple Crown races are in the books, few will remember the horse that did not get the blanket of roses in the Churchill Downs' winner's circle. For the record, longshot Golden Soul was second to Orb last year and Lion Heart was second to Smarty Jones a decade ago.
This lack of respect for the second place finisher is a commonly shared curse in the world of sports. For a few quick examples, I doubt you can name the team that finished second in the 2013 NCAA basketball tournament. Or, the team that finished second best in the 2012 World Series.
In horse racing, we praise to the skies the horse who wins the Kentucky Derby. But after a few weeks or months, most people will have a hard time remembering who almost won the world's most famous race. This despite the fact that there have been countless Derbies when the horse who did finish second was better than the winner, or at least deserved as much praise.
In a previous column that focused mostly on the biggest flops in Derby history, I pointed out that Hall of Fame horses Native Dancer and Easy Goer finished second in the 1953 and '89 Derbies respectively. But the list of truly notable second place finishers in the Kentucky Derby goes much deeper than that.
Making the call at the Kentucky Derby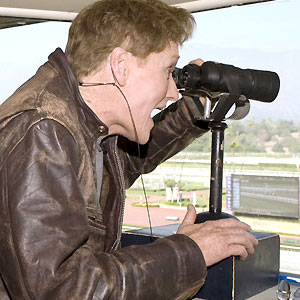 Benoit PhotoLate-night TV host Conan O'Brien saw first hand how difficult it is to call a horse race.
When Larry Collmus took over the job of calling the Kentucky Derby in 2011, he reached out for advice from track announcers who had previously been the voice of the Run for the Roses.
People like Tom Durkin and Mike Battaglia told him it was like any other race. Except … that about 16 million people would be listening and hanging on his every word.
Except … that he would have to pick out each and every horse in a cluttered field of 20 without skipping a beat.
Except … that rain and mud could complicate things and turn some horses into identical twins.
Except … that if he made a mistake, he would hear about it for the rest of his life.
Yep, just a typical day at the office.
"For me, calling my first Derby was like a mountain climber reaching the top of Mt. Everest," Collmus says. "It was an unbelievable experience. It was incredibly exciting, yet it was also nerve-racking.
"When it was over, there was such a feeling of relief. It was like someone lifted a 1,000-pound gorilla off me. I called the Derby, and I didn't mess it up. It was a feeling I've never had before or after any other race."
On May 3, Collmus will call the Kentucky Derby for the fourth time, this time in a different capacity. Already the race caller for NBC's coverage of the first leg of the Triple Crown, the 47-year-old native of Baltimore was named Churchill Downs' track announcer in February, turning the announcer's booth into his office and the 140th Derby into a home game for him. Not that he'll have been at Churchill for long. Derby Day will mark only his sixth day on the job.
The Derby Trail
The Road to the Kentucky Derby is a 34-race series, introduced last year, in which points are awarded to the top four finishers in each race.
| Date | Race | Distance |
| --- | --- | --- |
| Mar. 22 | Spiral Stakes | 1 1/8 mls |
| Mar. 23 | Sunland Derby | 1 1/8 mls |
| Mar. 29 | Florida Derby | 1 1/8 mls |
| Mar. 29 | La. Derby | 1 1/8 mls |
| Mar. 29 | UAE Derby | 1 3/16 mls |
For full schedule, please click here
For more on the series, please click here
Derby Points Leaders
The top 20 points-earners qualify for berths in the field for the May 3 Kentucky Derby at Churchill Downs. Earnings in non-restricted stakes races will serve as tiebreakers.
| Horse | Trainer | Pts. |
| --- | --- | --- |
| Samraat | Rick Violette Jr. | 60 |
| Hoppertunity | Bob Baffert | 55 |
| Intense Holiday | Todd Pletcher | 53 |
| Wildcat Red | Jose Garoffalo | 50 |
| Ring Weekend | Graham Motion | 50 |
| California Chrome | Art Sherman | 50 |
| Tapiture | Steve Asmussen | 42 |
| Midnight Hawk | Bob Baffert | 32 |
| Albano | Larry Jones | 24 |
| Uncle Sigh | Gary Contessa | 24 |
For entire leaderboard, please click here
Derby Trail Video Channel
In The Gate Podcast
California Dreamin'
California Chrome's trainer, Art Sherman, discusses the horse's San Felipe Stakes win. Hank Goldberg analyzes the Kentucky Derby field, and a Barry Abrams commentary.