Behind the reins at the Kentucky Derby
Who's Leading The Way?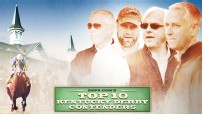 ESPN.com's Top 10 Poll
Each week, our panel of experts ranks contenders for the May 3 Derby. Think you know better? Be sure to tell us all about it in the poll's comments section.
Join Terry Turrell to discuss Saturday's big races. Derby Trail chat: 3-7 p.m. ET
Bob Ehalt believes horse racing fans are in for another interesting run toward the first Saturday in May. Story »
No doubt, Hall of Fame jockey Ron Turcotte rode a perfect race when he was aboard Secretariat for that fantastic colt's record setting Kentucky Derby win in 1973. But the great Thoroughbred champion was so strong that Turcotte admits that he didn't need to do much.
"I pointed Secretariat in the right direction," he said, leaving out the fact that the great colt looped the field in two spectacular moves to win that historic Derby.
Other Derbies since the 1950's certainly were dominated by the right horse in the right place at the right time: Swaps, for instance, simply outran Nashua in the '55 Derby and Dust Commander effortlessly scored a five-length win on an off track he relished in 1970. Different riders could have been aboard those Derby winners on those particular days without any change in the outcomes.
But over my lifetime, there have been several Kentucky Derby victories that were directly pulled off by the small-sized humans who delivered huge performances on horseback.
Racing is an exciting and dangerous sport, especially for the lightweight athletes who risk life and limb riding these 1,000 pound, high strung, Thoroughbreds in 15-20 horse Derby fields, in front of 130,000 live spectators and millions more on television. They may or may not be on the best horse, but every little mistake made will be magnified by slow motion replays and will draw a million words in newsprint.
That is why I have great admiration for the jockeys -- who in some specific cases - were mostly responsible for getting their horses to the Churchill Downs winner's circle.
Kentucky Derby wagering a regional affair
By
Jay Cronley
| Special to ESPN.com
One Kentucky Derby bet goes without saying: It's the one placed on the home team.
It's tradition.
The best horse at your track is your horse. Your track is usually the closest to home. Being there to watch the horse run at your track usually ups the amount of the wager that local or regional pride pushes to the windows. The owner, trainer and jockey comprise your team.
The horse racing equivalent to March Madness (which has evolved into April Angst) is the Kentucky Derby. May Mania. Once a year horse racing becomes something of a team game: Our racing is better than your racing.
There's even a one-and-done similarity shared by Derby horses and Kentucky basketball. Win the Derby and you're on to the breeding suite; with the basketball freshmen, it's on to the NBA.
The Kentucky Derby chase is also a little like the NBA. Players who had never so much as driven through your city before the draft, and leaves ten minutes after the last game of the season, comprise your beloved team. And horses that are flown or vanned in and take off after the race, perhaps never to return, are your horses.
Backing a home horse used to be expensive. Before all bets were comingled, local or regional wagering sites formed their own pools for the Kentucky Derby, with vastly different odds. A hot Arkansas horse might be 3-1 at Oaklawn and 5-1 at Churchill.
The Derby Trail
The Road to the Kentucky Derby is a 34-race series, introduced last year, in which points are awarded to the top four finishers in each race.
| Date | Race | Distance |
| --- | --- | --- |
| Apr. 5 | Santa Anita Derby | 1 1/8 mls |
| Apr. 5 | Wood Memorial | 1 1/8 mls |
| Apr. 12 | Arkansas Derby | 1 1/8 mls |
| Apr. 12 | Blue Grass Stakes | 1 1/8 mls |
| Apr. 19 | Lexington Stakes | 1 1/16 mls |
For full schedule, please click here
For more on the series, please click here
Derby Points Leaders
The top 20 points-earners qualify for berths in the field for the May 3 Kentucky Derby at Churchill Downs. Earnings in non-restricted stakes races will serve as tiebreakers.
| Horse | Trainer | Pts. |
| --- | --- | --- |
| Vicar's In Trouble | Mike Maker | 120 |
| Toast of New York | Michael Buckley | 100 |
| Constitution | Todd Pletcher | 100 |
| Intense Holiday | Todd Pletcher | 93 |
| Wildcat Red | Jose Garoffalo | 90 |
| We Miss Artie | Todd Pletcher | 60 |
| Samraat | Rick Violette Jr. | 60 |
| Hoppertunity | Bob Baffert | 55 |
| Chitu | Bob Baffert | 54 |
| Midnight Hawk | Bob Baffert | 52 |
For entire leaderboard, please click here
Derby Trail Video Channel
In The Gate Podcast
From sea to shining sea
Trainer John Sadler prepares Candy Boy for the Santa Anita Derby, plus owner Ronald Sanchez on his Social Inclusion in the Wood Memorial, plus a Barry Abrams commentary.