Cole Carter, Tenn. reach U.S. final
Updated:
August 22, 2012, 11:29 PM ET
ESPN.com news services
SOUTH WILLIAMSPORT, Pa. -- A group of wide-eyed kids in baseball hats waited patiently outside Lamade Stadium for a glimpse of the Tennessee Little Leaguers after they emerged from a postgame news conference to head back to the dorms.
The boys from Goodlettsville -- not even teenagers themselves -- are turning into stars at the World Series.
Little League World Series
Complete coverage from Williamsport, including video, schedules, standings -- everything to follow the action. LLWS
Cole Carter had an RBI single after Jake Rucker scored the tying run from second on a throwing error to give Tennessee a 4-3 victory over San Antonio on Wednesday night.
"I just wanted to get the ball in the air deep enough to get the run home from third," said the 12-year-old Carter. "I felt great when it landed in the outfield."
Next stop for unbeaten Tennessee: The U.S championship game Saturday.
"We're enjoying the ride. At this point, win or lose, we're happy," manager Joey Hale said.
Texas scored twice in the fifth before Tennessee rallied with its late-game heroics.
Reliever Luke Brown closed it out with a double play, and giddy Tennessee players celebrated in front of their dugout with wide smiles while kneeling on the ground as friends and families cheered from the stands.
Texas must now play an elimination game Thursday night against Petaluma, Calif. Tennessee can rest up until Saturday, when it will face the winner of the elimination game.
"We'll go back to the room now, address some stuff and then it will be over," Texas manager Jack Wideman Jr. said. "We'll be back at it tomorrow."
Tennessee had squandered several opportunities to build on an early 2-1 lead. Texas reliever Zachary Sanchez loaded the bases in top of the fifth after hitting a batter with two outs, but got a force at third to get out of that inning.
San Antonio small ball earned Texas a short-lived 3-2 lead in the bottom of the fifth. Landry Wideman had an RBI single before pinch-runner Jack Scarborough scampered home from third on a passed ball.
But Texas couldn't hold on in top of the sixth. Rucker led off the inning with a walk and moved to second on Jayson Brown's single before racing home after an errant pickoff throw at first sailed into the outfield.
"We just made some mental mistakes down the stretch," Wideman Jr. said. "I wouldn't say the wheels came off; it's just baseball. The roles were reversed; they put the pressure on us."
Tennessee had taken 2-1 lead in the third after 12-year-old sluggers Brown and Brock Myers hit back-to-back homers. Showing big-league slugger form, Myers sidestepped up the line as he watched the ball sail on to the grassy hill beyond the left-field fence.
Japan 4, Panama 1
The Little Leaguers from Japan are playing textbook baseball.
Strong pitching, solid defense and powerful bats have carried the team from Tokyo to a berth in the international final at the World Series following a 4-1 victory over Panama on Wednesday.
[+] Enlarge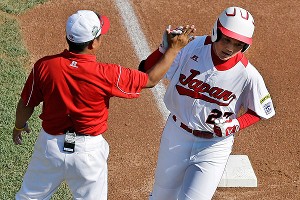 AP Photo/Gene J. PuskarKotaro Kiyomiya, right, rounds third base after hitting a two-run home run in the first inning of Japan's 4-1 victory against Panama in the Little League World Series on Wednesday.
Kotaro Kiyomiya homered in the first, and starter Ryuji Osada struck out seven.
The left-handed Kiyomiya displayed prodigious power for a 13-year-old slugger. His blast landed nearly halfway up the hill beyond the right-field wall, about 310 feet from the plate.
"As soon as I hit it, I knew it was a home run," he said through an interpreter. "That's why I didn't take off quickly."
Panama finally got on the board in the fifth after Edwin Nieto hustled around first to score on a double by Daniel Cruz and an error.
But Osada got the next batter to ground weakly to short to end the threat.
Japan is a traditional power, having appeared in the World Series finals four out of the previous six years, including a title in 2010.
Now, Tokyo is two wins away from taking home another title to Japan. Noriatsu Osaka retired the side in order in the sixth for the save.
The two teams then lined up for the customary postgame high-fives at the plate before Japan's players sprinted out to center to pay homage to the bust of Howard Lamade just beyond the outfield wall -- another Japan tradition at the World Series. The main Little League stadium is named after Lamade.
Japan pounded out eight hits but squandered a couple other scoring opportunities. Despite the first-inning homers, manager Yoichi Kubo thinks his boys aren't swinging the bats well.
"We have not adjusted to this big stage" at the plate, Kobo said. "Our pitching has been very good."
The Panama team from Aguadulce moves into the elimination bracket to play Mexico on Thursday, with the winner of that game facing Japan in the international championship game on Saturday.
It's time for Panama manager Luis Gonzalez to settle his players down.
"We will have a team meeting to get them to relax because we have to ready to play another game," Gonzalez said through an interpreter.
While they struggled at the plate, Panama pitching settled down after the rough first. Kiyomiya's homer to right was nearly caught by a fan watching the game from a beach chair carefully perched on the steep hill; Shun Oshima followed with a solo shot to right two batters later.
Twelve-year-old reliever James Gonzalez got a strikeout to end a bases-loaded jam the next inning before Panama. He allowed a run and two hits in three innings, benefiting from some nifty glove work like 13-year-old shortstop Daniel Cruz's diving stop to his right and Edisson Gonzalez's sweep tag at first to end the bottom of the fourth.
Panama pitchers were often serenaded to chants of "Strike him out" in Spanish by their fans, who were yelling the phrase when Oshima tripled down the left-field line to tack on an insurance run in the bottom of the fifth.
Information from The Associated Press was used in this report.
MOST SENT STORIES ON ESPN.COM