Tennessee, Tokyo in championship
Updated:
August 25, 2012, 9:11 PM ET
Associated Press
SOUTH WILLIAMSPORT, Pa. -- Brock Myers hit a tie-breaking double, and Goodlettsville, Tenn., gave up a 10-run lead in the bottom of the sixth before scoring nine in the seventh in a 24-16 victory on Saturday over Petaluma, Calif., for a berth in the Little League World Series title game.
Only California's 10-run comeback to send the game into extra innings tied at 15 could overshadow Tennessee slugger Lorenzo Butler's extraordinary day at the plate. Butler set a single-game record with nine RBIs, and tied a record with three homers to lead Tennessee.
Cole Tomei had a two-run double in the sixth, and Hance Smith's solo shot with two outs gave California an improbable 15-15 tie.
[+] Enlarge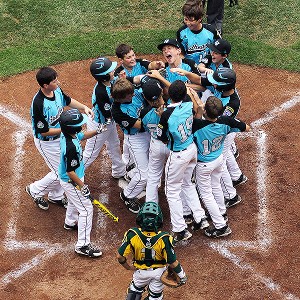 Rob Carr/Getty ImagesCalifornia and Tennessee played a Little League classic Saturday. The teams combined for 40 runs -- a World Series record -- in a game that lasted more than three hours. In the end, it was Tennessee celebrating a trip to Sunday's championship game.
Tennessee finally held on in the bottom of the seventh to win the U.S. championship.
Tennessee will face Tokyo on Sunday after Japan beat Aguadulce, Panama, 10-2 in the international final.
Luke Brown's strikeout to end the game set off a wild celebration on the field, before the two teams exchanged customary postgame handshakes.
California and Tennessee played a Little League classic.
The teams combined for 40 runs -- another World Series record -- in a game that lasted more than three hours.
But only Tennessee gets to move on to Sunday's World Series title game against Japan.
The U.S. title game looked as though it might also be a blowout with Tennessee leading 15-5 in the sixth.
That's when Petaluma powered up at the plate.
Every run that drew California closer turned up the intensity in the Lamade Stadium stands. "Petaluma! Petaluma!" California's fans pleaded throughout the sixth.
Smith's homer finally completed the comeback.
And soon enough, Tennessee surged ahead again with nine runs in the seventh.
Logan Douglas scored on an error for California in the bottom of the seventh with two outs to make it 24-16, and anxious fans wondered again if Petaluma could pull off another miraculous rally.
It wasn't to be after Brown's game-ending strikeout.
Tennessee players converged near third base, throwing their gloves in the air before collapsing to the ground in delight.
Butler had such a big day at the plate his name at one point was a trending topic on Twitter. He hit a trio of three-run homers, including the final one the opposite way to right in the sixth to make it 15-5.
After each blast, he looked calm in the dugout, seeming as collected as a big-league hitter in a tense playoff game.
Japan 10, Panama 2
Japan relied on the bats in the early game, too, getting five homers, including two from 13-year-old slugger Kotaro Kiyomiya, for the international championship.
The 6-foot Kiyomiya is imposing at the plate, and he set the tone early with a first-inning blast that sailed deep down the right-field line.
Edisson Gonzalez had an RBI single in the first while Daniel Castro added a run-scoring double in the second for Panama. Those runs got Panama to 4-2 going into the third.
[+] Enlarge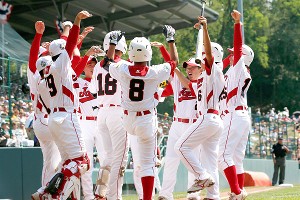 Rob Carr/Getty ImagesMembers of Japan celebrate a first-inning home run by Satoru Aoyama (8) during the Little League World Series on Saturday.
But Japan didn't let up.
Rintaro Hirano homered to center in the third before Kiyomiya went deep again in the fourth, this time the opposite way to left-center to make it 7-2.
Starter Yuta Ishida allowed four hits and struck out six over four innings, while three relievers combined for two shutout innings to close out the game.
"Yes we can! Yes we can," Panama's fans chanted in Spanish through the sixth, down by eight.
The game was such a big deal for Panama that Mario Jaramillo, the country's ambassador to the United States, watched the game.
But it was Japan celebrating at the end. Their players smiled and posed for a picture at the mound with their new prize -- the international championship banner.
Coach Junji Hidaka would rather his team not rely so much on the long ball come Sunday,
"We only scored on home runs today, I would advise the players not to try for more homers" Sunday, Hidaka said. "We need to string our hits together."
Panama committed four errors on the day, including two in the second that led to another Japan run. Still, Panama showed signs of keeping up with Japan's powerful offense after Castro's double made it 4-2 in the second.
Ishida shut them down from there and didn't allow a base runner over his final 2 1-3 innings.
"It was a difficult game against a good pitching team," manager Luis Gonzalez said. "The team had confidence after scoring in the first inning but (two errors in the second) really stopped our momentum."
A traditional World Series powerhouse, Japan has won the international bracket five times in the past seven years. But it has won the World Series title game only once during that span, in 2010.

Copyright 2012 by The Associated Press
MOST SENT STORIES ON ESPN.COM