Mo'ne Davis gets hit; Philly rallies
Updated:
August 18, 2014, 11:20 AM ET
ESPN.com news services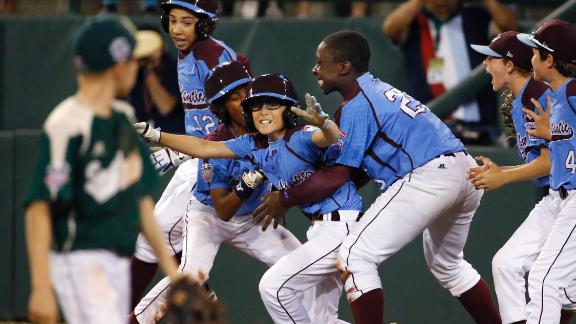 Pennsylvania Walks Off In LLWS Thriller
Mo'ne Davis recorded an early hit and Pennsylvania rallied from behind to beat Texas in walk-off fashion.
Pennsylvania Walks Off In LLWS Thriller
NEXT VIDEO
SOUTH WILLIAMSPORT, Pa. -- Mo'ne Davis had a bloop RBI single in the first inning to became the sixth girl to get a hit in Little League World Series history, and her Philadelphia team rallied in the sixth inning to beat Pearland, Texas, 7-6 on Sunday night.
More from ESPN.com

For the little girls gathered on the sloping hills and in the grandstands of the Williamsport complex, Mo'ne Davis' confidence on a baseball field filled with boys is empowering. Story
On Friday in Philadelphia's opener, Davis threw a two-hitter and struck out eight in a 4-0 victory over Nashville, Tennessee.
In the sixth inning against Pearland, Zion Spearman scored the winning run on shortstop Matt Adams' two-out throwing error to first base. Scott Bandura reached on a bunt leading off the inning. Two outs later, Spearman tied it with a line-drive triple into the left-center gap.
The hometown Philadelphia Phillies took to Twitter to show their support.
All we can say is WOW! What a comeback by @taneybaseball! CONGRATULATIONS! You're making all of Philly so proud!

- Phillies (@Phillies) August 18, 2014
Pearland (1-1) had a four-run fifth to take a 6-3 lead. Cole Smajstrla hit a three-run home run and Layne Roblyer, who homered earlier, had an RBI single.
Spearman and Kai Cummings drove in runs in the bottom of the inning to cut it to 6-5.
Philadelphia will play Las Vegas on Wednesday night (7:30 ET, ESPN), with Davis expected to pitch again. Las Vegas also improved to 2-0 on Sunday, routing Chicago 13-2 in four innings.
She Got Game

Mo'ne Davis became just the fourth female in Little League World Series history to bat in a run and the first to do so since Katie Reyes in 2009. She also played third base, shortstop and first base on Sunday.
Year
Player
RBI
2009
Katie Reyes
3
2014
Mo'ne Davis
1
2004
Meghan Sims
1
1998
Sayaka Tsushima
1
-- ESPN Stats & Information
On Monday, Pearland will play Lynnwood, Washington; and Chicago will meet Cumberland, Rhode Island.
Las Vegas 13, Chicago 2
Brad Stone hit a grand slam in the first inning and Las Vegas hit five home runs in a 13-2 win over Chicago's Jackie Robinson West.
First baseman Austin Kryszczuk homered twice, in the second and fourth innings.
Chicago's Pierce Jones, who hit three home runs on Thursday, went 0-for-2 with a walk.
South Korea 8, Puerto Rico 5
Jun Hyeok Yun stole home to score the go-ahead run and South Korea beat Puerto Rico 8-5.
Entering as a pinch runner, Yun raced home after teammate Hae Chan Choi drew a throw to second base from catcher Jeremy Colon in the top of the sixth. South Korea added two runs later in the inning and Jae Yeong Kim pitched a perfect bottom half of the inning.
Awaiting South Korea on Wednesday is Japan.
Japan 9, Mexico 5
Shozo Kamata had a pinch-hit, go-ahead two-run single in the fifth inning to help Tokyo, Japan, beat Guadalupe, Mexico, 9-5.
With the game tied at 5, Kamata hit a slow ground ball up the middle that escaped the reach of Mexico's shortstop and second baseman and made the score 7-5.
Japan added two more in the inning and Mexico could not respond, going down in order in the top of the sixth.
Japan advances to play Seoul, South Korea, on Wednesday.
Information from The Associated Press was used in this report.