This is the second part of my Remembering 2010 blog, as I look back on a story I wrote about the rise of African soccer.
The idea was hatched over beers in the East Hotel in Hamburg during the 2006 World Cup. I sat with my friend and colleague Luke Cyphers discussing soccer stories we'd like to write. "Something I've always wanted to cover," I told Luke, "is the African Nations Cup." I was serious, but it was probably 3 a.m., and I couldn't tell you another idea Luke or I came up with that night. But I do recall Luke saying, "That would be incredible."
[+] Enlarge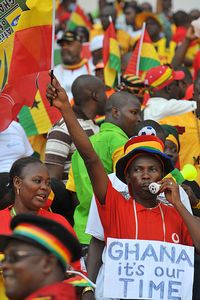 Issoue Sanogo/AFP/Getty ImagesSupporters voice their support during the Africa Cup of Nations final between Ghana and Egypt.
Fast-forward three years. The Magazine staff is discussing how we should preview the 2010 World Cup. I say we should focus on Africa and how the game has evolved on that continent since the first World Cup in my memory, 1974 in Germany. For some reason, though I was only 8, I had vivid recollection of Zaire losing 9-0 to Yugoslavia. When I thought of the progress countries such as Nigeria, Cameroon, Senegal and Ghana had made since then, and with South Africa set to play host, I loved the story.
"Didn't you want to cover the African Nations Cup?" Luke asks, remembering Hamburg, apparently. He then makes a case for me, saying how better to write about the rise of African soccer than by being there for all the sights and sounds of the Nations Cup.
"Well, yeah," I say. "I'd love to cover the Nations Cup."
What happened between that meeting and the day before I left for Luanda, Angola, to watch the final three rounds of the African Nations Cup (or Cup of Nations, as it's sometimes called) is really blurry. I applied for credentials and did not get a response for the longest time. I'd gotten some vague reply about how I should take care of it online (I tried) and given three or four phone numbers and names, none of which seemed to work.
There were moments when I told our soccer editor, Brendan O'Connor, "I don't think it's going to happen." But I kept plugging along, getting a half dozen immunizations, booking flights, trying to book a hotel only to find out that Luanda is the world's most expensive city for foreign business and that hotel rooms were scarce.
And then came the matter of the visa.
ESPN has a service that handles this type of paperwork, but when I said "Angola" to them, there was a hush on the other end of the phone. Then, I swear I heard a gulp. "One of the hardest visas to get," the fellow from the service said. "You need it when?" I think I had about two weeks until I was supposed to go, and I was told this was definitely not a slam dunk. "It's going to take every bit of that," I was told. "It may be too much to ask."
The Cup of Nations, meanwhile, was under way.
That's when I got an e-mail from an old friend, a fellow named Nick Gates, who runs a program called Coaches Across Continents, a non-profit that's done extensive work in Africa. Nick asked me, "Are you still going to Angola after today's news?" No sooner did I go online that I saw that the team bus from Togo had been strafed by gunfire on its way to a training session. I'd been told by many that Angola was not entirely safe, but this was more than I expected to hear. My wife pleaded with me not to go.
As I awaited further word on my paperwork, I got assurance from a lot of folks that I'd be safe in Luanda. ESPN Worldwide Security took special notice of my travel plans and said it'd set me up with security for my stay. But time was slipping away.
It was not until two days before my scheduled departure that I got word that I could go to the Angolan Embassy in New York City and get my visa. And so it happened. I went into the city, got my visa, secured a hotel room (about $350 a night for a room in a guest house), and finally, got word that my credentials to cover the games were in order. The very next day, I was flying from Newark through Brussels to Luanda. It was close to 20 hours all told. When I arrived at around 10 p.m. local time, my security was waiting for me. I was exhausted, but I was told that a meal was waiting for me at my hotel. I had no real interest in anything more than going to sleep. But sure enough, before I could even go to my room, the hotel (eight rooms in the hotel) sat me down at one of the three tables and threw what was supposed to be a steak and some fries in front of me. It was so bad, all I can say is that I lived the rest of my two weeks on rice and beans and things I'd packed from home (granola bars and Swedish Fish, mostly).
Over the next two weeks, I experienced something unlike anything I'd ever covered, or anything I expect to cover again, in my life. The poverty in Angola is unspeakable. The traffic in Luanda never seems to subside. I wrote in my story that "hundreds" of cranes dot the skyline, each representing another unfinished project. The Magazine fact checker asked me how I knew it was "hundreds" and I said he'd have to trust me. He said that unless I could prove there were more than 200 he'd have to change it to "dozens." When the issue came out, I saw it had been changed. Trust me, it is hundreds.
But they did manage to finish the four stadiums to host the Cup of Nations. The only one I visited was on the outskirts of Luanda, in the middle of nowhere. It was about 15 miles from my hotel, but it took us a minimum of three hours to get there because of the traffic. Each day, with the help of my driver, Ricardo, I was able to do exactly one thing. One training session or one press conference. Or one side trip to take video for a short piece to accompany the story. One day, I said my goal was to get to both Ghana's and Nigeria's training sessions. We didn't even come close to getting to both.
I made fast friends with the folks in the Ghanaian media. They were extremely helpful, introducing me to players, coaches and team officials. By the time the World Cup came around, I had a pretty good grasp on the Black Stars (but that's a blog for another day). Turns out, I saw Ghana play three times. Saw them defeat the hosts from Angola in the quarters and Nigeria in the semifinals -- each 1-0, each on a goal from Asamoah Gyan. And I saw them fall 1-0 to Egypt in the final. Truth be told, the soccer was shockingly bad. Perhaps familiarity with the opposition can lead to stalemates, or perhaps it's just that trying to play matches in 100-degree heat on lousy pitches is not conducive to good soccer.
The soccer was the least part of the trip, which is what I ultimately tried to convey in my story. The images that endure are of kids playing barefoot in back alleys, street vendors hawking counterfeit shirts, rice and beans, and more rice and beans.
But mostly, I remember Angola for Ricardo. My driver, a native Angolan who lost his dad to the long civil war and who'd just lost his mother (who was about my age) to a disease he could not name. Ricardo was, at one time, a competitive fighter in the martial arts. But he had to give up that dream to make money. He was just an awesome dude.
One day, while we were stuck in traffic, I told him I wanted to buy an Angola jersey. They were very stylish, I told him. We pulled over to a few street vendors, but each time Ricardo would tell them in Portuguese that the price was too high. Then one day, when he picked me up at my hotel, Ricardo handed me a shirt. "Here, Mr. Jeff," he said. "I said, 'How much?'" And Ricardo said, "It is a gift. I am so honored that you would like to wear the shirt of my country." It's one of the nicest things anyone's ever done for me.
Looking back, I laugh when I was told that covering the World Cup in South Africa would be difficult, because it was not. Covering the Cup of Nations, an idea that dated to a long-ago night in Germany, now that was difficult. But so worth it.
If you'd like to read more about the adventure (the non-soccer stuff), I invite you to my blog.