Kaka could be key for Real
January, 11, 2011
01/11/11
9:14
AM ET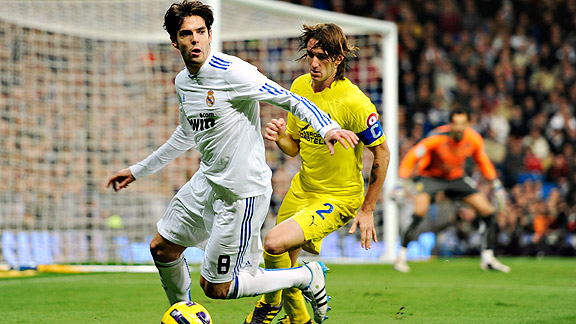 Pedro Armestre/AFP/Getty ImagesThings haven't exactly clicked for Kaka at Real Madrid, but he's back from injury and ready to prove himself again.
In high school, I came down with pneumonia. It shattered me for two weeks. After that, I started to feel better, but there was no reason to rush back to the bus stop. Video games and a new addiction to a soap opera ("Days of Our Lives," if you must know) made for E-Z living. Two weeks later, my mother realized I was not on my death bed and it was back to school.
Playing catch-up is never fun, and when I rejoined the tennis team I found that my spot on the doubles squad had been taken by someone else. Swatting balls back and forth felt like a foreign exercise. I had to prove myself all over again.
So, I couldn't help but watch with glee when Kaka scored for Real Madrid on Sunday against Villarreal. In no way do I compare myself (then or now) to a professional athlete -- I proudly stand among the athletically disaffected weekend warriors who consider a six pack something you drink -- but I do know how tough it is to return to sport after a long layoff. And there's Kaka, who's trying to do it under immense pressure on one of the biggest teams in the world.
Clearly, I'm not the only one pulling for the former World Football Player of the Year.
When Kaka scored the fourth goal in Real's 4-2 win over the "Best of the Rest" in La Liga, manager Jose Mourinho ran over to the Villarreal bench and proceeded to pump his right fist right in front of the players and coaches. It was rude. It was antagonizing. And it prompted someone from Villarreal to throw a bottle at him.
Vintage Mourinho.
His rapturous celebration was genuine, no doubt, because the goal put the game well out of hand. But Mourinho's Hulk Holgan-inspired antics -- he really should work a "Can you hear me?" gesture, where he moves his hand to his ear, into his repertoire -- also reflected the relief he must feel that he finally has another weapon in his recently depleted arsenal.
Kaka returned from hernia surgery -- it's an injury he'll have to deal with for the rest of his life, doctors tell him -- a week ago, and he's trying to work his way back into Mourinho's starting XI. He was subbed into Real's game Jan. 3 against Getafe for a quiet 15 minutes, marking his first official action with the club since May 15. On Thursday, in the King's Cup, he joined Madrid's B(enzema) squad for another 20 minutes. If not for the woodwork, he would have had the perfect comeback gift -- a goal from a nice header under pressure.
Instead, Kaka would have to wait until Sunday, when he was in the right place at the right time to take advantage of a cross from Cristiano Ronaldo.
The Brazilian, who'll be 29 in April, is one of the most likeable players in the game, someone you can feel good rooting for even if you don't support the badge he adorns on his chest.
And let's face it: Ever since Kaka arrived at The White House, things haven't quite worked out. His 65 million pound transfer in 2009 made him the most expensive player of all time ... for a week, before Ronaldo rolled into town. Kaka's production for Real -- 31 games, 10 goals, eight assists in all competitions -- is respectable for most players, but not for someone of his pedigree.
Has he been a disappointment in Spain? Yeah, he has. And some rumors suggest Kaka may head back to Italy with either Milan or Inter, though Mourinho told Sky Sport Italia, "He will stay with Real. It took so long to get to work with him. He told me, with real honesty, that he feels it is very important that he demonstrates that he is a Real player."
When it was announced that Kaka was getting close to a return from injury, the obvious question arose: Where will Mourinho play him? The Special One brought in Mesut Ozil, the World Cup wunderkind whose slashing runs and perspicacious passes have helped spearhead Real's attack. In a matter of weeks, Ozil laid claim to the team's chief playmaking role -- Kaka's natural position. He could win it back. And Mourinho could call up Pep for some tapas and beers.
[+] Enlarge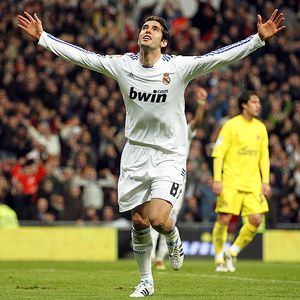 Angel Martinez/Real Madrid/Getty ImagesKaka celebrated after scoring Real's fourth goal against Villarreal on Sunday.
Thing is, even a fully-fit Kaka doesn't solve Mourinho's main problem. Ever since Gonzalo Higuain went down with an injury that could see him out until at least April, Mourinho's ad on Craigslist -- Wanted, for the love of God: Striker who can find back of the net. Be champion! -- has gone unanswered. It's left the manager staring into the deer-in-the-headlights gaze of Karim Benzema.
Benzema, what can you say? He's made some brilliant passes (including one to Ozil, who in turn served up Ronaldo, on Sunday) and scored some goals, but with each passing game that he's given the chance to lead the line as a starter or substitute -- including a meaningless King's Cup match Thursday in which he was subbed off in the second half for…Kaka -- he is struggling to score. Just one league goal all year? Not good enough.
He looks to be trying, perhaps too hard. Perhaps he can't handle the spotlight. Whatever, it has left Real with a real dilemma. Is Kaka the answer? Not exactly, but he still could play a key part in the title race.
Of course, playing Kaka as a striker in lieu of Benzema is an unlikely scenario. With Ronaldo sitting on 22 league goals, Mourniho's main concern will be making sure that his golden boy maintains his razor-sharp form. He can do that by drawing defenses away from Ronaldo. That will probably mean, more often than not, that a fully-fit Kaka slots in between Ozil and Angel di Maria, much the way Milan used him between midfield and attack.
But Mourinho doesn't have much margin for error. Although Real is only two points behind Barcelona, the table-leader is seemingly unstoppable. You could see the urgency in Mourinho's tactics Sunday. Knowing that falling five points behind Barca could render Madrid a spectator in the title race, he essentially had Marcelo playing as a left winger who abdicated any defensive responsibilities. And he took off defender Raul Albiol for Kaka.
Losing anymore ground to Barcelona would put a serious dent in Real's chances of reclaiming the title and would only add more pressure to the Clasico in April at the Bernabeu, a match already being billed as the Biggest Match of All Time (until next time, of course). It's during this pressure-filled run-in that Kaka will have to prove himself all over again. If he doesn't, Mourinho won't play him out of nostalgia.
On Sunday, Kaka got off to a good start. Let's hope he can add to it, if for no other reason than to see Mourinho pull out his WWE moves in front of Pep and the boys.