Old Trafford's home boy comes good
February, 12, 2011
02/12/11
10:25
AM ET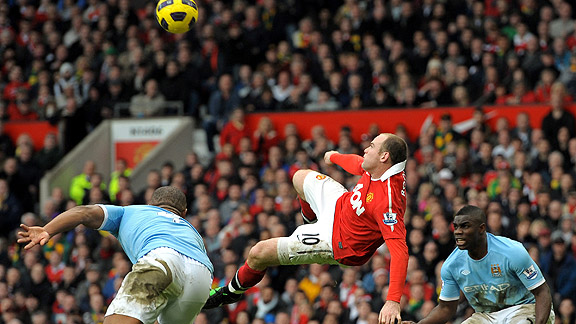 AFP/Andrew YatesHe's back: Wayne Rooney scored the goal of the season to give United a 2-1 win over Manchester City.
Each time Manchester United and Manchester City face each other, we're left to wonder if this will be the turning point in the rivalry, the match we look back on and say this was when City started to dominate. It seems inevitable, given the vast resources being poured into the blue side of Manchester. But that moment will have to wait, all because of an extraordinary goal from Wayne Rooney.
It was a pivotal day in the title race, no doubt about it. And Rooney, who's not done much by his high standards for the first two-thirds of the season, has all but erased any ill will and disappointment with one transcendent tally in the 77th minute.
About twelve yards out, level with the left-hand post and with his back to goal, Rooney reacted to a deflected delivery from Nani with an overhead kick into the top right-hand corner of the net. City keeper Joe Hart could only watch as the ball -- and his team's title aspirations -- whizzed by him.
Goal of the game. Goal of the season. Biggest goal of Rooney's career. "I think so," Rooney told Sky Sports when asked if it was the best goal of his career. "I saw it come into the box and thought, 'Why not?' Thankfully it finished up in the top corner.
"I was trying to get in a good position for when Nani crossed it. Nine times out of 10 they go over the crossbar. Today it ended up in the top corner. It is instinct. You don't have time to think about it."
You can forget Dimitar Berbatov's overhead kick against Liverpool this past fall. It'll be Rooney's majestic moment that will be memorialized by the Old Trafford faithful.
The goal was in stark contrast to how United approached much of this showdown. Per usual for a match of big importance, manager Alex Ferguson kept Berbatov on the bench at the start of the game so he could add an extra player in the midfield and use just one striker up top. Call it the lunch-bucket formation -- it's workmanlike and effective, if not especially pleasing to the eye.
Look at the first goal, one that would make any Bolton fan swoon -- a simple hoof from Edwin van der Sar straight down the middle. Rooney won the ball off Joleon Lescott and Ryan Giggs delivered a perfectly weighted one-touch pass to a surging Nani. The Portugal international showed his quality in the way he brought down the ball into his control, and then slotted it into the bottom-right corner.
He may never become the next Cristiano Ronaldo, but Nani has come into his own and is having a huge impact. He has now scored or assisted on 19 goals for Manchester United in his past 20 Premier League appearances.
City played quite well, it should be noted, and was often the sharper of the two sides in the final third. David Silva pulled his usual playmaking strings, and Carlos Tevez had some threatening moments, especially after Edin Dzeko came on.
And we can be certain that United has seen enough of the Bosnian. As a Wolfsburg player last season, Dzeko scored twice against the Red Devils in the Champions League. And though Silva got credit for City's only goal on Saturday, he knew nothing of it. It was Dzeko's blast at point-blank range, which took a nasty deflection off of Silva's back, that was the reason City got on the scoreboard.
Still, there's bound to be plenty of bitter Blues supporters out there, as this hilarious bit demonstrates.
Other standout performances included Nemanja Vidic, who snuffed out attacks like a fireman putting out a thousand brushfires, and Chris Smalling. Starting in place of the injured Rio Ferdinand, Smalling had big boots to fill, and he acquitted himself exceptionally well at the back. United fans probably expected him to get caught out but he kept his head right to the death, when he made a strong tackle to stop City's last surge forward.
But this game all comes back to Rooney, the savior at Old Trafford. "Talisman" is the most overused word in soccer; a player scores a few goals and suddenly he's being anointed as something special. But the description is apropos for Rooney. Despite his tumultuous contract negotiations and his poor dip in form, he has come good in a critically important derby. And once again, he's proven how valuable he is at Old Trafford, as United now has won all 41 of the Premier League matches that he has scored in at home.
Roberto Mancini and his men now find themselves eight points back of the lead. The revolution at Eastlands will probably have to wait at least one more season.