Stalemate in the south of France
February, 23, 2011
02/23/11
4:56
PM ET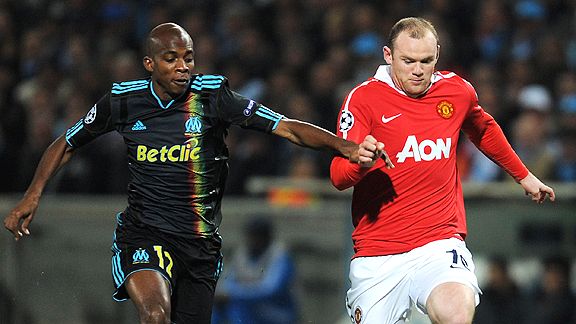 Michael Regan/Getty ImagesHand-in-hand: Marseille and Manchester United battled to a scoreless draw.
In the south of France on Wednesday night, Manchester United and Marseille did their best to give new meaning to the word stalemate. At times mildly interesting, but often just a dreary display, the match saw the two sides battle to a scoreless draw in the first leg of their Champions League encounter. It was one of those matches where the final whistle is an act of mercy on the fans, and probably the players, too. Passages of play were continually broken up, and both sides did so much passsing in and around the center circle it's amazing there was still any grass left. Here are some thoughts on United's effort in the game:
1. Gibson and Carrick aren't cutting it
Darron Gibson featured in United's borderline abject performance against Crawley Town in the FA Cup on Saturday. He had a handful of decent passes in an otherwise forgettable fixture. Against Marseille he was even worse, giving up possession cheaply and not even threatening with his trademark long-range, low-percentage rockets. And what can you say about Michael Carrick? Someone on the United training staff might want to remind him that it's acceptable to pass the ball forward. Tackling isn't against the rules, either, but Carrick -- once a decent player for United, and Spurs before that -- has seen his development go in the same direction as too many of his passes: backwards. Or, at best, sideways. Set up as the main man in front of the back four in Ferguson's preferred 4-3-3 formation in the Champions League, Carrick was supposed to run the midfield. Epic fail. United's passing game lacked direction and control at times, and was just chaos at others.
2. Center half Chris Smalling wasn't half bad
The former Fulham man, young and untested on big European nights like this, did appear tentative and nervous in the first half. But he also made a few key blocks and avoided any costly blunders. At the very least, Smalling was more composed than the team's other backup, the injured Jonny Evans. Without Rio Ferdinand captaining the side, United should be mostly pleased with Smalling's shift but also frustrated with the lack of offense. Overall, United continued its trend in Europe of mustering very little in front of goal -- in the group stage, it scored seven times, the worst conversation rate, at 10 percent, of all the teams in the last 16. But with such an average squad compared to years past, Ferguson must think battering down the hatches is the best way to navigate the Champions League.
3. We've seen this show before
It wasn't until the 72nd minute that Alex Ferguson finally yanked Gibson to bring on Paul Scholes. Predictably, he helped bring a bit of order and energy to the side. Yet even after his introduction, United's passing game failed to get going. Obviously, Ferguson can't trot out the 36-year-old for every big game. But you're left to wonder if the Red Devils might have nicked that all-important away goal if Ferguson started Scholes and pushed Wayne Rooney up with Dimitar Berbatov instead of starting Mr. Bicycle Kick on the left wing. Until United switched to a 4-4-2, Berbatov was stranded up top, with no one to play off.
As things stand, the return leg at Old Trafford on March 15 will be a nervous affair for both teams, but especially United. After the match, Ferguson was kindly reminded by the press about how a scoreless first-leg result in Monaco in 1998 ended with United getting bumped out of the competition on the away-goal rule after a 1-1 draw at Old Trafford. Some may still argue that United holds the advantage, as Marseille's form made you wonder how it was able to be crowned champions of France this past season. But one shot past Edwin van der Sar's big mitts and the Red Devils' Champions League campaign will hang by a thread. At which point, they'll look once again to the likes of Scholes and Ryan Giggs, if healthy, to bail them out.