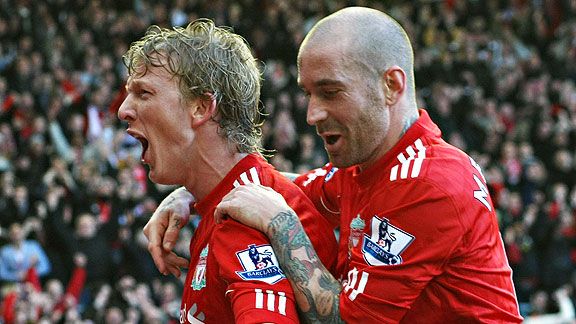 John Peters/Getty ImagesDirk Kuyt scored a hat trick in Liverpool's 3-1 win over United.
This season's EPL title race is like the weather in New England -- wait a few minutes and everything changes. This past Tuesday, when Wayne Rooney scored against Chelsea, pundits were already putting United seven points ahead of Arsenal. By the end of the game, with the Blues victorious, all the talk was about how the Gunners were one point off the pace with a game in hand. Fast forward to this weekend, when Arsenal dropped two precious points against Sunderland. Advantage, Red Devils. Once again, they were in a position to pull away. And once again, they blew it.
So what are we to make of United's loss at Anfield? Other than no one should be betting any grocery money on which team, Arsenal or United, will ultimately end up on top come May. Here are four takeaways from Liverpool's 3-1 thrashing of United on Sunday.
1. It was a game of two "assists"
For all intents and purposes, the match was won in the span of five minutes in the first half, thanks to Luis Suarez and Nani.
The box score will record what Suarez did as an "assist" to Dirk Kuyt, but that's like calling Brooklyn Decker decent looking -- the description just doesn't do any justice. The Uruguayan proved he can wiggle out of the tightest of spaces, first leaving Rafael in his wake before slaloming past Chris Smalling and Wes Brown to get the ball to Kuyt for the easiest tap-in he will ever get. It's the kind of magic that the Kop used to expect from Fernando … what's his name?
Five minutes later, there was another assist of sorts. The box score won't reflect this one at all. And only Nani will know what he was intending when he mistimed a header right back into the danger area to give Kuyt another easy put-away, this time a header from about 4 yards out. (Anyone else think Kuyt should take his week's wages and go bet on some horses?) Although he wasn't under pressure, the Portuguese clearly experienced a senior moment when he sent the ball toward goal -- and sent United's hopes plummeting.
2. Ref is color blind
Say what you will about Nani. Yes, his skills as a drama queen could land him a starring role on West End. And the way he was felled by Jamie Carragher, only to get up and sprint to the ref to protest before hitting the deck again was bizarre. But let's also be clear: Carragher's tackle on Nani in the 45th minute should have been a straight red card. Yet referee Phil Dowd only saw fit to pull out a yellow. We saw a similar situation in Manchester City's 1-0 win over Wigan yesterday, when Micah Richards went in recklessly on Tom Cleverley and was lucky to get away with just yellow. At a time when football's lawmaking body, the International Football Association Board, has decided to outlaw the menace that is the neck-warming snood, perhaps someone should insist that refs take a refresher course in what is, and isn't, a reckless challenge.
3. Kuyt shines once again
The book on Kuyt is that he's the Energizer Bunny of football -- he runs and runs and runs, but doesn't really have a ton of skill. His tireless endeavor has even been used to describe the similar hustle of Park Ji-Sung, otherwise nicknamed Park Ji-Kuyt. It's endearing, but also a backhanded compliment.
But can there really be any doubt about Kuyt's skill? In fairness, he didn't have to do much on the first goal. Or the second. But the third was classic Kuyt. After Suarez took a free kick toward goal, Edwin van der Sar spilled the ball. While United players were loitering about, the Dutchman anticipated and raced forward to score his first hat trick since 2005. Kuyt's always in the thick of things and knows how to get into the right space at the right time. Whether you support Liverpool or not, you have to appreciate what he brings to the match.
4. Is United's secret finally out?
They might not tell you in public. They certainly won't tweet it. And don't bother scanning their Facebook pages for any intel. But if you get Red Devils supporters in a dark room, pour a few pints and chit-chat, they'll come clean. They'll say that they think Sir Alex Ferguson's decidedly average side has been punching above its weight all season. It's a squad with aging players, perpetually injured players and slumping players, yet United remains atop the table almost in spite of its handicaps. In some ways, keeping United in the lead could be seen as Ferguson's greatest coaching achievement.
But how long will the Red Devils retain that pole position after the nightmare week they've had? Chelsea absolutely bullied them off the pitch last week, especially in the second half. And on Sunday, Liverpool outclassed its archrival.
You can point your finger in many directions, but the best place to start is the midfield. Look at how Liverpool went about its business. The midfielders, especially Raul Meireles -- who's been in sparkling form ever since King Kenny came back to town on his chariot -- and Maxi Rodriguez, were bombing forward at every chance. Diagonal runs, straight runs, Liverpool's midfielders were getting behind United's defense and causing havoc. There was an energy and fluidity to the Reds' attack.
Moribund might be the best way to describe United's play in the middle of the park. Michael Carrick contributed very little; one of the commentators mentioned that the game seems to have "passed him by." That's one way of putting it. United fans will no doubt be asking themselves why Ferguson didn't start Darren Fletcher alongside Paul Scholes, though would it have changed the outcome? Probably not.
In this, the 24th managerial showdown between Ferguson and Kenny Dalglish, Liverpool got a shot of confidence, while it's safe to say the Red Devils are ready to put the past week behind them.