Gunners shoot themselves in foot -- again
April, 17, 2011
04/17/11
1:07
PM ET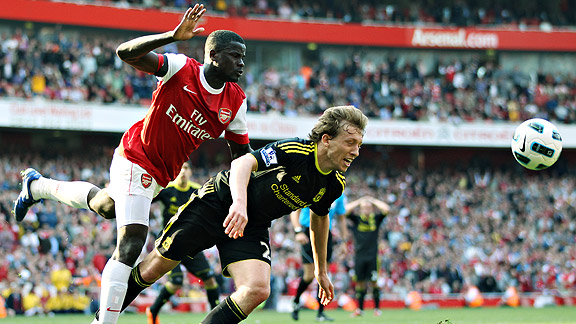 Adrian Dennis/AFP/Getty ImagesThe Gunners gave away a late penalty to end in a 1-1 draw against Liverpool and suffer a major setback in their title quest.
Oops, they did it again. Arsenal has somehow managed to snap defeat -- or, in this case, a tie -- from the jaws of victory. After going ahead in stoppage time with a well-taken penalty from Robin van Persie, the Gunners lost the plot.
Yes, Arsenal fans will make the passionate argument that Lucas dove to con referee Andre Marriner into awarding the penalty kick in the dying seconds of stoppage time. And, fair enough, Lucas was seemingly going down in the box even before Emmanuel Eboue had made contact.
But make no mistake: Eboue made contact. He pushed Lucas, too. What was he thinking? All he had to do was let Lucas keep running away from goal and the whistle would have blown. There was no one wide of the Brazilian. If Lucas had taken one, maybe two, touches on the ball, Marriner would certainly have brought an end to the game. Eboue's reaction, when he fell to his knees and bowed his head in the wake of the foul, said it all -- he knew he'd just caused his team to throw away three points, and probably any chance of catching Manchester United for the EPL title.
Once again, a lack of defensive discipline has cost Arsenal precious points.
After Dirk Kuyt smashed home the penalty, the whistle blew and the game ended in a 1-1 tie. Immediately, Arsene Wenger put his hands out wide as he approached Kenny Dalglish. I'm no expert in mouth-reading, but it was clear that the Reds manager said, "It was a penalty." Wenger said something in return, his back to the camera, at which point Dalglish said "piss off" and waved his hand derisively at the Frenchman.
It was quite a scene, one in which Wenger's frustration was being misplaced. Instead of worrying about whether Lucas dove, he should have been grilling Eboue on his brainless play.
Up until stoppage time, it was a tense affair, with neither team looking particularly strong in the final third, though Arsenal -- as per usual -- controlled possession for most of the game. For its part, Liverpool defended stoutly, even after Jamie Carragher, the team's captain and inspirational leader, went off with a nasty head injury in the 62nd minute. Indeed, it took about eight minutes to secure Carragher on a stretcher and take him off the field. Still, the Reds scrapped and clawed and stayed in the game.
But all their hard work appeared to have come undone when Jay Spearing fouled Cesc Fabregas and Van Persie smashed home the penalty late into eight minutes of stoppage time. Gunners fans could breathe easy, right? Well, if they looked away to congratulate their fellow supporters and revel in the moment, they'd have looked back up to see that Lucas had just been fouled by Alex Song inches outside of the penalty box. Instead of clamping down on the match, Arsenal ceded control of it.
Luis Suarez, who had a mediocre game, often gifting away possession and not up to his usual strong self in front of goal, smashed the free kick into the wall, and the next thing you know, Eboue is pushing Lucas. Arsenal fans will feel hard done by, given that Lucas didn't have control of the ball. But it was dreadful defending on Eboue's part, too. All he had to do was pressure Lucas and force him out wide. Game over. Instead, he lost his mind -- and once again sullied his reputation after doing his best to restore the fans' faith in him over the past season or two.
As the two sides continue to debate the merits of the call, there's one person who was happy with the outcome. Sir Alex Ferguson, sitting in the stands, now knows that if his Manchester United defeats Newcastle on Tuesday, it'll pick up another two points on Arsenal and put the EPL title even firmer in the Red Devils' grasp.