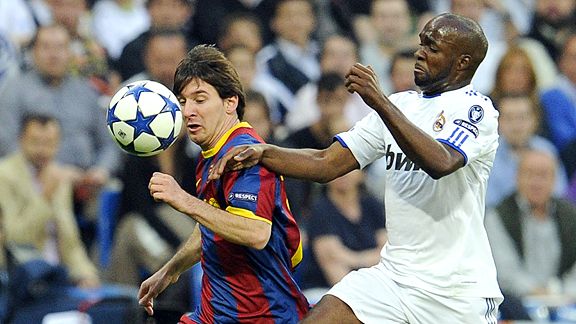 JAVIER SORIANO/AFP/Getty ImagesIt wasn't pretty, but Barcelona defeated Real Madrid 2-0 to take a commanding lead back to Camp Nou.
It was the ugliest of this quartet of Clasicos, a disappointing display of disgraceful diving, terrible tackles, play-acting, ref-baiting and old-fashioned whining. Pepe was sent off with a straight red card in the 61st minute with a tackle on Dani Alves, and his manager, Jose Mourinho, quickly followed him, banished to the stands for protesting. There was so much whistle-blowing, you wouldn't have been surprised if Wolfgang Stark hyperventilated. At times, with the stop-and-start nature, the match resembled an NBA game instead of the beautiful game.
Perhaps we shouldn't have been surprised. When two sides so talented face each other so often in such a short time, you're bound to see the ugly side of the game. Familiarity breeds contempt, after all -- and these sides already hated each other.
In the end, this not-so-Clasico ended with Barcelona winning 2-0 thanks to two goals in the second half from Lionel Messi after Real Madrid was reduced to 10 men.
At least there were some pyrotechnics in the second half, some emotion. The first half was DOA, best summed up by what happened in the 17th minute. Cristiano Ronaldo came to a halt in the final third after losing possession. Turning around, clearly peeved, he remonstrated toward his teammates. He'd have required a pair of binoculars to find them, as they were all packed behind the halfway line. Poor Ronaldo -- he forgot to read his prematch notes from Mourinho.
While only Real Madrid is privy to that information, chances are the Special One cribbed his notes from the classic Simpsons episode in which they have a soccer game between Mexico and Portugal: "Plays it to center, back to wing, back to center, back to wing … holds it … holds it … HOLDS IT!!!!"
[+] Enlarge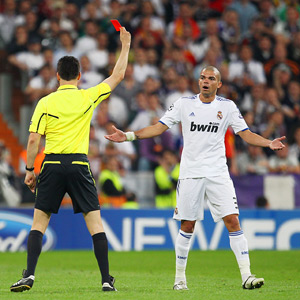 Alex Livesey/Getty ImagesThe referee sent Pepe off for a foot-up challenge on Dani Alves.
And that is how the first half went. The Blaugrana were allowed to keep the ball as much as they wanted in their half -- heck, they could have set up lawn chairs and a tiki bar to go along with their tiki-taka. The halfway line acted as a sort of force field. As soon as Barcelona penetrated it, the tackles started flying in. Whenever one of Pep Guardiola's players got anywhere near the goal, two players were all over him, closing him down.
Sergio Ramos, Alvaro Arbeloa and Raul Albiol all worked splendidly together, while Pepe acted as a shield in front of them.
It was, up to that point, superb defending, and what we've come to expect from the Special One's side. Physical and effective.
But overall, the match was marred with blemishes that should embarrass the players when they go back and watch the video. In the 43rd minute, Sergio Busquets closed behind Marcelo and then just fell back to the pitch, clutching his face when absolutely no contact was made.
Pathetic.
In the 57th, Pepe charged forward and was barely touched by midfielder Javier Mascherano. You would have thought that Pepe was trying to launch himself to the moon.
But the Brazilian-born Portuguese was hard done by in the 61st minute and received a straight red card for a foot-up challenge on Alves. On the touch line, Mourinho applauded Alves as he was carried off on a stretcher, as the Special One seemed to say, "Well done" to the fourth official. Off to the stands he went. As for Pepe, there didn't seem to be any intent to do harm; he was playing the ball. In fact, slow-motion replays show that Pepe didn't even make contact with Alves, though in real time it would have been near impossible for the ref to discern that. The studs-up tackle was a yellow card, certainly. But a red? That'll be a hotly debated point, and we'll know where Mourinho stands on the issue, having said before this that he believes the officials have it out for his team.
From Pepe's sending off, Real had to battle with 10 men, and, predictably, Messi took over. He scored a classic poacher's goal in the 76th minute after Ibrahim Afellay blew by a tired Marcelo and swung in a pass to meet Messi's foot just a few yards from goal. Then, in the 87th, with Real Madrid's back line sucking wind, Messi slalomed through a series of defenders. His teammates just stood back and watched, as the little flea eventually shot the ball back across the face of goal to give Barcelona a commanding two-goal lead.
Just like that, Madrid's hopes of reaching Wembley were shattered. The Special One clearly came into this match, particularly in the first half, with a desire to play anti-football. After putting Emmanuel Adebayor on at the start of the second, there was hope that Mourinho would have his players be a little more adventurous.
And they were for a bit, until chaos enveloped the proceedings.
There will be plenty of questions raised after this affair, and perhaps more for Mourinho than anyone else. The Special One has told us all along that the prettiest football is winning football. But on Wednesday at the Bernabeu, his tactics backfired. Real Madrid and its supporters will harp on the red card, but at the same time, others may wonder why Mourinho was so cautious at home.
Mourinho's parting words in the postmatch news conference, according to the BBC, were that he is "disgusted at the world we live in," that "no one has any chance against Barca like this" and that "yes, we have already been knocked out."
Mourinho has lived by the sword of physical, defensive-minded football, and on Wednesday -- rightly or wrongly -- he died by it.