Does FIFA 12 live up to the hype?
October, 12, 2011
10/12/11
12:56
PM ET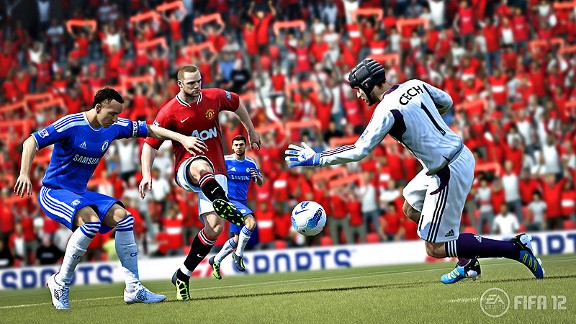 EA SportsFIFA 12 is one of EA Sports' most successful games of all time.
Three million-plus people can't be wrong, can they? That's the record number of gamers who purchased EA Sports' FIFA 12 during its first week of release, which began on September 27. According to EA Sports, FIFA 12 represents the "most successful launch in EA Sports history." October 1, 2011 was also a watershed moment -- the busiest day for online gaming in the company's history, with more than 10 million fans registering online, 8 million of whom came to live out their dreams of pretending to be Wayne Rooney, Lionel Messi, Cristiano Ronaldo or Peter Crouch.
Reviews among the online gaming authorities have been excellent, too, and it's with this information that I fired up FIFA 12 for the Xbox 360.
It was an inauspicious start when the soundtrack kicked in, a cheesy ditty called "Up, up, up," by the Givers. A closer look at the game's playlist won't enliven your mood unless you rate DJ Raff, El Guincho, CSS and Empresarios. Indie aficionados may be happy to see TV On The Radio, and the Hives and the Strokes -- two bands well past their sell-by date -- are represented here. Fortunately, you can de-select songs that grate on your nerves, or better yet override them with a soundtrack on your hard drive. Suggested bands to fire you up from both sides of the pond: The Business, Last Resort and Sham 69 to Social Distortion, NOFX and the mighty Descendents.
Once you're properly in the mood ("Southgate (Euro '96)" always does it for me), it's time to play. But do blockbusters ever live up to the hype?
FIFA 12 isn't wanting for features. You can play exhibitions, start a career, build and develop a player, and compete in domestic tournaments the world over. All the players and teams from the big leagues are available, and the interface is intuitive. Graphics can trick the eye into thinking you're watching a real game, an experience made more authentic by the dulcet tones of Martin Tyler.
EA Sports also features Player Impact Engine, which is designed to simulate player collisions. It's pretty much spot on, as you'll marvel at watching the subtleties of a player extending his leg into a tackle or a player getting tripped up.
The game's most ambitious feature is career mode, in which you are responsible for all the transfers, strategies, and game play (either via simulation or by competing in the matches yourself). Choosing your formation is fun, and the myriad options -- 3-4-1-2, 3-4-2-1 to 4-2-3-1 and 4-3-2-1, among others -- suggest the programmers haven't been able to put down "Inverting the Pyramid" lately.
After selecting Manchester United, I was prompted to create my own player. Then the CPU inexplicably decided to usurp Chicharito in the starting XI in favor of my doppelganger. Er, no.
FIFA 12 simulates each day of the season, corresponding to the real-life games such as the Community Shield. It can be painstaking to sit through, waiting for each day to play out, but it's even worse when you start to read the "news." There wasn't anything unusual about receiving a $29 million transfer bid for Javier Hernandez. But surely the game's developers could have included an algorithm to prevent such offers coming from Stoke City. The club's turnover and access to interest-free finance has given it deeper pockets than the competition this season in real life, but come on! The Potters soon followed that up with a 24 million bid for Chris Smalling. What the hell, I took that action. (EA Sports Football Club is supposed to make this a more realistic experience, pulling headlines from all the papers from around the world, though I stayed away from the "live" experience for fear that I'd be handed too many embarrassing losses. It's cut-throat out there, man.)
The game became trippy after my first match, a loss to City. It was hard to decide what was stranger: That Roberto Mancini added Wesley Sneijder to his squad (David Silva somehow landed at Arsenal's front door, because everyone knows Arsene Wenger is such a free-wheeling spender) or that my doppelganger sent me a warning. "I hope you're not going to bench me for the next game," he said. Apparently, the Bad Brains' "I Against I" would have been the better musical selection.
[+] Enlarge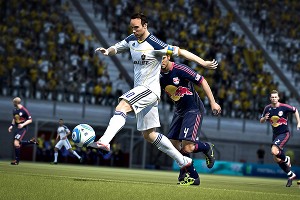 EA SportsFIFA 12's Landon Donovan shows off his silky moves.
The game play is good. The timing of runs, chipping balls over a keeper's head and threading through balls are particularly fun to execute, as are quick one-twos in the box and honing your crosses. The new defensive containment feature is an upgrade from previous versions as well, giving you a realistic way of boxing out an opponent rather than feeling that you must lunge in with a studs-up tackle. In fact, the game encourages you to stay on your feet to get the business done. If anything, it's frustrating that you can't blow by the opposition even if you're playing as a world-class player. Precision Dribbling, meanwhile, allows you to slow things down for clever moves. But it's awfully difficult to pull off your desired shot before being tackled if you're playing on an advanced level.
As for the most cathartic moment of a football match, the post-goal celebration, EA Sports gives you a wealth of options to express yourself. Only thing is, it's a pain to remember the controller move for all the choices, from thumb sucking and windmill to blowing kisses and telling the crowd to zip it.
All the while, Tyler makes the call. There's a wide array of audio clips that correspond quite nicely to the action, though in one instance he must have been thinking of a different player when he lauded Dimitar Berbatov for his work rate and tracking back. Er, no.
As the season progressed, my doppelganger's belligerence grew: "That was upsetting," he told me of being benched the umpteenth time. At once, it was like playing as both Gollum and Smeagol. And although the graphics overall are eye-catching, close-ups can be jarring, as the players resemble extras from "Night of the Living Dead." Then again, when you see Carlos Tevez's soulless eyes, you have to hand it to EA Sports -- it eerily nailed the realism.
Overall, hardcore fans of football will enjoy the game but may be put off by one too many unrealistic touches, especially off the pitch. This will be the case if, say, you're an aficionado of Football Manager. FIFA 12 is good fun, but once you dig a little deeper, it can feel a bit like a Darren Bent performance -- yeah, you score goals but do they really feel that satisfying?