United escapes with a draw at Anfield
October, 15, 2011
10/15/11
10:40
AM ET
[+] Enlarge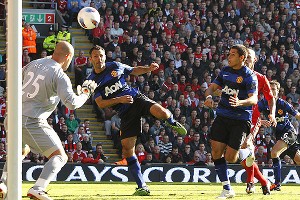 Press Association/AP ImagesThe Little Pea had a big impact as a sub, heading the ball home to tie the game at 1-1.
When Sir Alex Ferguson took over at Manchester United in 1986, the club had seven league titles to Liverpool's 18. Of course, the Red Devils one-upped Liverpool last season to win their record 19th title. It's been one of the most successful runs in all of professional sports, one that some may say has earned Ferguson the right not to be second-guessed.
But the temptation will be strong to question the Scotsman after United's 1-1 draw with its archrival at Anfield on Saturday. Wayne Rooney, Javier Hernandez and Nani all started on the bench, as United set up in a 4-5-1 with Danny Welbeck as the lone striker. It's hardly the formation to score goals. Perhaps Ferguson had one eye on Tuesday's Champions League match -- while it's against Otelul Galati, the Red Devils have tied their first two group-stage matches, so a win will be of the highest order to regain momentum in Europe. Perhaps he also had an eye toward Manchester City next weekend. Matches aren't played in bubbles, and managers do have to keep an eye on the big picture.
That said, the lineup was still a bit puzzling. So much so that before the match former Liverpool legend Kevin Keegan reportedly called United's starting XI a disgrace and insult to Kenny Dalglish & Co.
Not surprisingly, United looked ineffective for much of the game, lacking any sort of cut-and-thrust in the final third. Then again, Liverpool also set up in a 4-5-1, and the result was a clogged midfield that robbed players of the ability to create chances in the first half and for quite a bit of the second half as well. Tight, tense, with energetic challenges, the game was set up in such a way that you had to figure it wouldn't be a brilliant play that decided the game but, rather, a mistake, which came in the 69th minute from an unlikely source.
[+] Enlarge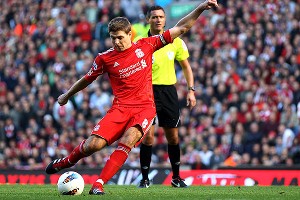 Clive Brunskill/Getty ImagesHe's back! Steven Gerrard gave Liverpool the lead on a set piece and Ryan Giggs' gaffe.
Steven Gerrard, sidelined for the past six months with a complicated groin injury, took a shot off a set piece not far outside the United penalty box. It wasn't the greatest of kicks, but Ryan Giggs peeled off Welbeck at the edge of the defensive wall, and the ball flew right into the back of the net. Nothing keeper David De Gea could have done about it.
Ironically, right before the set piece both Rooney and Nani were warming up in preparation to come into the game. Maybe Ferguson was hoping that he could clog the midfield, keep the game scoreless and then bring on some firepower in the last 15 minutes to sucker-punch the Reds and escape Anfield with all three points. But that plan flew out the window after Giggs' gaffe.
Liverpool also did a brilliant job of shutting down Ashley Young, whose form has certainly tapered off since a scintillating start to the season, and getting loads of bodies behind the ball when it needed to.
As for Rooney, apparently his head wasn't "right" to start the game due to his three-match UEFA ban, but he was of sound enough mind to come on as a sub. He and Nani made a difference almost from the minute they hit the pitch, as the game opened up and spaces widened. After a first half with few chances, with the midfielders mostly breaking up plays rather than creating them, United and Liverpool started to attack each other with more purpose and cutting edge. This was the game neutrals had hoped for, and at least the final 20 minutes offered plenty of pyrotechnics. If only the entire game had been this good.
By the 76th minute, Ferguson had seen the shape of his side go from a rather cynical one to an all-out attack, subbing out Phil Jones (playing as a holding midfielder) for Chicharito. Three strikers on the field, with Rooney positioning himself more as a playmaking midfielder, led the charge, and the changes eventually paid off. In the 81st minute on a corner kick, Welbeck flicked the ball with his head into the 6-yard box. And who else was running into position? Hernandez, who headed the ball from close range.
This was the Little Pea's sweet spot, naturally. All 16 of his league goals have now come from inside the penalty box. Nine have been scored inside the 6-yard box. It's been said before, but worth repeating: Hernandez's off-the-ball movement, runs behind the lines and instinct for where the ball might end up make it unfair to simply label him a "poacher."
[+] Enlarge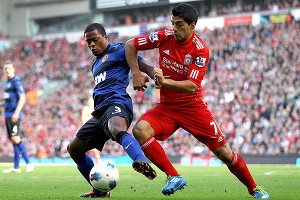 Clive Brunskill/Getty ImagesTempers flared between Patrice Evra and Luis Suarez.
Liverpool, meanwhile, will be ruing the result. In the first real chance of the game in the 35th minute, Adam took a shot that deflected off Jonny Evans and landed at the feet of the electric Luis Suarez. He juked to his left, but ended up hitting the ball right at De Gea, who made a nice stop. In the 82nd, Stewart Downing curled a beautiful cross from the left-hand side toward the far post. A lunging Dirk Kuyt stuck out his leg, directing the ball to the bottom-right corner, but De Gea was there for the stop.
Indeed, United's man of the match was clearly its Spanish goalkeeper, who also made a wonderful punching save off a Jordan Henderson effort in stoppage time -- a swerving ball that appeared to be headed to the upper left-hand side of the net. It's no secret that teams have been keen to take their chances against De Gea. Coming into this game, the Spanish keeper had made more saves (32) and had the best saves-to-shots ratio (87 percent) than any other keeper in the division. A rather shaky start to his Premier League career meant it was open season on his goal. But he's quickly emerging as a strong shot-stopper, with Saturday's performance against Liverpool his strongest yet. United appear to be in good hands with a player who was once considered on the short list of long-term replacements for Pepe Reina at Liverpool when Rafael Benitez was in charge.
As for any bad blood between the sides, that was mostly limited to some flare-ups between Patrice Evra, who essentially talked his way to a yellow card, and Suarez. Henderson, a weak link in previous Liverpool games, looked strong and overall had a decent impact on this game. And some may also argue that Rio Ferdinand should have been sent off in the 66th minute for clipping a surging Adam heading toward the box. Ferdinand was on a yellow card and got a bit lucky there, but referee Andre Marriner only awarded the foul. In a fixture in which the past five league matches have seen a total of four penalties given, you half expected the referee to send the United player packing. Will Liverpool supporters be talking about that decision? Perhaps, if they're spoiling for a fight.
What we will be talking about is Liverpool's missed opportunities and the fact that its fans may think the team deserved all three points. Will they also be wondering why Dalglish only made one subtitution, and didn't bring on Andy Carroll toward the end? We'll also be talking about whether United should be happy with a point. Gary Neville, the ex-Red Devils defender, said it was a good result. But will we still be talking about Ferguson's choice of players to start the match? Only if you're in the business of second-guessing him.