City turns Old Trafford blue
October, 23, 2011
10/23/11
10:58
AM ET
[+] Enlarge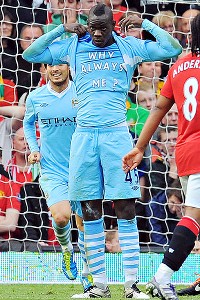 Andrew Yates/AFP/Getty ImagesMario Balotelli sends a message to his fans and detractors.
Sir Alex Ferguson thrives on new challenges. In his years at Manchester United -- in two weeks he'll celebrate his 25th anniversary -- he's seen off Liverpool, Arsenal and Chelsea. Insurgent sides have come and gone, but there's always been Fergie and his exceptional ability to regenerate his squad. During his quarter century in charge, he's also faced 14 permanent managers of Manchester City. Aside from the odd loss, there has been nothing too troubling coming from the blue side of the city. But after the 161st Manchester derby at Old Trafford, a contest convincingly won by City 6-1, Ferguson is confronted with perhaps his stiffest challenge ever.
It wasn't a classic match by any stretch, but it had plenty of dramatic moments -- a brace for Mario Balotelli, a red card for Jonny Evans -- and it ended with utter humiliation for the Red Devils. City put down a marker, as they say, as it remains atop the table, looking down on its crosstown rival from a five-point perch.
United came into the match in relatively poor form, two draws and one win in its past three league matches, and had looked sluggish in a midweek victory in the Champions League over Otelul Galati. There was the suggestion from some camps that the dip in form was part of Ferguson's trying to pace his squad, saving his best starting XI for what was the most important Manchester derby since the 1960s. But by the time the final whistle blew, United was left reeling while City notched its biggest win at Old Trafford since a 5-0 victory in 1955 and a 6-1 win in 1926.
In the first half, United had the bulk of possession, with City playing to defend and slowly build up its attacks. Balotelli and David Silva were sitting a bit deeper than usual, and Joe Hart was rarely bothered. United failed time and again to get behind the well-organized City defense, with Ashley Young really the only United player causing any sort of commotion. Then, quite against the run of play, the Sky Blues struck first in the 22nd minute. On a throw in, James Milner -- who had a superb game all over the pitch, helping to defend and link up play -- passed the ball to an unmarked Balotelli at the top of the box. The Italian nonchalantly slid the ball into the right side of the net.
[+] Enlarge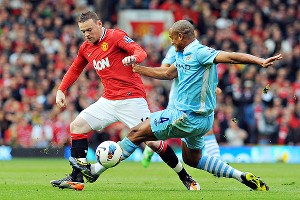 Andrew Yates/AFP/Getty ImagesWayne Rooney battled to the end, but the same couldn't be said for some of his teammates.
Of course, no Balotelli moment can be straightforward, and after he scored, he pulled up his shirt to reveal the words, "Why Always Me?" which earned him a yellow card. About 36 hours earlier, he had set his bathroom ablaze as he and his buddies shot fireworks from the window. Another moment of madness in the life and times of Super Mario, but this time Balotelli was setting Old Trafford alight. Roberto Mancini, once considered an enfant prodige as a player, is getting the most out of his enfant terrible on the pitch. Ever since Balotelli scored against Everton a few weeks ago and came rushing over to embrace his manager, he's been putting in solid performances.
Balotelli's goal sucked the life out of the Old Trafford crowd to the point that it sounded as though they were playing in a library, not one of the game's most celebrated cauldrons. And it only got worse for the home fans in the second half when Balotelli got behind Evans, who stupidly yanked him down right outside the box. Referee Mark Clattenburg had no choice -- it was the denial of a goal-scoring opportunity, and Evans had to go.
The terrible defending only served to highlight the fact that center back Nemanja Vidic was left out of the team entirely. There were vague whispers that he might be hurt, but Evans, who was having something of a bounce-back season, proved yet again that he's too mistake-prone to be trusted in big games. Why wasn't Vidic on the pitch to partner with increasingly creaky-looking Rio Ferdinand? Only Ferguson can answer that.
Although United played with a bit more verve after going a man down, Manchester City started to dominate. The second goal from Balotelli in the 60th minute was absolute class. Silva made a run on the right-hand side, drawing Anderson toward him. That freed Milner, who made an overlapping run, got the ball after Silva spotted him with the extra set of eyes on the back of his head, and sent a low cross to the far post, where Balotelli sidefooted the ball home.
The third goal was even prettier. Yaya Toure slid a pass down the inside-right channel for Balotelli, who flicked the ball out to Milner. He rolled the ball to Micah Richards. After he reached the byline, he fired a low cross in for a surging Sergio Aguero, running in to slide the ball under David De Gea for his ninth goal of the season. The entire sequence was Barca-worthy, at once brutally efficient and beautiful.
From there, the match headed into surreal territory. United's defenders became increasingly despondent, shirking their duties as City piled on more goals (a brace for Edin Dzeko and one tally for Silva), and the City fans began to chant "You're getting sacked in the morning" to Ferguson, who showed more vigor in chewing his gum than most of his players demonstrated on the pitch toward the end.
Was this the same team that handed Arsenal that humiliating 8-2 drubbing? Now Ferguson knows all too well how Arsene Wenger feels, as United suffered its worst home defeat in the Premier League era. And the last time United conceded six goals was at Southampton in 1996.
Even with a man advantage, take nothing away from City. Mancini got his tactics spot-on, and his players were brilliant. The team now is five points ahead of United at the top of the table, a lead that may have some pundits believing that City will go on to win the title. It's too early to make such prognostications. Let's remember that United has faced the top five teams -- Tottenham, Arsenal, Chelsea, Liverpool and now City -- in its first nine games. City, on the other hand, still must play Liverpool away (Nov. 27), Chelsea away (Dec. 10), Arsenal at home (Dec. 17) and Liverpool again right after the new year (Jan. 3).
With such a resounding victory at Old Trafford, however, Manchester City will not be lacking for confidence. You can't say the same about United. It has looked at sixes and sevens quite often lately (remember the disorganization against Basel in the Champions League?) and continues to suffer from not having a good holding midfielder -- quite the contrast to a Mancini team, which uses two of them to help shore up the back.
One of the staples of a Ferguson team is its ability to bounce back from a loss. But usually those defeats are more routine, nothing like the thrashing that took place at the hands of City that was every bit as embarrassing as the one United doled out to Arsenal.
A couple of weeks ago, Ferguson told the media that United had already faced all the "big" teams in the league, a none-too-subtle dig at his "noisy neighbors." Now United is the one left wobbling from a match that could well shape the rest of the season. For now, though, there's a new king of Manchester.