Kasey Keller on MLS, EPL and USMNT
December, 21, 2011
12/21/11
4:04
PM ET
Kasey Keller stopped by ESPN's HQ in the far flung outpost of Bristol, CT., this week, and I had a pleasure of spending a few minutes with him. (Keller was here auditioning for a possible broadcast gig with the network.) Given that the now retired keeper's CV includes stints in England, Spain and Germany, as well as finishing out his career with the Seattle Sounders, our conversation covered a fair bit of terrority, starting with MLS and ending with Jurgen Klinsmann's mission with the U.S. men's national team.
MLS has made terrific strides in attendance -- it's the third-most attended sport in U.S. -- yet TV ratings continue to flatline. How do you explain, and solve that?
Kasey Keller: It's a combination of things. I think where teams have really started to pick up their marketing strategies, they're seeing the benefits from it in their daily attendance. There's better stadiums, better scenarios for fans to come to games. One problem that MLS is having in trying to boost TV ratings is the competition with the rest of the leagues around the world. You can't go watch an English Premier League game from your home in Seattle, but you can watch the Seattle Sounders play live. If I've given myself a couple hours to watch a game on Saturday, I might TiVo the Man United against Chelsea game and watch that when I get up. Or am I going to stick around and watch the MLS game at 5 o'clock? That's the battle MLS is still fighting.
What's promising is that some of our regional broadcasts are [generating big ratings]. Our ratings in Seattle are tremendous -- they are on par with other pro sports. But ultimately, it's hard to say. The national game is so big, and that's what you want to have succeed. But if I'm a Seattle fan, am I going to watch Columbus play Toronto?
That's a tough ask, but at least we're seeing better atmospheres, which translates on TV.
KK: Correct. Which is the starting point -- you have to start with fans in the stands.
Should MLS do a better job of marketing itself? What's the message it's sending -- a league for up-and-coming stars, or a league that can compete with others around the world?
KK: I think that's part of the challenge, but it has to be more of a local market. The marketing has to come where you have to build that recognition with the home base. And I think eventually that will filter out. You have to create stars as well. I think what has been frustrating for some of us who have been in the game for a long time -- and I know I'm here at ESPN -- is you've just watched a 1 1/2 hour of Baseball Tonight, and then you flip on SportsCenter and you see the same highlights from Baseball Tonight. You've got a handful of goals and you're fighting to get those highlights on the station that is promoting your league. I know some of that is consumer driven, but at the same time there's enough sports fans now where a baseball fan still going to appreciate a great goal.
Speaking of stars, should MLS's most promising players play overseas for the experience?
KK: I can't judge someone else's life choices. For some people, it's huge to go challenge themselves in Europe. For other guys, they're comfortable staying home. I think if you want to be the best, you have to play against the best. You look at a player who has a successful career playing basketball in Europe, eventually he's going to try and come over to the NBA. Ichiro could have done whatever he wanted to do in Japan, but he felt he needed to come over here for a long spell and test himself.
At some stage, if you want to prove yourself, you have to go to the next level.
Now [MLS commissioner] Don Garber may have a different timeline than a lot of people think where he sees the league going -- people may think he's a little bit aggressive that it'll be able to compete with the top leagues around the world in a shorter period of time. But I'm not going to fault guys for staying here, either.
One topic that fans love to discuss is the difference between the leagues, especially MLS, EPL and La Liga in terms of pace, the physical nature of play, the technique. How do you see the differences?
First off, I don't think you can compare the physicality of MLS to EPL. The Premier League is more physical. I think what happens in MLS is that the play is more reckless at times. So what you're seeing is a mis-timed challenge as opposed to just being physical. There's not a lot of Didier Drogbas, John Terrys and Rio Ferdinands in MLS. When you want to talk about physical, look at Nemanja Vidic.
Having played in both Spain and England, there's no question La Liga is the most technical league in the world. Without a doubt. But I was surprised at how fast the play was in La Liga. ... The difference is that it's fast more with the ball under control as opposed to in England where it's fast with the ball going into space and having two people challenge for it. In Spain, there's more one-twos, guy whipping down the wing, and a lot more crosses than I expected. Maybe not as many 50-50 crosses, but more cut backs, more through balls put into areas, as opposed to saying, "OK, I'm in an area, put the ball into the box and let's challenge for it."
[+] Enlarge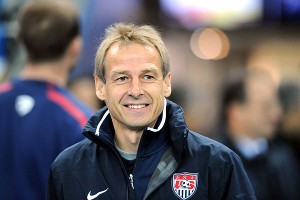 Franck Fife/Getty Images"There's a difference between wanting to play a particular way and having the players capable of playing that way," Keller says about Jurgen Klinsmann's philosophy.
What are your thoughts on the direction Klinsmann is taking the U.S. national team?
KK: That is the big question -- where is the direction going? There's a difference between wanting to play a particular way and having the players capable of playing that way.
We all want to play like Barcelona. Man U wants to be a team that plays like Barcelona. Man City and Chelsea want to play like Barcelona. Right now there's only one team that can play like Barcelona. And when I was playing in Spain, that wasn't the Barcelona that is playing right now. This Barcelona is something special.
But that's the tricky part for Klinsmann. I think he has an idea of how he wants the team to play. But are the players capable of playing that way? And if they can't, will he adapt? We'll know when [World Cup] qualifying starts and results matter. Right now, you can say, "I'm trying to do this, I'm trying to do that, play this guy here, play that guy there," but when it matters, then we'll truly see what direction the team is going to go.
Klinsmann must see the players he has in front of him and know the limits. Surely Klinsmann must already have a sense of how the team is going to have to play, right?
KK: No question. The hard part right now is that he doesn't have a striker. He doesn't have a Brian McBride who, when they're in trouble, is going to clear the ball or directionally head the ball out of danger, keep possession and get goals on set pieces. ... Are you going to be a counter-attacking team, are you going to use speed? Are you going to be big and physical? Where are we going, what direction? So far from what I've seen under Klinsmann, I don't know if we can just throw a ball out on the field and say, "OK, guys, go play this other team off the park." Because that hasn't happened yet.
Along those lines, should Klinsmann continue to play Dempsey in a more central role, build the team around him?
What's happened is, because of his lack of striking options, Clint has ended up playing up top more than he's ended up in midfield. Obviously, Landon [Donovan] has missed a bunch of games, a couple through injury and a couple because of the MLS final, so we haven't quite seen what his role is going to be. ... And there's a totally different role for Michael Bradley now that his dad is no longer the coach. So there's a lot of different things going on -- and little things, too, like you've now got a couple new German-Americans in the fold, Danny Williams and Timmy Chandler. Chandler looks like he's secured that left back problem the team has had for a few years, so that's good. He also brings some good size and physicality into the team.
Williams has slotted in pretty well, even out of position, knowing that he plays in the middle for Hoffenheim and has been playing out wide for the U.S. So I think we've got some good options. I still don't know if we have that playmaking midfielder, that role Claudio Reyna did for so long for the team -- the guy who's going to get you out of trouble, keep position, and at the same time spring people on attack.
It's the most coveted type of player at club level, too.
KK: No question, it's a tough role to fill. If you don't have that, how do you line up your team? Are you going to have to say, "OK, let's use the size that we have." You have a Brek Shea, but where's that big guy you can dump the ball to and mix it up.
Where does Jozy Altidore fit into all of this?
I would like to see Jozy be more of a runner. I was watching U.S. vs. Ecuador game, and during that whole game, I didn't see one pass behind the defense and a striker running behind the defense. I know Ecuador was playing a bit deep, but where's that runner behind the defense. If you're hoping to score with defenders in front of you, in a good defensive position, it's going to be a lot more difficult. You want to see one-on-ones, balls that are cut back, situations like that where a lot of goals are scored. Without a willing runner who gets in behind, you've got to hope for that perfect 25-yard ball -- and they don't happen all the time.