Draw not good enough for Spurs, Chelsea
December, 22, 2011
12/22/11
5:29
PM ET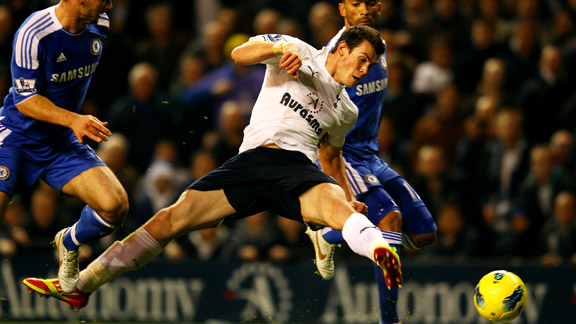 Richard Heathcote/Getty ImagesTottenham and Chelsea battled to a 1-1 draw at White Hart Lane.
In reality, the London derby between Chelsea and Tottenham was never going to have a massive effect on the title race. The two Manchester teams are setting a tough pace to beat. But if Chelsea was to have a sliver of hope of catching United and City, it had to bag all three points against Tottenham at White Hart Lane, where the Blues have struggled of late. Heading into the game, Chelsea was 12 points adrift. At the same time, if Tottenham was to put some credibility into manager Harry Redknapp's claim that Spurs were gunning for the Premier League crown -- they were 10 points adrift before the match, but with a game in hand -- they needed maximum points, too.
In the end, the 1-1 result didn't suit either team. One point each will not be good enough as the clubs push on during the festive period. (The Gunners also have a glimmer of hope, as you can read in our Five Aside blog.)
Tottenham came out at a canter, dominating possession and creating all the chances. Amid the din of home supporters singing, "Oh when the Spurs, go marching in," and the away fans countering with chants of "Chelsea, Chelsea, Chelsea," Tottenham struck first. In the eighth minute, Sandro made a terrific challenge on Daniel Sturridge, and the ball fell to Gareth Bale, whose fitness was in question before kickoff. The Welshman darted forward and fizzed the ball into the box, and with both Branislav Ivanovic and Jose Bosingwa caught ball-watching a bit, Emmanuel Adebayor was able to hit the ball into the back of the net.
But rather than put a death grip on the game, Redknapp's players slowly but unmistakably ceded control to Chelsea, with Raul Meireles and Ramires, in particular, helping outduel Scott Parker and Sandro.
And so it was that by the 23rd minute, Meireles fed Didier Drogba, who hit a nice ball to Ashley Cole running down the left. As the ball bounced off the pitch and hit Cole in the arm, Tottenham players, as well as their fans, cried for handball. Referee Howard Webb made the correct call, however, as there was no intent on Cole's part. What he did mean to do was blast the ball across the face of goal, and with Spurs failing to pick up Sturridge, Chelsea's most consistent player this season met the ball to bury it into the net. He now has either scored (five) or assisted (one) a goal in each of Chelsea's past six Premier League matches, production that was expected of Fernando Torres, of course. (There were rumors of an "El Nino" appearance late in the game; you might need the magic of your DVR to spot him.)
Chelsea can look back at this game knowing it created plenty of other excellent chances -- Drogba's rattling of the woodwork in the 29th minute, for example, after he exquisitely brought down Bosingwa's cross-field pass -- without a fully fit squad. Ivanovic went off in the 33rd minute, with Paulo Ferreira coming on. The Portuguese, who hasn't played in the EPL all season, slotted into his right back spot while Bosingwa went into the center of defense. It was a patchwork effort that almost paid off.
Then again, Spurs weren't at their best: Aaron Lennon was out with a hamstring injury, robbing them of their usual width on the right side. Redknapp also took Rafael van der Vaart out at halftime (he picked up another hamstring injury) and brought on Roman Pavlyuchenko to give his side two strikers up top. Maybe the gaffer was hoping Pavy's goal this past weekend would propel Tottenham ahead, but he made little impact on the game, and some of Spurs' typical link-up play, with van der Vaart playing behind the main striker, disappeared.
The man of the match was on the other side of the ball, the embattled Chelsea captain John Terry. He made a number of physical tackles and timely headers and all but saved the game in stoppage time. Bale slotted in Adebayor out on the left, and with Petr Cech coming off his line, Adebayor looked to have a clear shot on goal. But Terry slid into the ball's path, blocking what would have been a goal with his back. Whereas off-the-field problems affect some players' mindsets (Wayne Rooney comes to mind), Terry competed like a man possessed, like when he brushed aside Adebayor, who was charging into the penalty area, and dismissed the player's call for a foul by turning his back and swiping his arm.
Meireles also deserves special attention, as he worked tirelessly in Chelsea's midfield three to create and destroy. Covering perhaps more ground than any other teammate, he still had enough in the tank as the game wound down. His chasing and tackling of Kyle Walker down the right-hand touchline in the 74th minute was more than impressive.
But both teams will be ruing squandered chances in the second half. Sandro had a free header when he got in front of Ferreira but hit the ball wide of the target. Likewise, in the 86th minute, Juan Mata -- who failed to put his usual imprimatur on the game -- sent a free kick into the box, where Ramires found himself completley unmarked. But he, too, missed the target wide.
Perhaps the biggest gripe won't be about Cole's possible handball. No, the loudest criticism will come from Chelsea fans, who will rightfully tell you that Adebayor, already on a booking, should have been shown a second yellow card by Webb after taking down Terry in the 76th minute. This was in addition to another couple of questionable Adebayor tackles that the World Cup final referee decided to ignore. You could say Webb was trying to keep the game under control, but that's hardly a reason for not brandishing another card, even if Terry milked the foul.
A helter-skelter ending, with Tottenham threatening to score on a couple of occasions, wasn't enough to alter the 1-all scoreline. Tottenham now will go into Christmas day as the No. 1 team in London for the first time since the 1995-96 season. But that's bragging rights and will matter little to Redknapp, who will know, like Chelsea's Andre Villas-Boas, that the real winners in the title race at White Hart Lane were Manchester City and Manchester United.