"Epic Sunday," as some were calling Sunday, started off with a bit of a whimper, the anticipation of a blockbuster movie that ends in disappointment. Could Spurs and Arsenal exact revenge for their lopsided losses to City and United, respectively, in August? Those beatdowns should act as enough of an impetus to propel the two north London sides forward with vigor and vengeance on their minds. But the first 45 minutes between Manchester City and Spurs at Etihad Stadium was utterly forgettable, only to spring to life during a nine-minute spell midway through the second half, with City stealing the 3-2 win to consolidate its position atop the table. Next up was Arsenal versus United. Again, a slow start -- especially by Arsenal, and after a listless first half for the Gunners in which they fell behind 1-0, the home crowd booed as Robin van Persie & Co. left the field. But like the earlier match, this one set off after halftime, with Robin van Persie equalizing before United sealed the victory 2-1.
[+] Enlarge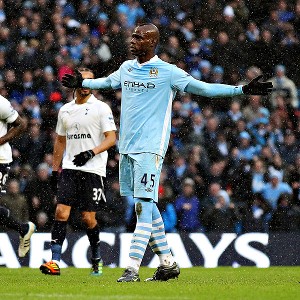 Alex Livesey/Getty ImagesThe ever-controversial Mario Balotelli hit the game-winning penalty against Spurs.
What did we learn from "Epic Sunday"?
1. Title race remains unchanged
After all the buildup and breathless hype, not much has changed. Tottenham's hopes to challenge are fundamentally damaged, but with both Manchester clubs winning, the table continues to reinforce something we've known for months: the EPL championship is a two-team race. Most tip the Sky Blues to win the whole shebang -- Harry Redknapp even suggested that Roberto Mancini could get the sack if he fails to do so -- but United is only three points adrift with plenty of matches to play.
2. Mario Balotelli remains the league's most polarizing figure
The Italian should have been sent off for doing a Pepe on Scott Parker, but ended up scoring the winning penalty kick late in stoppage time. Why always him? Spurs fans are asking themselves the exact same thing as the Italian shouldn't have been on the pitch at that point.
3. Arsenal remains in a dogfight for a Champions League spot
With their loss, the Gunners are five points behind fourth-place Chelsea and 10 behind third-place Tottenham. It was the third loss in a row in the league for Arsenal, the first time that's happened since April 2007. If it doesn't pick up the pace, this season's Champions League campaign will have to be savored by its fans. Indeed, a CL title this season may be the only way the Gunners return to the elite competition next season.
Here's a closer look at the two matches:
Act 1: City wins amid Balotelli controversy
For Tottenham fans, the loss to City was a sucker-punch. After a drab first half in which the best bit of defending was Edin Dzeko denying Sergio Aguero a shot on goal, a bit of deja vu from Monday's Wigan encounter, the match came to life. In the span of nine minutes and six seconds, the two sides scored two goals each.
The first, by City, was set up magnificently by David Silva, whose through ball split the Tottenham defense -- three defenders to the left, two to the right -- to find Samir Nasri. Say what you will about the former Arsenal man's season at the Etihad so far (it has been, at best, average), he powerfully and emphatically powered the ball home as Younes Kaboul inexplicably moved out of position to follow Dzeko's trailing run instead of anchoring the center. City's second goal was off a Nasri corner. Dzeko's flicked-on header landed at the feet of Joleon Lescott, who rather fell into the back of the net with the ball trapped between his feet. But they all count.
[+] Enlarge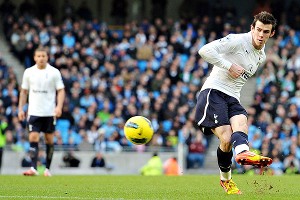 Paul Ellis/AFP/Getty ImagesGareth Bale's goal was a thing of beauty.
From there, headline writers were no doubt sharpening their (virtual) pencils to talk about the "old Tottenham," the one that flirts with a title run only to capitulate in the big matches and fade away. But Redknapp's men fought back admirably. In the 60th minute, Kaboul redeemed himself a bit with a long ball over the top. More poor defending, this time by Stefan Savic, whose backward header presumably was intended for Joe Hart, yet sat up nicely for Jermain Defoe to control the ball, round a stranded Hart in no-man's-land and enjoy a clinical finish. Five minutes later, Gareth Bale -- who hadn't had much of an impact on the game up to that point, including flubbing an open shot in the box in the first half -- hit one of the most exquisite finishes, a first-touch, curving ball past the outstretched hands of Hart into the upper right.
The game's explosiveness ended after that, with the play becoming ragged. And here, you'll get your two main talking points. One, in the 75th minute: Lescott jumped up for the ball and used his elbow to smash Kaboul in the jaw. Intentional? Referee Howard Webb didn't think so, and Lescott wasn't even carded. In replay, it did look deliberate, and the commentators certainly were convinced it could have been a straight red. The infraction falls into that category we love so much -- "We've seen a penalty given."
The second incident involved (who else?) Balotelli. On as a substitute for Dzeko, Balotelli picked up a yellow for a foul on Benoit Assou-Ekotto. A few minutes later, the Italian tangled with Parker -- and while Balotelli first started to lose his balance, he appeared to deliberately try and stamp on Parker, Pepe-style. No call, no foul, no card. Intentional? There looked to be enough vigor and aim in Balotelli's leg as it headed toward Parker to believe so, and was surely worth a second yellow and a sending off.
"I'm the last person to talk about getting people sent off, but it's blatantly obvious, if you see that," Redknapp said after the match. "Balotelli reacts like that at times to challenges. Now Scott has a lovely cut on his head ... I don't like talking about people kicking players in the head, but when you see that, it's wrong."
Instead, Balotelli went unpunished -- a no-call that would haunt Spurs. In stoppage time, Bale made a surging run down the left (one of the few he did in a game where, like previous matches, he floated more toward the middle of the pitch) and overcooked a pass to Defoe at the far post. A couple of inches was all that was between the net and Tottenham securing what would have been a morale-boosting win. Seconds later, Kaboul and Ledley King couldn't handle Gael Clichy's long ball that bounced into the box, and King in a pique of panic ended up scissoring down (who else?) Balotelli. Clear penalty. "[There was] no pressure, I was calm. It was a penalty," the Italian said after the match.
But Balotelli should not have been on the pitch. He should have been taking a shower, but instead he slotted home the winning penalty to deal Spurs' title hopes a big blow.
A couple of weeks ago, the London papers were abuzz about Spurs. Winning the title didn't seem like such a far-flung dream. Even Redknapp spoke boldly about the prospect. After a 1-1 draw with Wolves, though, the manager's tune changed: He was back to chatting with the press about finishing fourth. And now the championship is even further from his grasp after a result that many will consider harsh, and unfair.
[+] Enlarge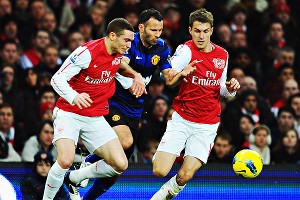 Mike Hewitt/Getty ImagesRyan Giggs was the best player in the first half against Arsenal, which couldn't stop the 38-year-old.
Act 2: United shows its quality in the end
One of the most intriguing matchups going into the game was who Arsenal would use at left back to try and stop in-form winger Antonio Valencia. The Gunners got a boost with the return of Thomas Vermaelen, and so it was that Wenger charged his best defender with stopping the ridiculous United juggernaut. It worked quite well in the first half, too, as Sir Alex Ferguson's side tried to wage most of its attacks down the left-hand side. After a spry start, Arsenal ceded control to the Red Devils, and it was often the Nani show on the left-hand side for good (Nani got into threatening areas and caused all manner of mayhem) and bad (Nani typically dawdled on the ball here and there, and failed to make the smart pass, often going for a shot instead).
But it was a 38-year-old who was the player of the half. Ryan Giggs was simply sensational; at one point, he tore past Aaron Ramsey with ease, forcing Vermaelen to haul down the inspirational old man. In first-half stoppage time, Giggs found himself in all sorts of space, and he put in a pitch-perfect cross to the far post that Valencia headed home across goal.
Wenger must have borrowed Ferguson's hairdryer, because the Gunners came out a different side in the second half. Alex Song continued to put in a strong shift, particularly in closing down Wayne Rooney, and they saw all sorts of chances go begging. In the 51st minute, Chris Smalling slipped, allowing Tomas Rosicky to charge in on goal. He could have shot but instead passed the ball to he-can't-miss van Persie, who amazingly hit his shot wide left with his left foot from barely 10 yards out.
By this point, it was a proper battle at both ends. In the 64th minute, fans were treated to something they rarely see -- Per Mertesacker using his speed to save Arsenal's collective behind. Danny Welbeck sped into the box and dinked the ball past keeper Wojciech Szczesny, headed the ball to his feet and attempted to slot it home as he fell to the ground. But the Battleship Potemkin that is Mertesacker was saved by the lack of power on the shot, along with his long legs, and saw the danger away.
But RvP made good in the 71st minute. It was a terrific sequence. First, United's right back Rafael (substituted in the 17th minute after Phil Jones sprained his ankle) was in on goal before Laurent Koscielny made a perfectly timed tackle. Not only that, but he started the counter. If you watch on replay, the passing zigzagged up the pitch, first to the center, then out of the left to find Alex Oxlade-Chamberlain. He then ran into the middle while RvP made a crossing run out to the left, slotting home at the far post after Oxy angled a clever pass back in the Dutchman's direction. It's the kind of counter you dream up when you're playing EA Sports' "FIFA 2012."
From there, Wenger made what many Gunners fans will be considering (how to put this delicately) a dumb move. He took off Oxlade-Chamberlain -- he was making his first Prem start and had been arguably Arsenal's best player up to that point, but someone among the Arsenal brain trust thought he needed to come off in the 74th minute. In came everyone's favorite whipping boy, Andrei Arshavin. Six minutes later, Valencia found himself on a one-on-one on the right with the Russian, and left him in his wake with alarming ease. After that, though, the pingpong sequence was sort of the micro version of Arsenal's goal -- a quick one-two between Park Ji-Sung and Valencia, who picked out Welbeck. Five Arsenal defenders in the box couldn't stop him, and United scored what turned out to be the game winner.
And so "Epic Sunday" concluded, with the North beating up on the South once again. It wasn't the lopsided scores of August, but the same results leading us to draw the same conclusion: the title will come down to either the blue or red of Manchester.