History beckons for Jose Mourinho, Real
March, 11, 2012
03/11/12
12:25
PM ET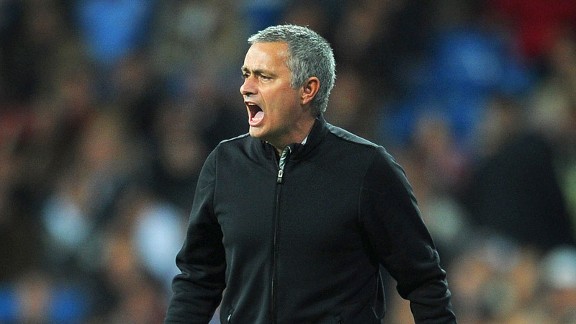 Jasper Juinen/Getty ImagesJose Mourinho was Mr. Intensity in Real's thrilling 3-2 win over Betis -- the Special One's 100th game in charge of the club.
Sometimes you never know which game to watch. On Saturday, for example, you had some relegation-worthy matches, such as Bolton versus QPR -- a fixture that once again made the sport look woefully out of touch for not having goal-line technology as a clear QPR goal was punched away behind the line without being given. (Really, how much longer do we have to wait until the powers that be get up to speed on this? The difference between zero points, a point, or three could eventually mean the difference between a team like QPR staying up or being relegated, and based on Mark Hughes' upcoming tough fixtures, Rangers need every point they can get.) You also had Spurs versus Everton. That one suggested that Harry Redknapp's troops are fading to the point that finishing third or even fourth for a Champions League qualifying birth is anything but a forgone conclusion. You had Liverpool, which continues to lose the plot the moment it enters the final third, while Chelsea ground out a workmanlike 1-0 win under interim manager Roberto Di Matteo to keep the pressure on Arsenal and Spurs.
There was excitement among the two Manchester clubs on Sunday, as United defeated West Brom while City succumbed to Swansea City at Liberty Stadium to see the Red Devils go atop the Premier League table. There will be plenty to watch, and write about, during this seesaw struggle in the season's run-in as United's extensive title-winning experience may begin to tell.
Who would have thought, though, that the most thrilling game would turn out to be Real Madrid at Betis. If you have access to Watch ESPN, I highly recommend watching the replay -- for 90-plus minutes, the Estadio Benito Villamarin was rocking with some 55,000 home supporters in what turned out to be an end-to-end thriller that Real Madrid won 3-2. Los Blancos were lucky -- something Jose Mourinho suggested after the match -- as Xabi Alonso got away with a clear handball in the 65th minute, and there was a hint of a handball by Sergio Ramos in the box in stoppage time. Many times, Real's defense was at sixes and sevens. The first Betis goal was brilliant, as Ruben Castro's first touch allowed him to take Sergio Ramos out of the equation, and with Marcelo failing to get back quickly enough, he got the ball to Jorge Molina, who scored his first league goal of the season. Too often Real lacked any organizational shape as Betis attacked and tore its opponent apart, demonstrating how difficult some away grounds in La Liga can be. (Manchester United will get a taste of this when it heads to San Mames to face Athletic Bilbao in the return match in the Europa League on Thursday.)
[+] Enlarge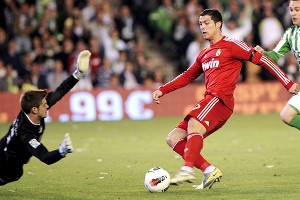 Cristina Quicler/Getty ImagesCristiano Ronaldo scored a brace against Betis despite suffering from the flu.
Cliché or not, this was precisely the type of match that wins titles. Cristiano Ronaldo, who was suffering with the flu, scored twice and Gonzalo Higuain -- a talented striker on his day who is rumored as a target for PSG -- beat Betis keeper at the near post when Fabricio had to cheat a bit to his right because of Ronaldo looming. Iker Casillas made fine saves in the second half to deny Ruben Castro and Jefferson Montero.
Thrilling stuff, Real Madrid's 10th consecutive road win, a league record.
It was also a landmark match for the Special One, as it was his 100th game in charge of Real Madrid. The last manager to reach that milestone was Vicente del Bosque, the current manager of Spain.
It's been an amazing season for Mourinho, whose side is as well-oiled a machine as any in football. The win on Saturday put Real Madrid 13 points clear of second-place Barcelona before its match on Sunday. In truth, the league title has been in the bag for some time now. Regardless of what happens in the return league Clasico at Camp Nou in April, Mourinho seems destined to bring Los Blancos their first La Liga title since 2008.
But his accomplishments don't end there. According to ESPN Stats & Information, Madrid is on pace to score 129 league goals and shatter the record of 107 goals. It is the first team to score 85 league goals in the first 25 games of the season. Mourinho's side is also on pace to earn 102 points to set the record for most points in a season -- Barcelona holds the record of 99 points from the 2009-10 season, and Real's second-best record tally of 96 points was also in the 2009-10 season, but Real's side just keeps winning. Some may argue that Barcelona -- with a thin squad and perhaps a lack of motivation week in, week out -- has conceded the league more than Real has been winning it, but nothing should be taken away from what Mourinho's men are doing right now.
Let's also consider this: Heading into yesterday's match against Betis, Ronaldo had scored 30 goals in 25 matches, more than 12 other teams in La Liga. And so much for the flu -- he added two more to the tally, putting him on pace for 46 league goals, which would break the record of 40 he set last season.
What's more, Mourinho's Real is on pace to once again put up numbers that rival or surpass the Galacticos era when Zinedine Zidane was with the club from 2001-02 to 2005-06. The highest points tally for Zidane's Real was 80 in 2004-05; and the most goals were 86 in 2002-03 -- numbers that Mourinho & Co. already have left in the dust. Defensively, on the other hand, Mourinho's Real has been suspect at times. His side is on pace to end with 34 goals against this season, still quite good indeed, though not up to the standard Zidane's 2004-05 side set by allowing just 32.
We've marveled during much of this season at Real's balanced attack -- from the "avatar eyes" of Mesut Ozil, as Ray Hudson would say, to the goal-scoring machine that is Ronaldo. Higuain, meanwhile, has netted 17 league goals, and Karim Benzema is having his best season with Los Blancos since leaving Lyon in 2009. Kaka has shown flashes of regaining his former brilliance in what has otherwise been a frustratingly inconsistent season.
[+] Enlarge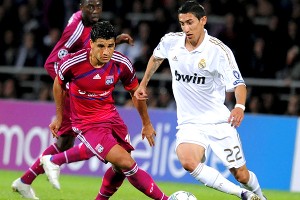 Jean-Philippe/Getty ImagesAngel di Maria's ability to create goals is one of Real's greatest strengths.
And what about Angel di Maria, maybe the most underappreciated player on the team? The Argentinian is tied with Ozil in the league with 13 assists, but di Maria has played in 15 league matches to Ozil's 25. The next best in assists in La Liga is Barcelona's Dani Alves and Lionel Messi, both with eight assists in 23 and 24 league matches played, respectively. According to this excellent piece's calculations, di Maria averages 1.2 goals created per match, a better rate than Higuain, Benzema, Kaka, Ozil, Xavi, Andres Iniesta, Cesc Fabregas and anyone else other than Ronaldo and Messi.
So, as things stand now, the Real Madrid juggernaut continues to lay to waste league opposition. Mission accomplished for Mourinho, right? The Special One says he's set to sign a new contract and support Real's "project." Despite some tetchy moments with Real's management and against Barcelona during his tenure, the Special One has been quoted as saying he'd do it all over again, leaving Inter to join one of the most storied clubs in football.
But what about that "project" -- therein Real still has some heavy lifting to do. The league may be in the bag by most accounts, but Mourinho was also brought to the Santiago Bernabeu to bring back the European Cup, which the club hasn't won since the 2001-02 season. Last year ended in failure with a semifinal loss to Barcelona. On Wednesday, Real hosts CSKA Moscow with an aggregate 1-1 score line after Pontus Wernbloom scored in stoppage time. Still, Real will be the favorite to go through to the quarterfinals.
There is a doomsday scenario, one that has no doubt crossed the minds of some Barca supporters -- and maybe a few Madridistas. Imagine if Real ends up crashing out of the Champions League. Worst, Los Blancos lose in Europe to Barcelona again, and also get a thumping in an otherwise meaningless Clasico in the league. Barcelona ends up winning the Champions League and Copa del Rey, while Mourinho's players are left with the league title. How, then, would the Special One's season be regarded? Still a success, of course, but the "project" will be far from finished.
Not saying the above scenario will happen -- Real Madrid offers so much quality and depth that it should be able to continue to make a strong charge in Europe, though it will need to tighten up its defense as we get to the tournament's shorter strokes. At the same time, Mourinho must make sure his side maintains its ruthless streak and continue to win whether the players are firing on all cylinders or, like on Saturday, demonstrate ill form yet find a way to eke out victory.
It's all to play for in the next couple of months, and history beckons for Mourinho and the Merengues … with their archrival ready to put all its emphasis into Europe to try to stop Real from achieving its ultimate goal, the holy grail of club competition.