Gunners roll; Spurs, Liverpool sputter
March, 24, 2012
03/24/12
1:00
PM ET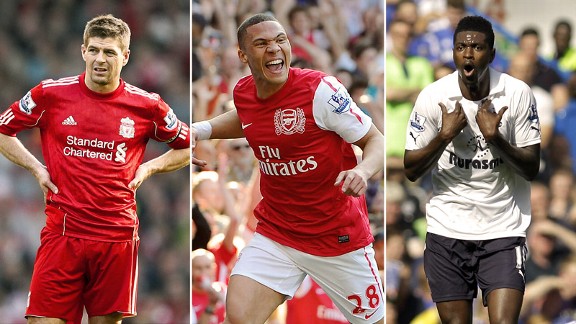 AP Photo/Getty Images/AP PhotoLiverpool fell to Wigan (yes, Wigan) and Spurs couldn't break a scoreless tie against Chelsea, while the Gunners dazzled against Villa.
Saturday's Premier League schedule promised plenty of action and intrigue … then Spurs and Chelsea happened. What's the cliché? Ah, yes, it wasn't the greatest advert for the league (or any league, for that matter). And how would Arsenal, Spurs' archrival, respond? Here are some thoughts from both matches, as well as James Tyler's take on Liverpool's forgettable loss to Wigan. Yes, Wigan, as Roberto Martinez can finally be genuinely happy in the postmatch press conference after … a win. (And on top of all that, Man City drew with Stoke, a blow to the Sky Blues' title aspirations.)
90 minutes you won't get back
Do you ever feel cheated? That was the question some 40,000 people must have been asking themselves after a dire first half and an only marginally better second half at Stamford Bridge, a clash that ended in a scoreless draw between Chelsea and Spurs.
[+] Enlarge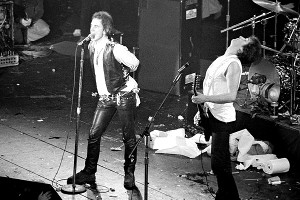 Ed Perlstein/Getty ImagesQuestion of the day for Spurs and Chelsea supporters: Have you ever felt cheated?
When the first-half whistle blew, more out of mercy for the fans than any football rule, you could be forgiven for conjuring up images of the Sex Pistols' final, famously foul gig in January 1978 at the Winterland Ballroom in San Francisco. There would be only one song for the encore, Johnny Rotten told the crowd, because he couldn't be bothered. After plodding through the Stooges' "No Fun," he mockingly asked the crowd, "Ah, ha, ha, ever get the feeling you've been cheated? Good night."
Thankfully, sort of, Chelsea and Tottenham's encore, the second half, offered up a bit more.
Overall, Spurs clearly played for the point; there were times when Harry Redknapp's players simply refused to get up the pitch with any intensity. In the 31st minute, for example, Rafael van der Vaart broke, but he and Emmanuel Adebayor were the only players busting a lung down the field. By the time support arrived, Chelsea had plenty of men behind the ball.
Chelsea had a few half-chances here and there. Didier Drogba chested balls down and showed his usual strength with his back to goal, but failed to delivered any end product, including a meek effort in the 78th minute. There were some long balls and chips that occasionally caught Spurs' defense sleeping, but again, nothing to show for it. Juan Mata was unlucky in the 72nd minute when he hit the post on a set piece that completely fooled Brad Friedel (that, or Friedel was wondering what Kyle Walker was doing, breaking away from the wall and presumably trying to get to the near post for added cover).
Spurs, on the other hand, had the best opportunity in the first half, in stoppage time, when Van der Vaart missed not once, but twice at close range, with Petr Cech making the first stop and Ashley Cole the second. Gareth Bale -- who failed, or was told not, to provide any burst of energy down the left for most of the game -- headed a ball that rattled the crossbar on a corner in the 79th minute. Adebayor also saw one of his efforts cleared off the line by Gary Cahill. And Scott Parker did what Scott Parker does, breaking up plays all over the pitch.
But there were so many wayward passes and so much that went wrong that you could have slipped on Bolton and Blackburn jerseys over the players and it wouldn't have looked out of place. Nah, that might be unfair to those two teams, who produced three goals among them -- Bolton won 2-1, a key result in the relegation battle.
In the end, Chelsea will feel this was two points dropped. Yes, there was danger in being too adventurous, with the potential of a six-point swing: a loss and the Blues would be eight points adrift, a win would see them two points behind fourth place. As it stands, they remain five off the pace for Champions League football. And they must worry about Benfica this week (perhaps that was on their minds too much Saturday).
Spurs, on the other hand, may feel that the point is what they need after a string of poor results. Fact is, Redknapp's side has now earned two points in the league since Feb. 11 -- not the kind of form you need at this juncture of the season. (Of note: Spurs have now failed to win at the Bridge in the league since 1990.)
"It's a step in the right direction after the results that we've been having," Kyle Walker told Sky Sports. "I thought we were organized, and as a defensive back five with Scott Parker in there, I'm pleased with the point."
So, no doubt, was Arsenal.
Stroll in the park
Whether it was nerves or the unusually warm spring conditions in London -- apparently, 65 degrees was enough to see much of the Chelsea bench pull clothing over their heads -- that seemed to sap Spurs of endeavor, the Gunners came out full of enterprise against Aston Villa. On a beautifully groomed pitch, Arsene Wenger's men poked and prodded and passed with vigor. There was more entertainment and attacking flair in the first 15 minutes than in all of the previous match. What's more, the first goal came a minute later from the unlikeliest of sources, Kieran Gibbs. After some nice buildup play from Gervinho down the left, he slid the ball to Gibbs in the box, who beat the usually dependable Shay Given at the near post. Could the keeper have done better? Perhaps, but it wasn't the simplest of saves given how close Gibbs was. It was the left back's first Premier League goal.
In the 20th minute, Thomas Vermaelen hit one of the best cross-field balls you'll ever see, a 60-some-yard effort that Theo Walcott exquisitely brought down with his right foot for instant control, but Carlos Cuellar made a perfectly timed tackle. Unfortunately for him, in the 25th minute Cuellar was complicit on an Alex Song long ball over the top that caught him sleeping. But Walcott was perfectly alert, again showing terrific control in bringing down the ball before slotting it home with his second touch. If not for a Stephen Warnock header -- an effort described by the commentator as resembling a "flying pig" -- Robin van Persie would have been on the scoresheet after a superb pull-back left both Given and Alan Hutton embarrassingly in his wake.
It was all academic for Arsenal after that. Gibbs and Walcott's goals marked the first time since 1997 that two English players had scored for the Gunners. In the second half there was a bit of perhaps well-earned showboating -- RvP's little chip in front of Hutton, as an example -- but the result was never in doubt. Arsenal capped the match with one of the best free kicks of the season from Mikel Arteta. From about 30 yards out on the left-hand side, the Spaniard let it rip, catching the ball flush as it flew into the upper right corner.
That made it a seventh consecutive Premier League win for the Gunners -- the first time they've done that since 2007. After their worst start to the season in 58 years, they are looking to finish strong. Three of Arsenal's next four opponents are QPR, Wolves and Wigan. Then again, they also must host Man City and Chelsea and travel to Stoke.
On the plus side for Spurs -- they don't play any team above them in the table for their remaining games -- So there's still plenty of time to see if Redknapp's safety-first approach was the right one.
[+] Enlarge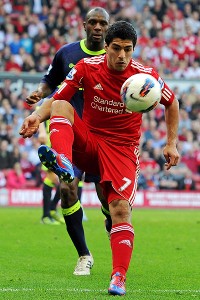 Andrew Powell/Liverpool FC/Getty ImagesLiverpool have scraped together just eight league points since the start of 2012.
Summer comes early for Liverpool
ESPN.com's James Tyler now weighs in on the Liverpool-Wigan tilt, won 2-1 by the Lactics.
The dreaded "Anfield Summers" is a fairly well-known phenomenon. Given that most seasons in Merseyside meander to a pallid conclusion, it's impossible for the Reds to avoid using the last few league fixtures as a gentle segue into an offseason of cocktails, quality time at home with the WAGs or, in some cases, clandestine meetings with agents to engineer a transfer.
Last season, Liverpool jogged through defeats to Tottenham and Aston Villa before jetting off to friendlier climes; in 2009-10, a home loss to Chelsea precluded a turgid away draw at relegated Hull. When there's little to play for, the act of actually playing appears to be little more than a physical reflex.
Alarmingly for Reds fans, this season's ennui has settled in much, much sooner. Having come to terms with the fact that fourth place is about as realistic as Lindsay Lohan winning an Oscar, the comfort of knowing a Carling Cup already sits proudly in the trophy cabinet has completely drained the Merseysiders of any purpose.
Saturday saw the continuation of that confounding trend: Wigan limped in with little hope, but sustained profligacy by the home side buoyed Roberto Martinez & Co. to push for a result, one they comfortably earned in the final analysis.
Taking the lead 1-0 on a first-half penalty after Martin "Usually Reliable" Skrtel thought it wise to plant a high boot in Victor Moses' face (the Wigan striker would be substituted not long thereafter), the Latics were rarely as troubled as one might think a bottom-three team should be inside Anfield. They rode their luck at times -- Ali Al-Habsi made some brave saves, and the work of Maynor Figueroa and James McCarthy was equally heroic. But as usual with Liverpool FC, it was its own biggest enemy, continually failing to convert possession and pressure into viable scoring chances. Having the worst shots-to-goals conversion rate in the EPL is one thing; but to see one of the other least-threatening teams convert its handful of chances only served to exacerbate the problem.
But before I'm accused of being too negative, there was a spell after halftime in which Liverpool looked like a functional soccer team; Luis Suarez nudged home an equalizer following fine support work and awareness by Steven "Shadow of His Former Self" Gerrard, and the Uruguayan then had a goal disallowed, adjudged to have shoved Gary Caldwell off the ball as a Skrtel header drifted toward the goal line.
It didn't last, as the frustration of the retracted strike sent the team into a dispirited sulk. The fog over Anfield drew in closer when the unlikeliest of assassins -- defender Caldwell -- coolly scuffed home a game winner following more typically sleepy defending by Liverpool's defense. Not even the inclusion of Raheem Sterling, a speedy, highly promising young winger, could inspire Liverpool to assert themselves or discover an equalizer, and the chorus of confusion at full-time deepened the malaise.
Since winning the Carling Cup on Feb. 26, King Kenny's side has lost four of its past five league fixtures, but to stretch it even further, his side has scraped together just eight league points since the start of 2012. That's bad enough for any club, but surely unforgivable at Anfield. And yet, what is likely to change? Dalglish? New players?
Forget it -- let's all head to the beach as well.