United's MVP Valencia impresses again
April, 2, 2012
04/02/12
5:43
PM ET
[+] Enlarge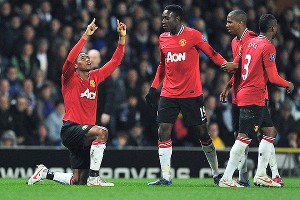 AP Photo/Press Association In an era when we celebrate the versatility of players, let's revel in Antonio Valencia's singularity of purpose with United.
If you had to create an all-European team, and you could only select one player per team, whom would you pick? It's a cherished conceit among football fans, and one in which I'll write about at some point during the Champions League run-in. In the meantime, though, watching Manchester United versus Blackburn at Ewood Park on Monday (you can watch the replay here), the topic was in the forefront of the mind again. If you had to select one star, and only one, from a team, there's only one choice at Manchester United this season -- Antonio Valencia.
The Ecuador winger has been a one-trick pony for the Red Devils this season, but what an amazing ability he has. When United struggle to unlock a defense, as was the case for 81 minutes against an inspiring Rovers defense, Wayne Rooney & Co. have one mission -- get the ball to the former Wigan player, and allow him to terrorize defenders down the right hand side.
Width, in other words, is never an issue for the Red Devils. On this night, Rooney started on the left-hand side of midfield -- indeed, before the match, there was a fun bit of conjecture online as to the actual shape of United's system -- with Paul Scholes and Michael Carrick anchoring the center of the pitch. It didn't matter how you figured the formation, though, because most attacks came from Valencia, and he almost got the game's first assist in the 11th minute when he whizzed a ball along the pitch to a charging Javier Hernandez, who bolted ahead of his marker, only for keeper Paul Robinson to grab the ball in the end.
In recent weeks, Valencia has certainly shown more of a willingness to abandon his touchline-hugging runs and charge into the box to create space, find teammates and take shots on goal. Against Wolves on March 18, for example, the winger got on the end of a Rooney pass, raced into the box against a hapless defense and drilled a shot past Wayne Hennessey into the far corner. This time around, against Blackburn, the breakthrough didn't come until the 81st minute. As he moved toward the box, Valencia cut his boot into the ball, which flew past Robinson at the near post into the side netting at the far corner. As Macca and Ian Darke asked during the telecast, Valencia probably shouldn't have scored from there, but take nothing away from the strike -- the perfect way for the winger to celebrate his 100th appearance for United.
Valencia is one of the league's few true out-and-out wingers. Unlike, say, his teammate Nani, Valencia doesn't have much time for trickery on the ball -- it's all run and gun. And unlike, say, City's Adam Johnson, one of that team's few (if only) options out wide, Valencia doesn't naturally come in; he'll do it when there's space to exploit or when he's being marked by two defenders out wide -- a bit of smart and welcomed variety. All in all, it makes him an absolute nightmare to defend.
In an era when we celebrate the versatility of players, let's revel in Valencia's singularity of purpose.
Take nothing away, however, from Blackburn's yeoman effort. Playing a defense-first strategy, as if Steve Kean's players were the away side, Rovers defended with gusto. Yes, United dominated possession, but as the clock ticked away in the second half you did start to wonder whether Roberto Mancini's prediction would come true. The City manager, as you may know, said the contest would end in a tie, and Rovers did their very best to make that happen, with standout performances from the likes of Scott Dann, Grant Hanley, Martin Olsson and Bradley Orr. Crosses would be flung into the box, at which point you'd hear defenders yelling "Away!"
Other notable plays: In the 28th minute, Hanley made a superb tackle on Valencia, and in the 52nd minute Dann had a superb header to see away danger.
Anyone who's watched Blackburn of late wouldn't be surprised by the scenes unfolding at Ewood Park. Kean has his players believing they'll survive relegation -- the manager even claims to have received some apologies from fans who previously wanted to see the club's gaffer on permanent gardening leave, as they say -- and the form table confirms Rovers' push during the run-in. In the past six matches coming into this tilt, Blackburn had three wins, a draw and two losses (including one against Bolton after Fabrice Muamba fell ill). Unfortunatley for Rovers, the loss to United sees them back in the relegation zone, at No. 18, on goal difference.
But then again, fans might also have been surprised that Blackburn failed to put up a goal against United. After all, Rovers have scored more goals than any EPL side outside the top six, while defensively they've leaked goals and have the fewest clean sheets, two, of any Premier League side. Yet against United, on the few counters led by the likes of Yakubu, David Hoilett and Morten Gamst Pedersen, they looked likely to find the back of the net.
For United fans, their thanks should be directed to the keeper who has been written off many times now, but who keeps growing into his role with each match. Right at the close of the first half, David de Gea made two tremendous stops in the span of 60 seconds, first Marcus Olsson's left-footed volley from 18 years out, then Hanley's header from a corner that De Gea palmed over the crossbar. The Spaniard, once maligned, has the best saves-to-shots rate (79 percent) of any keeper in the Prem with at least 10 appearances.
United's efforts all came back to Valencia, though, both with his goal and then his assist on Ashley Young's goal in the 86th minute, a terrific shot at the D that snuck past Robinson. Now Valencia shares the league lead with 12 assists this season, tied with City's David Silva. Valencia has played 20 EPL games; Silva has played in 30.
It wasn't just Valencia, though. As an interesting aside, according to Opta, there were 37 passes in the move for Young's goal, the longest sequence of any Premier League tally this season.
In the end, it was hardly vintage United -- not a ton of creativity down the middle, and questions should be asked of whether Rooney really is at his best out wide on the left. He worked hard, sure, but left Chicharito stranded up top, and when Danny Welbeck came on in the 61st minute for the Mexican he didn't create any new ideas, either. If anything, he earned Alex Ferguson's ire when he sent a wayward ball past Young, leaving the United manager in a bit of an apoplectic rage -- if only for a second or two -- on the touchline. It's the mark of a man who after all these years has yet to lose his passion for perfection, a man who knows how to handle the pressures of a title run-in, as he took his squad on a golfing retreat to St Andrews for training and some R&R this past weekend.
Meanwhile, his counterpart across town has made the proclamation that if United win against Blackburn (check) and against QPR at home this weekend, the title race is over. Usually, managers play mind games to mess with the opposition, but you can't figure statements like that are going to do a City side low on confidence any favors. As of now, it's five points between the two teams, and City must face Arsenal at the Emirates this weekend.
No, in the end the attack kept going through that one-trick pony, and it finally paid off. It does say something, perhaps, that Blackburn knew exactly where the threat was coming from, often put two men on Valencia and still ultimately was burned. Then again, this is Blackburn. Not Bilbao. Or Newcastle for that matter. (Take your pick.) But those are all debating points for another day. For now, if you're creating your all-European team, with Lionel Messi up top, say, Mesut Ozil in the hole, perhaps, maybe Yaya Toure as one of the holding mids, is there any question who's anchoring your attack down the right wing?