July, 8, 2011
07/08/11
10:25
AM ET
When the United States and Brazil meet Sunday in Dresden in the quarterfinals of the 2011 Women's World Cup, it will be just one more chapter in the best rivalry in women's soccer. Here's a look at a few more memorable meetings between the two teams.
May 22, 1999 (Orlando, Fla.) USA 3, Brazil 0
The greatest women's scorer of all time had to break someone's record. Mia Hamm did just that in Orlando versus Brazil when she scored her 108th career goal to best Italian Elisabetta Vignotto. In a theme that has continued throughout the years, the game was physical. At times, Brazil dominated the run of play and Briana Scurry was forced to make 10 saves to give the United States the win.
July 4, 1999 (Semifinals, Women's World Cup, Palo Alto, Calif.) USA 2, Brazil 0
The 1999 version of the Brazilian women was led by another great No. 10, Sissi, whose brilliant striking had been the awe of the tournament. Free kicks and corner kicks were dangerous, as she seemingly could score from anywhere, curling the ball around the wall and the goalkeeper, then sneaking it into the net. Scurry made six spectacular, sprawling saves and posted a clean sheet. An early goal from Cindy Parlow gave the U.S. the lead, and as Brazil worked hard to tie the match, the U.S. got a late penalty kick that Michelle Akers converted.
Sept. 24, 2000 (Sydney Olympics semifinal) USA 1, Brazil 0
Mia came through big-time for the United States in the 2000 Olympics. In the semifinal against Brazil, Hamm was hacked constantly throughout the game, but she delivered with a goal in the 60th minute. Hamm's goal, however, was disputed. Another foul on Hamm had led to a free kick, taken by Brandi Chastain. On the ensuing scramble in the box, Tiffeny Milbrett collided with Brazilian keeper Andreia, resulting in an open net and allowing Hamm to drive it home. Brazil complained that referee Nicole Petignat should have called a foul, but play continued.
Aug. 26, 2004 (Athens Olympics gold-medal game) USA 2, Brazil 1 (OT)
The Athens Games were the last major tournament for Hamm, Joy Fawcett, Julie Foudy and Chastain. The "'91ers" went out in style, gutting out a gold medal over a Brazil team that dominated the game but could not close it out. Brazilian stars Marta, then 18, and Cristiane, 19, ran through the U.S. midfield and defense like it wasn't even there. The Samba Queens registered 18 shots, nine on goal, forcing Scurry to make eight saves. They even knocked a few off the woodwork.
The U.S. led after scoring in the 39th minute before Brazil tied it in the 73rd minute. Abby Wambach netted the United States' second goal off a corner kick from Kristine Lilly in the 112th minute. With the golden goal rule eliminated (previously, the first team to score in overtime was awarded the win), the U.S. controlled possession and ran out the clock to end the match.
The younger players on the team dedicated the gold medal to the retiring veterans. "This is for them," Wambach said to reporters at the time. "It is for these players going through their last world championship: Brandi Chastain, Kristine Lilly, Joy Fawcett, Julie Foudy, Briana Scurry, Mia Hamm. All these players that have done so much for this team. This is for them."
It was indeed the last world-championship tournament for Chastain, Fawcett, Foudy and Hamm -- but Lilly and Scurry returned for the 2007 World Cup.
July 26, 2007 (Pan Am Games final, Rio de Janeiro) Brazil 5, U.S. U-20 team 0
Weeks before the Women's World Cup, the full Brazilian national team got together for the Pan Am Games and dominated the tournament. Marta & Co. outscored their opponents 33-0 through six games in the tournament. The United States sent its under-20 team, which met Brazil in the final and fell 5-0 in front of over 67,000 fans at Maracana Stadium in Brazil.
This was a chance for Brazil to showcase the sport in its country. "We showed to the country what women's soccer can do, what potential it has," a sobbing Marta said to reporters after the game. She later became the first woman to have her footprints cast in the stadium's Football Walk of Fame. "I do think of this as a victory for women's sport in general -- the stadium filled, people chanting Marta's name," forward Lauren Cheney said to reporters after the game. Cheney was the U-20 captain at the time and has started all three games for the United States in Germany this year.
Sept. 27, 2007 (Women's World Cup semifinal, Hangzhou, China) Brazil 4, USA 0
After knocking on the door for years, Brazil finally earned a win in its 4-0 destruction of the United States.
It started out with coach Greg Ryan deciding to switch from goalkeeper Hope Solo to Scurry for the game, as Scurry had done well against Brazil many times in her career. Once the whistle blew, the Brazilians dominated the match from start to finish. Leslie Osborne knocked in an own goal, Shannon Boxx was red-carded on a poor call by Petignat and Marta put together the best individual performance the tournament has ever seen. Her second and final goal of the night -- a behind-the-back pass to herself, followed by knee-buckling stepovers in the box before hammering it past Scurry -- is the best goal in the history of the Women's World Cup.
July 16, 2008 (San Diego, exhibition) USA 1, Brazil 0
Wambach broke her leg in this match, the final game before the United States left to play in the Olympics in Beijing. Brazil didn't bring its dynamic trio of Marta, Cristiane and Daniela on the trip. The meeting was yet another physical match between the two teams, and Wambach broke her leg in a hard collision. Without their best offensive threat, the Americans' hope of bringing home the gold medal were over before they had even played a game in Beijing.
August 21, 2008 (Beijing Olympics gold-medal game) United States 1, Brazil 0
In the first of two overtimes, U.S. midfielder Carli Lloyd scored the game winner in the 96th minute, but it was the team's defense that won the match. Led by captain Christie Rampone and with more than a little help from goalkeeper Solo, the U.S. defense shut down Marta, Cristiane, Daniela, Formiga and the Brazil offense for 120 minutes. Solo's point-blank save of Marta inside the 6-yard box in the 72nd minute saved the game. In the final 15 minutes, Brazil threw nearly every player forward but wasn't able to find the game's tying goal, while the United States defended with ten.
It's perhaps the greatest game in the history of the sport, and certainly the greatest team defensive effort in United States history. Even without the injured Wambach, the underdog Americans were able to upset Brazil. It was the third straight second-place finish for Brazil in international tournaments ('04, '08 Olympics, '07 World Cup).
The United States and Brazil haven't met since the 2008 gold-medal game. If Sunday's meeting is anything like their past games, the world of women's soccer is in for another historic and memorable match.
As we head into the final two days of the opening rounds of the 2011 Women's World Cup, all but two quarterfinal spots have been wrapped up, although seeding in the quarterfinals is still very much up in the air.
Here's how it all shakes out.
In Group A, France and Germany meet Tuesday in Monchengladbach to determine the winner of the group. Both teams are through to the quarterfinals no matter the result. France, by virtue of its 4-0 thrashing of Canada, needs only a draw to win the group. In front of what should be another sellout home crowd, Germany will most definitely want a win over its historical rival to win the group as the host nation. It also would prove that its two less-than-spectacular performances against Canada and Nigeria are not indicative of larger troubles.
In Group B, Japan and England meet Tuesday as the No. 1 and No. 2 teams, respectively, in the group. Whichever team wins will finish in first place. Japan is through to the quarterfinals, while England will more than likely advance. Mexico, in third place in the group, still has an outside shot to finish ahead of England if the Three Lionesses lose but would need to make up a five-goal difference in goal differential. Finishing first in the group to avoid facing Germany in the quarterfinals likely had been a goal for all teams in this group, but with the Japan-England kickoff scheduled before France-Germany, they won't know which teams will be their quarterfinal opponents.
In Group C, the United States needs only a tie with Sweden on Wednesday to clinch the first spot and most likely avoid facing Brazil, the likely winner of Group D, in the quarterfinals. Both the U.S. and Sweden have clinched their spots in the next round.
In Group D, Brazil is moving on to the quarterfinals. It has all but wrapped up first place and can seal it with a win or tie versus Equatorial Guinea on Wednesday. Australia and Norway will meet for the final spot in the quarterfinals. After Brazil's 3-0 romp over Norway, Australia needs just a draw to advance. Norway can advance only by beating Australia.
Quarterfinals:
July 9: Group A winner vs. No. 2 in Group B and Group B winner vs. No. 2 in Group A.
July 10: Group C winner vs. No. 2 in Group D and Group D winner vs. No. 2 in Group C.
July, 1, 2011
07/01/11
1:11
PM ET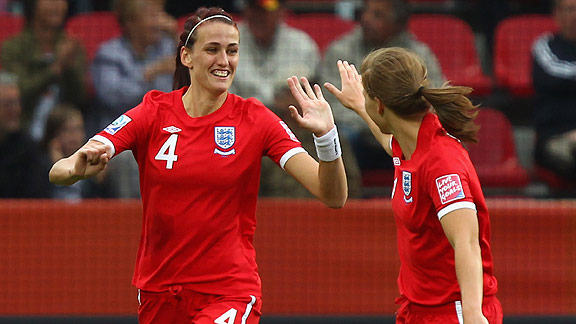 Martin Rose/Getty ImagesMidifielder Jill Scott scored a goal and assisted on another as England came from behind to defeat New Zealand, 2-1, in Group B action.
Jill Scott and Jess Clarke scored in the second half to give England a comeback 2-1 win in Group B action Friday. New Zealand led for much of the game, but in the end it couldn't come away with its first-ever World Cup point.
Here are three things we learned from the match:
1. Pulling off an upset isn't easy
The Football Ferns had England on the ropes in the first half. Sarah Gregorious had scored a shocking goal. England superstar Kelly Smith was limping. But then halftime arrived. England coach Hope Powell inserted Karen Carney into the lineup, and the Three Lionesses were able to take a few deep breaths. In the second half, Jill Scott scored on a header after a perfect cross from Alex Scott in the 63rd minute. Its confidence restored, England kept pushing at goal and Smith was looking better with each step she took.
Then, 18 minutes later, England finished off New Zealand. Moments after a close offside call took away a good scoring opportunity, Casey Stoney got things going for what would be England's game-winning goal. Her long cross, which forced New Zealand keeper Jenny Bindon out of goal, fell right to Jill Scott. Instead of forcing a shot from a tough angle, she calmly passed the ball across the box, and Clarke, who'd been subbed in 16 minutes earlier, hammered it home.
It wasn't very pretty, but eventually England pulled out a win. An upset would've have made it difficult to advance out of Group B, but a win keeps the team in second place heading into Wednesday's game against first-place Japan.
2. New Zealand is a good team and getting better
When Australia moved to the Asian confederation before the 2007 World Cup, it opened a spot for a new team to qualify out of Oceania. It's been a tough go at times for the young Ferns, but being able to go to the World Cup and compete on the world stage has clearly helped them improve. Their fearless play in the first two matches here in Germany, against the best that Group B has in England and Japan, should be an inspiration for other up and coming teams around the world.
After Gregorious scored for New Zealand in the 18th minute, the Ferns' celebration was fun to watch. It seemed that their 1-0 lead had surprised even them. Though they are headed out of the tournament, their spirit has won them more fans.
3. England should still be concerned
The 2-1 win saves England's World Cup hopes, but it still has many things to work on. Its backline continues to look shaky and was caught out of sorts on New Zealand's goal. England's slow starts in tournaments extended to the first 45 minutes of Friday's game before it was able to come back for the win.
"I think we just enjoy making these tournaments hard work," Powell joked when interviewed on Eurosport after the game. "Never easy, is it?"
Because of Japan's big 4-0 win over Mexico earlier Friday, England will need a victory Tuesday against Japan to win Group B.
BOCHUM, Germany -- Time to clean out the notebook. Herewith, some observations from the Women's World Cup.
• French defender Sonia Bompastor and midfielder Camille Abily -- fan favorites when they played in Women's Professional Soccer in 2009 and 2010 -- held court in both French and English in the media mixed zone after their 4-0 win over Canada. Bompastor stayed the longest, trying to oblige every interview request, and actually had to be pulled away so the team bus could go back to the hotel.
• France boasts ten players from Olympique Lyon, which beat the German club team Turbine Potsdam in the Champions League final this year. But Abily said that doesn't mean it'll be able to beat Germany on Tuesday in their final Group A game. "For confidence, it's very important," she said. "We know we can beat German teams, but it's not the same. There are just three or four players [on the German national team] from Potsdam, so we know it's not the same team."
• In fact, Bompastor and Abily both downplayed any idea that they can now present a challenge for Germany -- unwilling, surely, to provide bulletin-board material for a German team that has not looked its best so far this tournament.
"Even though we won today, I still think Germany is No. 1," Abily said. "They won the European championship [in 2009]. They won the World Cup twice. I think this team is No. 1. They have a very great team. In one game, I hope we can beat them. We are going to try."
France has played the best soccer of the tournament so far, but Germany will come out strong Tuesday. While both teams are in the quarterfinals, France can win Group A with just a draw -- and in front of its home fans, Germany will not want to finish second in its group, especially to historical rival France.
• UEFA remains the only undefeated confederation in the World Cup, despite having more teams (five) than any other confederation.
• The disappointment was thick in the air as Canadian players made their way to the team bus. Goalkeeper Erin McLeod, who allowed four goals but made several strong saves to keep her team closer in the match, said the locker room was quiet.
"Shock," she said, when asked what it was like after the match. "I don't think anyone said anything."
• Many of the questions for Canadian coach Carolina Morace after the game surrounded whether having a league in Canada would help the development of the game as the country prepares to host the 2015 Women's World Cup. Eight players on the roster play professional club soccer, mostly in WPS, while the rest of the squad spent most of this year training in Italy before leaving for Germany.
Morace talked of European leagues in Germany, Sweden, Italy, Norway and France, but dismissed a reporter's suggestion of WPS as a model. "In my opinion, a [league] that has six teams and doesn't stop when there is the World Cup, I'm sorry," she said. "In WPS, I don't like … there is six teams, and if you arrive at the bottom, nothing happens."
• For more from France's big win over Canada, including Bompastor's comments about accidentally hitting Canada's Christine Sinclair in the face with a ball clearance, visit espnW.
June, 30, 2011
06/30/11
4:00
PM ET
England had a tough first game of this Women's World Cup, but it can turn things around Friday in Dresden when it faces New Zealand. The Three Lionesses will be looking to gain all three points as they face the team in first place, Japan, in their final match. With Germany potentially looming in the quarterfinal for the second place finisher in Group B, every point counts, as all teams want to avoid that matchup and finish atop the group.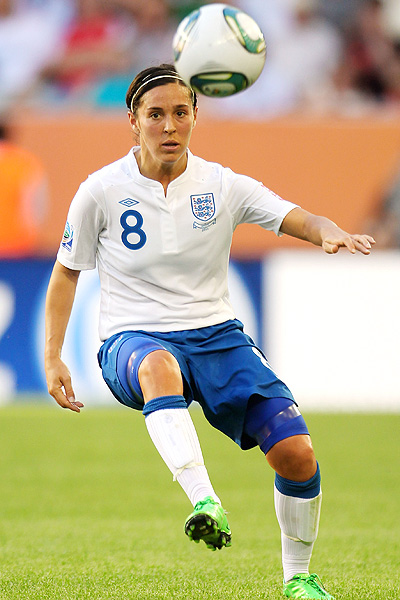 Alex Livesey/IFA/FIFA/Getty ImagesBack to health after recovering from a knee injury, Fara Williams will play a key role in England's midfield.
New Zealand -- which played very well in its opening match against Japan, only to lose on a brilliant Aya Miyama free kick -- is still searching for its first ever Women's World Cup win. The Football Ferns are now 0-7 all time in Women's World Cup matches and have scored just two goals. The 2-1 loss to Japan was their closest-ever match in tournament history.
On paper, this might look like a mismatch -- England is still coming off warmup wins over the United States and Sweden and finished second in the 2009 European Championship -- but then again, England's meeting with Mexico was supposed to be a mismatch as well.
New Zealand coach John Herdman told reporters after the Japan match that he felt his team had faced the best that Group B had to offer, something England, widely considered one of the top dark horses of the tournament, will surely notice -- not that the squad needs any extra motivation. England certainly didn't perform to the best of its ability against Mexico and will want to remove that game from memory with a decisive win.
English midfielder Fara Williams proved she's fit and ready to go after missing several weeks with a knee injury, so her health should no longer be a concern. The lack of finishing for England in the opening match was the biggest source of trouble, with Eniola Aluko's mishit of the ball five yards from goal in the second half serving as the perfect example. England coach Hope Powell may look to insert the 22-year-old Ellen White into the starting lineup to provide a spark on offense. White played well when she entered the Mexico match and scored four goals in World Cup qualifying.
The weather's been hot in Dresden, and both teams looked tired in the second half of their first matches. Fresh legs in the starting lineup and early subs might be seen on both sides of the ball Friday.
Notes from Germany:
• After his team's opening match, Australia coach Tom Sermanni thought Brazil's slow start was because they didn't take his squad seriously. "I think Brazil sat back a little bit in the first half and just kind of let us play, and perhaps, underestimated our ability to play and to keep the ball and to create openings," he said.
Brazil coach Kleiton Lima said sitting back had been Brazil's plan all along for the first half, but he agreed his team made a lot of mistakes.
"We never kept the ball. Once we got the ball, we couldn't keep it. & In the beginning, we were too anxious. We were just too nervous. We were a bit messy," he said.
Whatever the reasons for it, it was clear that Brazil was out of sorts in the first half, and Marta seemed frustrated all game. They may have gotten a 1-0 win over Australia, but they need to get their offense going -- and especially, get Marta going.
• Brazilian goalkeeper Andrea won't ever get credit for it because Brazil's defense is considered a weakness, but she is a solid net minder. She doesn't make the spectacular save, but she makes the saves she should and doesn't make a lot of mistakes.
• The low scoring World Cup can be attributed to the parity in women's soccer, but there have been some spectacular misses so far this tournament, which also keeps the scoring low. Sweden's Jessica Landstrom, Germany's Kristin Garefrekes, Australia's Lisa DeVanna, Nigeria's Desure Oparanozie and even Canada's Christine Sinclair will all be thinking about their not-so-close efforts for quite some time.
June, 28, 2011
06/28/11
3:00
PM ET
MONCHENGLADBACH -- It's only fitting that the last of the favorites to play its first game in this year's Women's World Cup would be Brazil. After all, the world's best player, Marta, is worth waiting for. Her side will face Australia in Group D's final match Wednesday.
"As a player, you watch the beautiful game and probably Marta is the best at actually playing the beautiful game," Australian goalkeeper Melissa Barbieri said at a press conference Tuesday at Borussia Park.
The 25-year-old Marta is in the prime of her career, with five straight World Player of the Year titles in her trophy case. She's also the two-time reigning Women's Professional Soccer Player of the Year. There's no more decorated player, ever, in the women's game -- but there's also no player (or team) that has finished runner-up for an international title more times than has Marta and Brazil.
The Samba Queens are still looking for that elusive first world title.
"Marta feels a personal responsibility, but we have 21 players, officials, coaches. We all want to have a good competition," Brazil coach Kleiton Lima said Tuesday through a translator.
For Brazil, the finals of international tournaments have become like trying to run through brick walls. In the 2004 and 2008 Olympics, as well as the 2007 World Cup, it's torched its opponents in the semifinals (Sweden, Germany, and the U.S., respectively) by a combined score of 9-1 -- only to be outscored by its opponents (U.S. in both Olympics and Germany in the World Cup) by a combined score of 5-1. Every time Brazil has taken the field it has had the best player in the world on its side, yet it's fallen victim to frustration, bad luck or incredible goalkeeping. The U.S.'s Briana Scurry (2004) and Hope Solo (2008) as well as Germany's Nadine Angerer (2007) can list their performances in those finals against Brazil as among the very best of their careers.
While Brazil is facing high expectations, underdog Australia is feeling loose heading into Wednesday's match.
"The pressure is not on us at all," Barbieri said. "The pressure is on Brazil to perform well and hopefully we can use that to our advantage, make sure that we play well and show the world what Australia has to offer."
Marta and Brazil may not enjoy quite the same amount of support German fans have offered nearly every other country so far this tournament. They are, after all, the second favorite behind Germany to win the title. But team captain Aline said she expects to have the crowd in Monchengladbach on her team's side, at least for now.
"All of the Germans want a final that is Germany against Brazil," she said Tuesday through a translator. "So, I think most of the crowd will be rooting for Brazil."
Whoever the fans are rooting for, the German crowds have impressed the players talking part in the World Cup.
"The reception [when Australia arrived in Germany] was massive and it made us feel very welcome in Germany," Barbieri said. "There's this football vibe."
Australia knows Brazil all too well, as the Matildas nearly sent Brazil packing in the 2007 quarterfinals before Marta's strike partner, Cristiane, dialed it up from long distance to give Brazil a 3-2 lead and put an end to Australia's upset hopes. Cristiane is expected to start alongside Marta again in this World Cup.
"Don't let them shoot," Barbieri joked when asked what she learned from the loss.
While most of the players on the field will be different for the Australian team this time, Australia coach Tom Sermanni said there's still a lesson to be learned from it.
"I suppose the importance of the 2007 game is that we actually came back into the game after going 2-0 down," Sermanni said. "As long as we stay in the game, we feel we can win the game."
June, 27, 2011
06/27/11
1:49
PM ET
Fara Williams scored in the 21st minute and Monica Ocampo evened things up 12 minutes later as England and Mexico played to a 1-1 draw in the second game of today's Group B action. The tie puts the two teams in a tie for second place in Group B behind Japan, with their next matches taking place on Friday.
Here are three things we learned from the match:
1. For England a tie is a loss, but for Mexico a tie is a win
England's Faye White and Kelly Smith both told the media this week that they want to win Group B, considered the easiest of the groups in this year's World Cup, to avoid having to play Germany in the quarterfinals. A tie does them no favors and puts Japan (which beat New Zealand 2-1 today) in the driver's seat. It's also disappointing for England to come out flat in the opening game of a major international tournament, which we've seen before -- a tie in 2007 Women's World Cup and a loss in the opening round of the 2009 European Championships. Though England bounced back both times, it wanted to make a statement in this tournament.
"I'm happy we didn't lose the game, that's the main thing," England coach Hope Powell told Eurosport after the match, while acknowledging her disappointment in the result.
The lack of finishing for England -- best exemplified by a whiff five yards in front of goal from Eniola Aluko midway through the second half -- will not sit well with the team as it prepares to face New Zealand.
For Mexico, it's a great result. A tie keeps it in what should be a wide open group with Japan up next. Even finishing second, and yes, facing Germany in the quarterfinals, would be a positive result for Mexico, a team few picked to advance out of Group B.
2. Fara Williams is healthy
Much of the World Cup warm-up for England was dominated by concern over key midfielder Williams' health after taking an injury to her knee. But Williams was England's liveliest player for most of the match on Monday, and scored a beautiful header goal off a cross from Karen Carney. She also added one of England's best attempts on goal, a ripped shot from distance that forced 16-year-old Mexican goalkeeper Ceci Santiago to make her best save of the match in the 27th minute.
3. Mexico can play
While much of the postgame reaction will -- and should -- center around a disappointment for England, it's important to remember that Mexico did play well to earn the 1-1 draw. Santiago showed that her performance against the U.S. earlier this month was no fluke and Monica Ocampo scored a screaming goal in the 33rd minute to keep England from running away with it. In the game's final minutes, Mexico played for the tie, but until that point it had been going for all three points.
June, 26, 2011
06/26/11
1:12
PM ET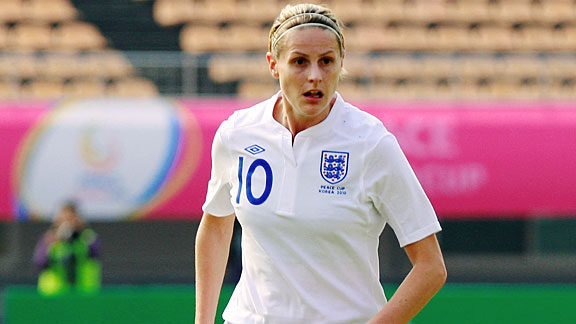 Getty ImagesVeteran forward Kelly Smith will be aiming for goal as England meets Mexico in Group B play.
When England and Mexico meet Monday in Wolfsburg, Germany, it'll be a matchup of two teams whose World Cup hopes have been shaped by upset wins over the United States this past year. It'll also be the first look at one of a handful of "underdog" teams, England, hoping to make a splash at this year's tournament.
England is a team coming into the tournament with high hopes -- star midfielder Kelly Smith said recently in The Equalizer/All White Kit Women's World Cup preview that she feels her side can make it into the semifinals where "anything can happen." It's not out of the question, as England leads a cast of dark horse teams competing for the fourth spot after the big three of the United States, Germany and Brazil.
England's upset of the United States -- a 2-1 win in London on April 2 after a brilliant first-half performance -- combined with a solid 2-0 win over Sweden on May 17 has the team feeling rightly confident of its chances. The Lionesses made the quarterfinals of the 2007 World Cup and advanced to the finals of the European Championships in 2009 (before losing 6-2 to Germany), so they have built up experience in international tournaments. It also doesn't hurt that the team was drawn into what's widely considered the weakest of the group -- Group B, featuring world No. 4 Japan, Mexico and New Zealand. England and Japan are expected to advance easily out of the group.
It'll also be the first chance to see whether England has recovered from injuries that impacted the team's World Cup preparations. Captain and defender Faye White and key midfielder Fara Williams appear fit and ready to go, but both missed England's final tuneup game versus Sweden. Smith will need the help of a healthy Williams in midfield if England is going to make a run in this tournament. Williams missed England's quarterfinal match against the United States in 2007 because of a yellow-card suspension and the team struggled in her absence.
With England coach Hope Powell in attendance, and perhaps because she was in attendance, Mexico didn't show much in its 1-0 friendly loss to the United States on June 5. However, the Mexicans stayed in the match until Lauren Cheney's stoppage-time winner because of the play of 16-year-old goalkeeper Ceci Santiago. Mexico has been rotating its keepers, but Santiago's performance against the U.S. should be taken into consideration when putting together the starting lineup for Monday's game.
It was Mexico's win over the United States in October that set the women's soccer world abuzz as the result ousted the Americans from CONCACAF World Cup qualifying in Cancun. Mexico finished second in qualifying behind Canada, forcing the U.S. to earn the last spot in the tournament after a playoff series with Italy. It was the biggest upset in women's soccer history. While it's unlikely that Mexico will advance to the knockout stages, it will be hoping to recapture some of that magic this summer.