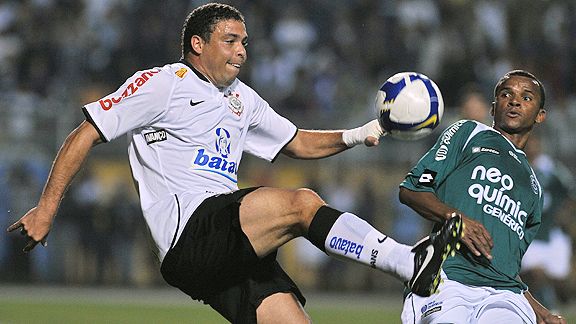 Mauricio Lima/AFP/Getty ImagesRonaldo has finally decided to hang up his boots.
When the U.S. takes on Brazil in a friendly on Tuesday, it will come as no surprise that Ronaldo won't be at the Meadowlands. The legendary hitman didn't feature in South Africa, and after an unrelenting string of injuries, he announced earlier this year that the upcoming football season will be his last. And that's assuming he can stay healthy enough to make it through the grind of games.
At 33, Il Fenomeno will finish his career for Corinthians. It's a long way from his glory days in the 1990s and early 2000s at Barcelona, Inter and Real Madrid, but that doesn't change the idea that Ronaldo should be in the conversation as one of the all-time greats.
But where, exactly, does he rank? How do his accomplishments stack up against the likes of Pelé?
Ronaldo won 56 individual awards and helped his club and national teams snag 18 trophies. He was on two Brazilian squads that won the World Cup, in 1994 and 2002 -- although he never came off the bench in '94. And he remains the World Cup's most prolific goal scorer with 15.
Ronaldo scored 220 league goals in the world's toughest competitions in just 292 games, giving him the improbable average of a goal in 75 percent of his games. He also scored 62 goals for Brazil, trailing only Pelé (77) for most all time. But you could make the case that Ronaldo scored his goals in an era when they were much harder to come by.
Of all the strikers who've dominated European club soccer in the past few decades, Ronaldo's scoring percentage of a goal in 75.3 percent of his games trails only that of 1980s and early '90s Ajax and AC Milan striker Marco van Basten (76.4 percent). Ronaldo comfortably outscored all the other greats of his era. Only Romario (68.8 percent), Ruud van Nistelrooy (60.1 percent), Gabriel Batistuta (56.5 percent) and Jurgen Klinsmann (52.6 percent) even came close, easily making Ronaldo the most prolific striker of the past 20 years.
Admittedly, Ronaldo's career trailed off considerably after he traded Real Madrid for AC Milan at age 31, when his knees could no longer support the rigors of professional football. But keeping in mind that his knee surgeries cost him three of his best years at a time when he was so quick and nimble that his own joints couldn't even keep up with him, Ronaldo still put up jaw-dropping stats.
The best player of all time? Maybe not. But the best pure striker of all time? Absolutely.