What Joe Vide is thankful for
November, 24, 2010
11/24/10
2:21
PM ET
Your own mortality is a tough thing to have to acknowledge. At any age. Former MLS player Joe Vide was recently confronted with his.
In April, he was told he had cancer.
Vide was 25 years old. And Vide was frightened.
As a teenager, Vide took off for Germany on his own and successfully tried out for the academy team of 1860 Munchen. He finished his high school degree there and was offered a pro contract to play for the reserve team. He decided to go to the University of Virginia, where he played four years.
Major League Soccer's New York Metrostars snapped up the holding midfielder with the fifth pick of the 2006 supplemental draft. During the 2006 season, he played in seven games. The next year, Vide started in 13 of his 16 games, and was a fan favorite too.
But after two years with New York, the re-born San Jose Earthquakes picked him up in the 2007 expansion draft. He was waived in the middle of the 2008 season, having played just five games. D.C. United claimed him, played him in five games, in which he scored his first and only goal, and waived him in February 2009.
[+] Enlarge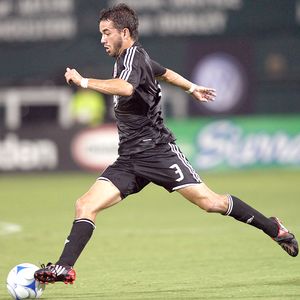 Martin Morales/Getty ImagesJoe Vide during his D.C. United days in 2008.
With no offers forthcoming, Vide went back to UVA and finished his degree in government and foreign affairs. "My soccer career was done at that point," Vide said. "I was just focused on getting a job. I had applied and taken all my tests to be a pilot in the military." He was also considering a career in politics in Washington.
Then his life changed.
It was March of this year. "I was cooking dinner one evening and I just got really dizzy and my heart was racing," Vide said. "This went on for three hours. I had a high fever and my heart wouldn't stop. I went to the hospital only because my uncle died of a heart attack at 28 when he was playing basketball. Everybody says I'm like Uncle Robbie, so when it wouldn't go away, I got nervous."
His heart checked out fine. But doctors took an X-ray of his chest just to be safe. "They found that I had a lemon-sized mass in my chest that was right next to my heart," said Vide. After a few weeks and a battery of tests, Vide was told he had Hodgkin's Lymphoma. "It was really good circumstances that we caught it early.
"It honestly felt like a dream when cancer was first put on the table," Vide said. "I'll never forget where I was and just looking over at the doctor bewildered: This can't be real. I was 25 when they told me and you never think about being 25 and having cancer. You don't know what it's going to be like, if you're going to die. A lot goes through your mind in a short period of time. I recall the room getting really cold and feeling really sick. I heard cancer and then my mind went blank for the rest of the meeting."
Once he'd come to grips with his new station in life, the next problem surfaced: insurance.
"I didn't have any," Vide said. "Being unemployed, I stupidly, looking back at it, didn't get insurance because I never, ever got sick. I was waiting to hear back from a job and hoping to get insured there. I had applied for insurance but obviously having this pre-existing condition was just so big and I was denied coverage."
With a grand total of $58,000 in career earnings over three MLS seasons, Vide's pro career hadn't exactly left him flush with cash.
That's when his support system, built on a sturdy base of loyal teammates from his UVA days, stepped in. "My friend, Will Hall, and his mother heard about it and decided they wanted to help out," said Vide. "They decided to start a foundation and get the word out that I needed help with the cost and everything. I hadn't even thought about starting a charity or a foundation. It had never even crossed my mind. I was just worried about getting better."
Soon, The Friends of Joe Vide was up and running.
"It was the least that all of us could do," said Chris Megaloudis, a teammate. One time, when a four-day snowstorm had the two locked up in their apartment and bored, Vide suggested they go play a round of golf in their T-shirts and shorts -- which they did. "That's when I realized he's just as crazy as I am," Megaloudis said. "He's a good dude."
Vide discovered that he had more friends than he thought. On the blog of his foundation's Web site, the support came pouring in from around the world, from teammates and fans, strangers and family, people he'd forgotten and people that had forgotten him.
"Myself, My Family, and all of your extended family and friends here at D.C. United are pulling for you, praying for you and believe in you, stay strong man!" wrote then-United captain Jaime Moreno. The club also held a charity game.
"Even though i'm in Serbia i will help anyway i can my friend," wrote college teammate Misha Milosevic.
"Looks like it is time to pick up your 'mulligan,'" wrote Ronald Waterreus, a former Red Bulls and Netherlands goalkeeper.
"I'm really thankful," said Vide. "I'm thankful for all my past teams, New York, San Jose and D.C., but not only the organizations but the fans have been great, whether it was to donate money or wish me well. The organizations have been amazing in raising money. It was really special."
The many donations helped offset the costs of 12 chemotherapy treatments, after which, as Vide puts it, "I had to get zapped with radiation every day for two weeks."
Vide estimates that the final bill for that lemon in his chest could end up at some $120,000, of which he is still on the hook for up to $80,000. He isn't quite sure how much. "The bills are still coming in."
But after chemo, the lymphoma was almost entirely in remission. Only a tiny patch remained, which doctors are 99.9 percent certain was cleared up by the radiation. He'll find out Dec. 29.
Although some of the drugs he took gave him a bad reaction and nearly killed him had he not been so young, Vide can move on now. "It sounds really cliche and you hear about living life to its fullest. It really is true," Vide said. "I was bed-ridden for seven months and you realize that if you get through this you're going to make some changes."
"The fight's not over with and it's something he's going to have to deal with for the rest of his life," said Megaloudis.
"You never know if it's going to stay that way," said Vide. "But it's great to be fully healthy now."
If you would like to support Joe, please visit his foundation's Web site. Or you can help fund lymphoma research here.