FC Dallas the big loser in expansion draft
November, 24, 2010
11/24/10
5:33
PM ET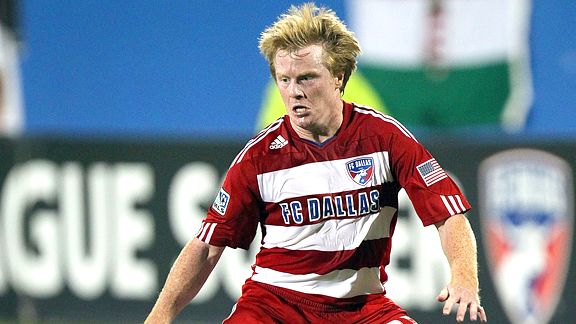 Ronald Martinez/Getty ImagesThe big shocker of this expansion draft was that FC Dallas decided not to protect Dax McCarty. The Timbers picked him up -- and flipped him to D.C. United.
Not since 2005 had two teams joined Major League Soccer at once. And so not since 2005 did we see two teams try to outmaneuver each other in an expansion draft. That left plenty of intrigue and speculation about who the Portland Timbers (who had already acquired New York Red Bulls wing back Jeremy Hall) and the Vancouver Whitecaps (proud owners of U.S. defensive stalwart Jay DeMerit) would snap up.
Here are six noteworthy observations:
1. What the hell was FC Dallas thinking?
First, you'd have to work very hard to come up with a FC Dallas player who you'd protect before Dax McCarty, let alone 11. He is (was) the engine room of that team, as he demonstrated against the Colorado Rapids in the MLS Cup final. David Ferreira may pull the strings on offense and Daniel Hernandez may be the midfield enforcer, but McCarty is the man that makes it all sing, connecting the dots and running between the lines.
Yet Dallas locked down 11 players not named McCarty and will pay the price for it now that the Portland Timbers quite rightly grabbed him with the first pick.
That the Timbers then flipped McCarty -- the type of player you can build your team around -- to D.C. United for left back Rodney Wallace and some cash is equally incomprehensible.
With one of its players picked, Dallas then got a chance to secure a 12th player. But rather than bring promising 25-year-old winger/forward Atiba Harris back into the fold, it locked up 34-year-old Daniel Hernandez, whose bromance with head coach Schellas Hyndman is well documented. But Hernandez wasn't nearly as likely to be picked as Harris was. Predictably, Vancouver nabbed him with the fourth pick.
2. With two teams jostling for the same players, it was interesting to see what strategy they'd go after. As it turns out, they both pursued the same one, nabbing prospects before veterans. The ages of the first nine picks were: 23, 21, 24, 25, 24, 23, 21, 24, 25. Eventually, 29-year-old Alan Gordon was selected 10th overall.
3. Neither team went after players pulling down a serious salary in 2010. Although clubs are allowed to renegotiate deals with the players they pick up, just six of the 20 players selected today made more than $87,000 last year. Portland added just $811,000 in salary toward its $2.67 million payroll in 2011, and traded away a player making $165,000 (McCarty), in exchange for one making $124,000. Overall, Portland's outlay in this expansion draft was just $670,000, leaving more than $2 million in cap space. The Whitecaps were a little less prudent, pulling down $1,076,000 in salaries, though still less than half of their salary cap.
4. Neither team succumbed to the temptation of bringing in a big name to kick start their franchise. The eminently watchable Guillermo Barros Schelotto, soon-to-be all-time scoring champion Jeff Cunningham, and classy striker Juan Pablo Angel were all available for the taking, offering the expansion teams a recognizable face. But both teams were surprisingly prudent.
5. When the Whitecaps picked Venezuelan forward Alejandro Moreno with the 14th pick, it was the second straight expansion draft in which he was selected, being picked up by the Philadelphia Union from the Columbus Crew last year.
6. Are the Timbers betting against Jonathan Bornstein? The U.S. left back has already signed a contract to join Tigres of the Mexican Primera Division for next season. But the Timbers took him with their 15th pick anyway, giving them his MLS rights for the next two seasons. It looks like the Timbers are projecting that Bornstein will fail in Mexico and be forced to return to MLS, where he'd be theirs.
Both teams stayed away from big names and big expenses, leaving reason to believe that neither sought to lay a foundation but saw the expansion draft as a chance to snap up some good role players. Both made some smart picks and could, with the right additions, conceivably be a playoff contender in year one.