Schalke's no-fear approach crushes Inter
April, 5, 2011
04/05/11
5:14
PM ET
[+] Enlarge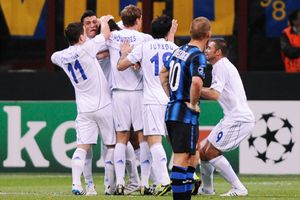 Olivier Morin/AFP/Getty ImagesInter's Wesley Sneijder looks on as Schalke celebrates.
The story of Inter-Schalke was that of a rollicking affair punctuated by a frenetic exchange of chances, a plot twist on every page and with no fewer than seven goals as exclamation marks.
After Inter went ahead on a marvelous Dejan Stankovic volley from the halfway line before the first minute was out, capitalizing on Schalke goalie Manuel Neuer's foray out of his box to clean up after his defenders, you would have been forgiven for assuming the Nerazzurri would have a straightforward night at their San Siro home. Yet by halftime, it was 2-2; by the 75th minute, it was 5-2 to Schalke, and that's how it would end.
It was a result that was amazing to watch to those who have seen Inter dominate in Europe in the past year and a half, winning the tournament last season and making an incredible comeback against Bayern Munich as recently as the last round of this edition. So destructive to the status quo was the outcome that it might simply be remembered as an aberration.
But that would mean ignoring the remarkable upshot of this game.
Schalke was the lowest-seeded team remaining in the tournament. The German club was more than happy to have made it this far, given that it had fired a manager and brought in another one just three weeks ago. Schalke, in short, had nothing to lose. And it played like it. Rather than hope to limit the damage and just get on the score sheet away and pray for a clean sheet at home, it attacked unabashedly.
In so doing, Schalke reminded us of the fun that is to be had when a team knows that failure is a perfectly acceptable outcome at this late stage of the tournament. Competing without fear -- it's a beautiful thing.
Schalke's game plan was almost dastardly simple: play a high line and attack whenever you get the chance. It simply refused to settle down when it got hold of the ball, pushed forward relentlessly and showed no interest whatsoever in holding on to possession.
This was deeply unsettling to Inter, which could muster no control over the game. The Italian side simply didn't know what to do when its usual modus operandi of gradually squeezing the oxygen out of its opponents no longer was an option.
Today's soccer juggernauts are so accustomed to dominating clubs of smaller budgets that they are ill-equipped to deal with an inferior opponent that doesn't play according to its stature. Schalke's brashness threw Inter for a loop. Inter looked so unaccustomed to playing on what turned out to be a very slow back foot that its defenders cracked under the pressure. One was sent off, one slid in an own goal, one held Raul onside for the go-ahead 3-2 goal and on all other chances, the laborious Schalke attackers, Edu and Jefferson Farfan, had much more space to operate in than they should have had, which also accounted for Joel Matip's opening goal.
Perhaps Schalke's strategy spoke of a new technique for giant-killing, too. The way Arsenal had when it beat Barcelona in the first leg of its round of 16 matchup, Schalke traded in the prudence built into the modern game for a happy-go-lucky, run-and-gun approach that its opponents were unprepared for. It is, in many ways, the antidote to today's "pragmatism," that awful word describing negative tactics justified by the guise of realism and financial interests.
And for that you can do but one thing: Stand up and applaud Schalke for a gutsy and masterful display, which should yield a well-deserved place among the best four clubs in Europe after the second leg next Wednesday.