At the heart of the Bob Bradley saga -- the will-they or won't-they surrounding a soccer federation that refused to relieve a head coach despite of a fiercely oppositional public for several years until Thursday -- was an impossible dichotomy.
Here was a coach who was widely loathed by a fan base that skewered him daily in a variety of obsessive soccer forums for picking the same core of players again and again, for selecting his son, Michael, as his starting central midfielder, and for superimposing unimaginative tactics on his squad.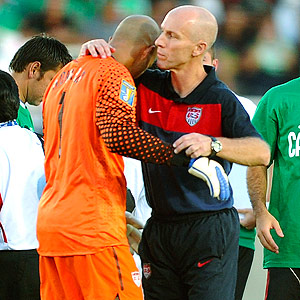 Kevork Djansezian/Getty ImagesBradley consoles Tim Howard after the U.S.'s loss to Mexico in the Gold Cup final.
Yet what was Bradley to do?
The man found himself in charge of an irreparably mediocre band of players. The best of them play for semi-big clubs in Europe. And there was a steep drop-off in ability once he'd put his top eight or so players on the field. His son, for that matter, was one his best midfielders yet was forever anointed the beneficiary of nepotism. But was Bradley supposed to have left his son at home in favor of a player not as suitable to his system just to improve his public image?
The team's supporting cast was predictable, but that was mostly because it had the necessary experience, making its repeat selection a self-fulfilling prophecy. Why call up a like-for-like player who had less experience?
And yes, Bradley's tactics were bland. Yes, they showed little flair for absorbing opponents' strengths or even capitalizing on their weaknesses. Yes, they didn't exactly help the U.S. forwards score -- forever a weak spot -- or help steady the back to avoid conceding early goals. But they were probably realistic, too, given the material at hand.
Bradley was forever negotiating these pitfalls.
Admittedly, Bradley's second term, starting after his contract was extended following the 2010 World Cup, confirmed what we already knew: A follow-up World Cup cycle is too long a tenure for one coach. Like in Bruce Arena's second turn at the helm from 2002 to 2006, things got increasingly stale.
Nevertheless, you must concede what most U.S. fans won't want to hear: Considering the means at his disposal, Bob Bradley didn't at all do a bad job.