CR7 vs. Messi: Who had the better season?
May, 24, 2011
05/24/11
3:43
PM ET
Cristiano Ronaldo's incredible campaign is over, while Lionel Messi still has one game to play in club soccer this season. Both will again dominate the voting for individual awards and already have titles to their names this season. The argument over who is the better player is difficult to address, and when their time is over, statistics and records may well be the only way to choose between the two. On the strength of this season, there is little to separate the jewels in the Liga crown.
Shoot to score:
Ronaldo's 40-goal haul shattered the long-held record of Telmo Zarra in the 1950-51 season and Hugo Sanchez in 1989-90. But Ronaldo required almost 100 more shots to achieve it than Messi needed to reach 31 (241 to 145). Additionally, eight of Ronaldo's goals were scored from the penalty spot and five from free kicks compared to four and one for Messi.
Team play:
The popular notion that Ronaldo is a finely honed machine and Messi a scampering urchin who plays today as he did in the streets of Rosario is not entirely accurate. When Thiago Alcantara was elevated to first-team status, he was told that his primary mission was to ensure the ball arrived at Messi's feet. If the miniature maestro deigned to return it, it should be taken as a sign that Alcantara had been given the Argentine's blessing. David Villa, when he arrived from Valencia, was informed that there was little point in competing with Messi in the goal-scoring stakes.
[+] Enlarge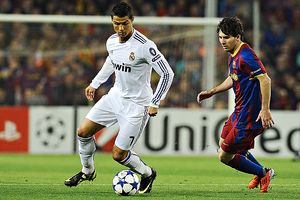 SIU WU/AFP/Getty Images On the strength of this season, there is little to separate Cristiano Ronaldo and Lionel Messi.
Ronaldo's petulance is well-documented; when Mesut Ozil scored the opener in this season's Madrid derby at the Calderon, rather than congratulate his teammate, Ronaldo remained in the area demanding he be awarded a penalty for an infringement in the buildup to the goal. However, despite Messi's less famous prima donna proclivities, the Argentine chipped in with a staggering 19 league assists during the season to Ronaldo's nine.
But can they do it in a different league?
In Messi's case, we probably will never have the chance to find out, which is a shame. He has made it quite clear that he expects to see out his career in Catalonia. However, should Pep Guardiola leave Barcelona, as he has intimated several times this season he will, Messi could follow his mentor to his next post. Should Guardiola's path lead him to the Premier League, this mini debate-within-debate -- can Messi succeed outside of Spain? -- could be put to rest.
It has long been assumed that without the wiles of Xavi and Andres Iniesta, and outside a system built around him, Messi will struggle to be Messi -- a theory to which supporters of the Argentine national side have long ascribed. Drop Messi into, for example, the current Manchester United or Chelsea, and how would he fare?
Ronaldo already has proved that he can perform in Spain and England, and it is far from inconceivable that he will try his hand in Italy at some stage. Messi will need to do likewise if he does not wish his brilliance to be forever entwined with the World Cup-winning talent at Barcelona's disposal.
The big one:
Few players are considered "the best in the world" until they have won a World Cup, although Johan Cruyff and George Best both have their claims to be mentioned in the same breath as Pelé, Maradona, Beckenbauer and Brazil's Ronaldo.
The next World Cup is to be held in Brazil, a country suited extremely well culturally and linguistically to Portugal and geographically to Argentina. With Russia and Qatar the subsequent hosts, Brazil could be the stage on which Messi or Ronaldo enters that very elite group of players -- although the home side may well have something to say on the matter.
But what if they were Spanish?
The debate would rage even harder -- and Spain would be unbeatable. It is no coincidence that Xavi was named player of the tournament at Euro 2008, and he and Iniesta were chosen as the central midfield duo for the World Cup 2010 all-star team. With that supply line at the international level, both Ronaldo and Messi would prosper and goals would flow like Rioja wine. A more pertinent question is whether the two could play on the same team.
The final say:
Hugo Sanchez, former Real Madrid striker and current Almeria manager, told El Pais: "Zarra was a great header of the ball while I specialized in scoring with all parts of my body, including the famous bicycle kick. Cristiano, because of his great physical potency, has adapted to the demands of modern soccer. Before, physicality wasn't so important. I played against bigger and stronger defenders, and when people saw me in the street they would say: 'You're not that small.' Like me, Cristiano is a specialist in free kicks and penalties. I think he would score more if, rather than control the ball and waste time in the area, he hit it first time more often. Is he selfish? More than defect, it is a virtue. I was criticized for the same thing, but strikers wouldn't score as many if we weren't like that."
Arrigo Sacchi, former director of football for Real Madrid, told El Pais: "I love Cristiano, but less now than before, when he played all over the pitch for the team. Today he is fantastic, but he doesn't always play for the team. In terms of speed, ability and physical force, there is nobody like him. But he should be more connected to the team in attack and defense. He does not have less quality than Messi, but Messi pressures, wins balls and makes himself available for the team."
Sir Alex Ferguson, Manchester United manager, told ManUtd.com: "I had Ronaldo here as a player, and I think he is the best player in the world. He can play with both feet, he has fantastic skill, strength and bravery, and he's a better header of the ball. But Messi is an absolutely fantastic player as well. It's difficult to choose between the two. It's the toss of a coin."