The Nadal family feud with Mallorca
October, 13, 2011
10/13/11
9:12
AM ET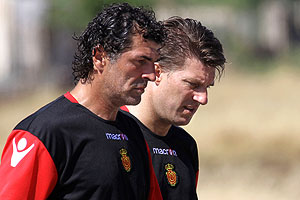 Jaime Reina/AFP/Getty ImagesMichael Laudrup and Miguel Angel Nadal have both left their day-to-day jobs at Mallorca.
The world's second-best tennis player, Rafael Nadal, is not noted for outspoken comments. So it was with some surprise when fans of Mallorca, which dispensed with coach Michael Laudrup last week, saw that Rafa had been less than pleased with the club's treatment of the great Dane of Real Madrid and Barcelona.
"It's a disgrace," said the muscle-bound Mallorcan. "As a fan, I would like for things to have been handled differently."
But unfortunately for Mallorca, Rafa is not just a fan of the Balearic island's Primera Division side. He and his family hold 10 percent of Mallorca's shares. His uncle and coach, Toni Nadal, was not idly throwing platitudes around when he said that Laudrup "gave Mallorca prestige." The Mediterranean team is not one that leaps swiftly to mind when casting a net for Spain's biggest fish. Some fine players have worn the red shirt -- Samuel Eto'o and Juan Carlos Valeron, among them -- but other than a 2003 King's Cup win, Mallorca has rarely troubled the headlines. In the past few days, though, it has been doing so for all the wrong reasons.
Laudrup did not depart with a smile and a handshake; at least not from Llorenc Serra Ferrer, the Mallorca vice president whom the Dane essentially charged with driving him from the club. A day before Laudrup decided to seek his own exit route, his assistant Erik Larsen was handed his after the following quotes appeared in the Danish press ripping Serra Ferrer: "He wants to control everything, and he wants to have the final word on everything, at the club," Larsen said. "But he does not have the ability to do so, as we have seen. Deep down, he is a bad person; we have seen how he treats everyone at the club. I'll buy you dinner if you can find anyone who could say anything good about him."
[+] Enlarge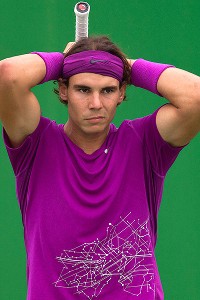 AP Photo/Andy WongRafael Nadal did not have nice things to say about Mallorca after it parted ways with coach Michael Laudrup.
Naturally, Serra Ferrer was less than pleased with his employee's appraisal and sacked him on the spot. What he perhaps had not envisaged was that Laudrup would take sufficient umbrage at this act to himself depart less than 48 hours later. More damaging still for Mallorca was the subsequent reaction of the Nadal family, which moved to disassociate itself with the club. Rafa Nadal's father, Miguel Angel, a former Spain, Barcelona and Mallorca player and Laudrup's assistant, resigned from the administrative board and later turned down an offer to join the staff of incoming coach, Joaquin Caparros.
The Nadals were champions of Laudrup's tenure, to the extent that Miguel Angel, who took charge of the team for last week's match against Osasuna, gave the credit for a hard-earned tie to his former boss.
Mallorca entered into the hands of administrators in May, 2010, and was subsequently barred from entering the Europa League by UEFA. The current coach of Atletico, Gregorio Manzano, had led the side to an unlikely fifth placed finish, but Mallorca's financial woes meant the club could not afford to retain his services. At the same time, the board of directors also changed hands, with Serra Ferrer and his retinue taking charge. The side's best players were sold to balance the books and Laudrup was contracted to achieve the impossible -- steer the swaying ship toward Primera safety. This he did, albeit in the final match of the season and then only because Deportivo could not secure its own lifeline against Valencia; a tie in the Riazor would have been sufficient to send Mallorca down.
This is primarily why the Nadal family has sought to distance itself from the club since Laudrup's departure -- the feeling in that particular circle being that a coach who maintained the side's Primera status should have been awarded greater concessions. As it was, Laudrup and the board clashed over transfer dealings, the former demanding what the latter said it simply could not afford. Behind the scenes, the general director assigned to the club by the administrators, Pedro Terrasa, was accused by board members loyal to Serra Ferrer in local media of nurturing an agenda to see Mallorca's majority shareholder hounded from his post. "Either Terrasa goes or we do," Serra Ferrer's colleague Miquel Coca said.
But it is the club's most famous supporters that have gone. They still hold their shares, but the valuable link between the Nadals and Mallorca has been rent asunder. Into the gaping divide strolls Caparros, a seasoned coach who knows his way around La Liga after stints at Athletic, Deportivo and Sevilla. Caparros has returned to Spain after a swift foray into Swiss football with Neuchatel, where he found the designs of Chechnyan owner Bulat Chagaev a little too hands-on for his liking. Upon signing a contract until the end of the season, Caparros said, "It is important that both parties, the board and the technical staff, get to know each other."
Miguel Angel Nadal knew the former, and refused to join the latter, in a manner that doesn't forebode well for the rest of Mallorca's season.