Five reasons why Spain will win Euro 2012
November, 14, 2011
11/14/11
9:26
AM ET
Spain's latest setback in international soccer, a 1-0 loss to England at Wembley Stadium, did not cause a great deal of hand-wringing in the homeland of the World Cup and European champion. Quite the opposite, in fact, as the nation's press essentially agreed that its bete noire, anti-soccer, was the real victor in London. We also didn't hear any clamor for Raul to be reinstated to the lineup, which usually occurs when La Roja fires blanks. There is little rotten in the state of Spain, in matters of sport at least.
[+] Enlarge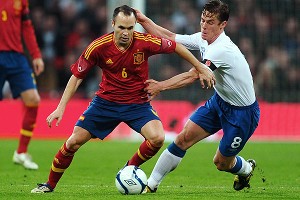 Laurence Griffiths/Getty ImagesYou shouldn't read too much into Spain's loss to England over the weekend. La Furia Roja are still the odds-on favorite to win Euro 2012.
England manager Fabio Capello said in the buildup to the match that he had "no players" to take on the might of Vicente del Bosque's team and he set up his game plan accordingly -- nine outfield players behind the ball for the majority of the match with a snarling, snapping Scott Parker instructed to cause as much mayhem as he could in the center of the field while the rest of England's makeshift 11 attempted to choke Spain in the final third. It worked, as club sides in La Liga have found when playing the spine of the Spain side in its Barcelona club guise, but there are good reasons Del Bosque shrugged unfazed on the touchline when asked by Spanish television what had gone awry. "Nothing," he said. "Frankly, I think we played very well."
Twenty-one shots to England's three and almost 70 percent of possession are standard statistics for Spain, but that both sides only hit the target twice proved decisive. However, sometimes the ball just won't go in, as Pep Guardiola is fond of reciting, and Spain is still the overwhelming favorite to complete an unprecedented treble of international successes in Poland and Ukraine.
Here are five reasons:
1. Continuity
Shorn of the services, for varying reasons, of John Terry, Steven Gerrard, Ashley Young and Wayne Rooney, there was little left in England's armory for the match against Spain. This is a problem several of the participants at next year's European championships face. Few international squads have the sheer weight of numbers Spain enjoys, and while Del Bosque's biggest headache is who to leave out, many nations will struggle to fill the plane with 23 international-class players. Del Bosque has handed a run-out to no fewer than 26 new boys in 50 games in charge and the substitutes he called from the bench at Wembley had a combined 325 caps between them. England started with players still in single figures and handed debuts to Jack Rodwell and Danny Welbeck, who nevertheless were two of Capello's standout performers. Spain's least-experienced player was Valencia's Jordi Alba, who has been reconverted into a left back at international level and looks a shoo-in to make the position his own in Poland and Ukraine. Alba has a mere two caps to his name, but already looks comfortable at the highest level.
2. It was only a friendly
While there is little doubt Spain would like to win every game it plays, there are some it really doesn't mind losing quite as much as others. The mantle of world champion comes with a price, and it is a fee that is reaped directly by the Spanish football federation. Spain's friendly match itinerary since the World Cup has taken it to Mexico, Argentina, the United States and Venezuela, with a couple of shorter European jaunts to Italy and Portugal thrown in. Its next match is away at Costa Rica -- hardly ideal preparation for a European competition. Del Bosque's record as coach is 43 wins, six losses and one tie. Only two of those losses were competitive fixtures, a 2-0 loss to the U.S. at the 2009 Confederations Cup -- a tournament regarded with the same zeal at international level as the increasingly intrusive Club World Cup is at club tier -- and a loss to Switzerland in the opening group game in South Africa. Friendlies by nature are a chance to give fringe players a bit of time on the grass, and when your "fringe" players include Cesc Fabregas, Fernando Torres, Juan Mata and Santi Cazorla, all among the substitutes at Wembley, Spain clearly will have few problems fielding a side to beat all comers when it matters next summer.
3. The psychological advantage
At Euro 2008, when Spain faced Italy in the quarterfinals, a dark cloud impinged on an otherwise azure Iberian sky. Spain's previous record against the Azzurri was ominous -- played 27, won seven, lost 10, tied 10. When the match went to penalties, few Spaniards could dispel the disappointments of 1986 and 1996. The national side had not reached the semifinals of a major tournament since 1964 -- in Madrid -- and its only recent sudden-death success against Ireland at the 2002 finals in Japan and Korea had been cruelly eradicated via some extremely dubious refereeing decisions against the latter co-host, which then progressed from five attempts from the 12-yard line. When Iker Casillas stopped Antonio di Natale's shot in Vienna, a weight was lifted from the national psyche that has failed to bring itself to bear again since. In the interim, Spain has beaten Germany twice, Netherlands and Portugal in European and World Cup knockout matches, a pedigree that will serve it well in 2012.
4. Iker Casillas / Pepe Reina / Victor Valdes
The 30-year-old Casillas won his 126th cap for Spain at Wembley, equaling the record held by former Barcelona and Athletic stopper Andoni Zubizarreta. The Real Madrid and Spain captain is far from impregnable for the national side, but he makes the important stops and is arguably the best goalkeeper in the world at the moment. In 10 European championship and World Cup games from that Italy match in 2008, Casillas has conceded just twice, in ultimately academic group-stage results in South Africa against Switzerland and Chile. "When all is lost, Iker will save you," said fellow centenarian Xavi at an awards ceremony for Spain's four 100-cap players last week. And if Casillas isn't available to do so, few nations would bemoan having Reina or Valdes to have a go in his stead.
[+] Enlarge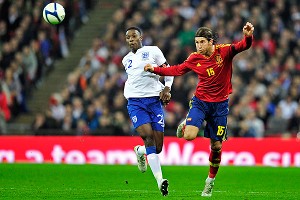 Glyn Kirk/AFP/Getty ImagesSergio Ramos appears to be the natural successor to Carles Puyol in the center of defense.
5. Sergio Ramos
After Spain's World Cup success, the spotlight fell squarely on the unkempt locks of Carles Puyol, immortalized when he floored his defensive partner Gerard Pique en route to thudding the ball home against Germany in the semifinal. The Barca captain elected to do so, but whether or not he will line up alongside Pique in 2012 is open to question -- largely due to the unlikely source of Jose Mourinho. When the Portuguese arrived at Real, he opined that Ramos was a more natural center back than a flank player and circumstance has seen the surly Sevillan assume that role to widespread acclaim in Madrid. He also performed spectacularly against England, and say what you will about the man, Mourinho rarely errs in matters of soccer. Spain's greatest question of succession since the Infanta Leonor episode has apparently been solved.