Will the Madrid derby again be one-sided?
November, 25, 2011
11/25/11
1:51
PM ET
The Madrid derby doesn't get quite as much attention as it used to, the biggest rivalry in Spain's most popular sport -- one also infused with a fair dose of political undercurrent -- now firmly established between Real and Barcelona. When the clasico approaches, it is impossible to blink an eye without encountering a towering billboard of Cristiano Ronaldo and Leo Messi loudly advertising the Greatest Game of Them All. Ahead of the derby, quiet nostalgia is more traditional as former players and managers peer over their sepia-tinted glasses to the days when the match was still considered a contest.
The last time Atletico won the capital clash was in 1999. Jimmy Floyd Hasselbaink netted twice in the Bernabeu either side of Jose Mari's effort as the rojiblancos overturned a one-goal deficit from Fernando Morientes' thundering header. This was the year that the United States won the Women's World Cup in China, MSN Messenger was launched and the Kosovo war was in full flow.
It was still the 20th century, when soccer was a more equitable enterprise. Not that Atletico is reluctant to open its checkbook, but it is not in a position now to attract the same class of player as Real. And it has an uncanny knack of turning those good players it does purchase into average ones.
[+] Enlarge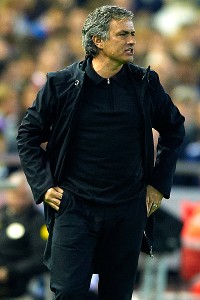 Manuel Queimadelos Alonso/Getty ImagesReal manager Jose Mourinho expects Saturday's Madrid derby with Atletico to be a low-scoring affair.
Today, few people give Atletico the slightest hope of defeating its cross-city rival. Over 12 years the biggest match in the southern Madrid side's calendar has become a gravitational force, dragging optimism to the ground well before the players have set foot on the field.
"Playing against Madrid is not pressure, it is a responsibility," striker Adrian Lopez said this week, and in terms of goals it is on his shoulders that the burden will fall with Radamel Falcao seemingly ruled out.
Despite Real's incredible run in the fixture, Jose Mourinho has been active in dispelling any sense of complacency in the white half of town: "If you offered me a 1-0 or a 2-1 result now, I'd take it," he said on Friday morning. "They've won it before. They could win it tomorrow. Derbies are derbies. If people think we are going to score three or four they are mistaken. There is no room for statistics or tradition. In a derby anything can happen."
For his part, Atletico coach Gregorio Manzano seems intent on ensuring that Mourinho's goal cast is accurate. "Playing attractive, open and joyous soccer does not do you any good in the end if you do not achieve your objective, which is to win," he said. "This is what we have to do. No joyous, open or attractive play. We have to play a tight, ugly and hard game, not without quality but not playing like the little sisters of mercy either."
Atletico is not incapable of beautiful movement, as its third goal in an entirely unexpected Europa League demolition of Udinese showed.
However, Manzano is right to be cautious. Real's potency in all areas this season is greater than last, particularly in its pressuring high up the field and its devastating counterattack. Mourinho's side is on a run of 12 straight victories, has scored 42 league goals while conceding nine and until inexplicably dropping its guard against Dinamo Zagreb on Tuesday, had scored 15 without reply in Europe. Atletico has scored just one more than it has conceded domestically, 17 to 16.
When asked about the prospect of an Atletico-colored bus being parked in front of Thibaut Courtois' goal, Mourinho was typically sagacious: "As a coach I say that everybody can play how they want to and set up their team how they want to. It is not my place to criticize the approach of another coach. As a fan though, like when I go to the cinema, if someone tells me the film is bad, then I won't go. I respect the tactics of Manzano."